Homemade Chili Powder Recipe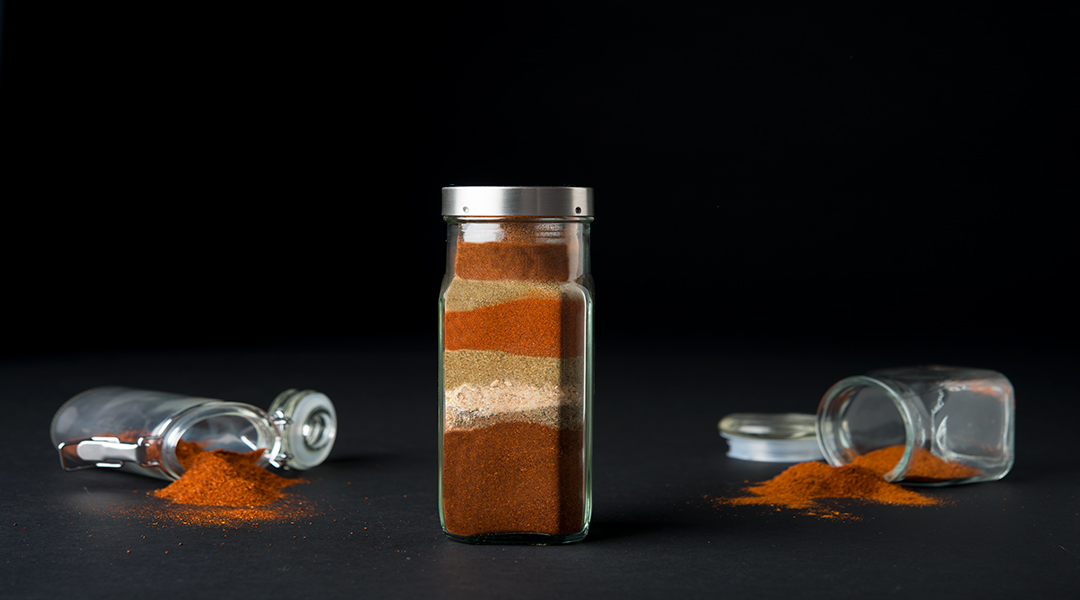 Football. Tailgating. Chili. Three words that are often spoken simultaneously this time of year. The act of tailgating is very old indeed, with roots dating back to the civil war. Spectators would pack picnic baskets and lay out blankets to view the battle. Sounds dangerous and slightly crazy, doesn't it! Chuck wagons were the next to resemble the modern day tailgate. Wagons were outfitted with a kitchen and the chuck wagon cook provided food to weary travelers and cowboys on the trail.
The very first American football game occurred in 1869 between Rutgers and Princeton. Setting the scene for what would ultimately become an American past time. Tailgating often overshadows the actual game itself, with many fans setting up elaborate spreads of smoked ribs, meats, and gourmet creations. Chili is a classic tailgating dish. The simplicity of the dish is often brought up with the addition of beer, smoked meats, rare chilies and other delicacies. Chili at its core is still all about the spices.
The chili powder recipe below is a simple creation that our family has been using for many years. The combination of heat, sweet and spice is perfectly balanced. I have left room in the recipe for personalization. The last chili powder in the recipe can be chosen to create a more personalized taste suited to you. If you need a recommendation I can offer a suggestion. For a spicy kick, add habanero powder. For a smokey flavor, you'll enjoy ancho chili powder. For a tex-mex flavor choose Jalapeño chili powder.
Homemade chili powder also makes the perfect gift for your host or hostess. Thinking about the holidays? This mix makes a great gift for the chili connoisseur. Add your favorite bowls and a large wooden spoon for mixing and you have created a very thoughtful and unique gift.
Homemade Chili Powder Recipe
Yields enough spice mix for one 6-8 serving recipe of your favorite chili
Ingredients:
2 tbsp.

Ancho Chile Powder

2 tsp.

garlic powder

2 tsp.

onion powder

2 tsp.

smoked sweet Hungarian paprika

1 tsp.

black pepper

1 tsp.

fine sea salt

2 tsp.

cumin powder

(optional) 1 tsp.

chile pepper powder of your choice - browse our selection

1

Spice Jar
Directions:
Layer into a spice jar using a funnel or small teaspoon. I put the chili powder on the bottom and layered the remaining spices on top.
Share your thoughts, leave a comment