Homemade Chipotle Mayonnaise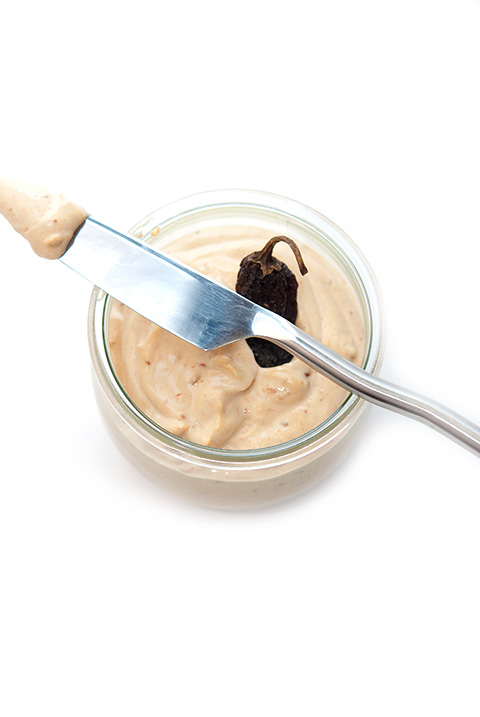 Mayonnaise is a staple condiment in many households. Homemade mayonnaise is simple to create and the taste rivals any store bought brand.
The roots of this condiment can be traced back to France. Mayonnaise was invented in 1756 by the French chef of the Duc de Richelieu. Once the Duc beat the British at Port Mahon, his chef created a victory feast which was to include a sauce made of cream and eggs. Realizing that there was no cream in the kitchen to create the sauce, the chef substituted olive oil for the cream and the modern day mayonnaise was born. The chef named the new sauce Mayonnaise in honor of the victory over the British. Modern day mayonnaise is often commercially processed with a large list of stabilizers and chemicals to make it shelf stable. Homemade mayonnaise can be created and enhanced with any combination of herbs, flavorings or our favorite chiles!
Chipotle Morita Chiles are fired roasted jalapeños that are dried. The flavor is smokey, sweet and is moderately spicy. Dried chipotle Morita chiles add a bold flavor with a hint of spice to homemade mayonnaise. Add a kick to grilled burgers, chicken salads, or use in place of regular mayo in potato salads and on your favorite deli sandwich.
Homemade Chipotle Mayonnaise Recipe
Yields 2 cups
Ingredients:
2

large pasteurized eggs

2 Tbsp.

Dijon mustard

2 2/3 cups

canola oil

8 tsp.

lemon juice

4 whole

chipotle chiles (Morita or Brown;re-hydrated)
Directions:
Rehydrate the chipotle chiles by pouring 1 cup of hot water over the chiles in a medium bowl. Let sit 2-4 hours until the chiles are soft and pliable. Remove the stem of the chiles, cut in half and remove the seeds. Roughly chop the chiles and set aside.
Place two whole eggs and the mustard into the food processor bowl fitted with blade. Turn the food processor on and blend until smooth. Once the egg mixture is smooth, leave the food processor running and slowly drizzle the canola oil into the egg mixture. Continue until all the oil is incorporated. Add the lemon juice and chopped chiles and pulse until incorporated. Spoon into a jar with a lid and refrigerate immediately. Homemade mayonnaise will keep 4-5 days in the fridge.
*Food items made with raw eggs should not be served to small children or anyone with a compromised immune system.
Share your thoughts, leave a comment