Posted in Recipes, Soups, Salads, Sides & Snacks by Sarah
Homemade Chipotle Mayonnaise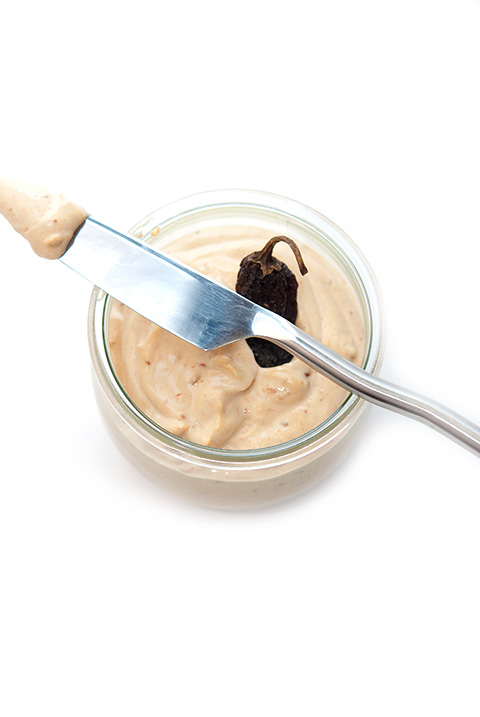 Mayonnaise is a staple condiment in many households. Homemade mayonnaise is simple to create and the taste rivals any store bought brand.
The roots of this condiment can be traced back to France. Mayonnaise was invented in 1756 by the French chef of the Duc de Richelieu. Once the Duc beat the British at Port Mahon, his chef created a victory feast which was to include a sauce made of cream and eggs. Realizing that there was no cream in the kitchen to create the sauce, the chef substituted olive oil for the cream and the modern day mayonnaise was born. The chef named the new sauce Mayonnaise in honor of the victory over the British. Modern day mayonnaise is often commercially processed with a large list of stabilizers and chemicals to make it shelf stable. Homemade mayonnaise can be created and enhanced with any combination of herbs, flavorings or our favorite chiles!
Chipotle Morita Chiles are fired roasted jalapeños that are dried. The flavor is smokey, sweet and is moderately spicy. Dried chipotle Morita chiles add a bold flavor with a hint of spice to homemade mayonnaise. Add a kick to grilled burgers, chicken salads, or use in place of regular mayo in potato salads and on your favorite deli sandwich.
Share your thoughts, leave a comment!
← Previous Post
Next Post →