Spicy Three Bean and Beef Chili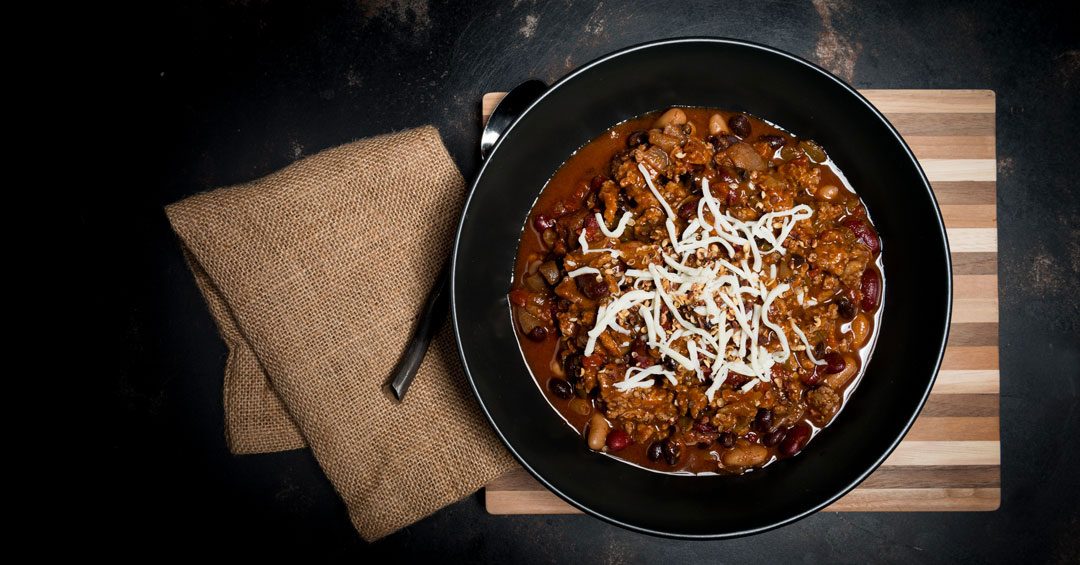 Fall weather brings not only a change of the seasons here in Michigan; it also brings a change in the food scene. The bright, crisp, vibrant flavors and colors of summer begin to fade as we turn to bold spices, heavier meals and comfort foods such as mac and cheese, mashed potatoes, soups, and stews to help us get through the ever-shorter days. But one of our favorite ways to add a little warmth (in more ways than one) to any fall day is with a nice hot bowl of chili.
What most Americans know simply as chili is actually a shortened form of "chili con carne," which literally means "chili peppers with meat" in Spanish. The dish's exact origins are a little unclear, but chili, as we know it today, has its roots in 19th century San Antonio, Texas. One of the earliest known recipes for chili consisted of dried chili peppers and meat being ground together into bricks, which were then dried. These "chili bricks" were used by cowboys in Texas, as they were easy to transport and made for a quick meal when boiled in pots along the trail. By the late 1800s, chili's popularity had spread throughout Texas and its neighboring states. A chili stand operating at the 1893 World's Columbian Exposition in Chicago helped the dish take off in the rest of the country, with chili parlors popping up all across the land.
We love chili for its elegant simplicity. Meat, beans, onion, some tomatoes. And, of course, chili powder. Throw it in a stock pot or a Crock-Pot and forget about it for a few hours. When you come back, you'll have a hearty, spicy, delicious meal waiting for you. It's almost magical how easy it is to turn any chilly day into a chili day.
Spicy Three Bean and Beef Chili
Yields 4-6 servings
Ingredients:
1 pound

ground beef

2 Tablespoons

olive oil

2 Tablespoons

Chili Powder

1 teaspoon

Chipotle Morita Powder

2 Tablespoons

hot sauce

1 can (16 oz)

crushed tomatoes

1 can (10 oz)

kidney beans

1 can (10 oz)

cannellini beans

1 can (10 oz)

chili beans

1 green pepper,

diced

1 large sweet onion,

diced

1 cup

grated cheese of your choice, for garnish

Chopped green onion,

for garnish
Directions:
Heat olive oil in a large sauté pan. Add peppers and onions, and cook until soft and the onions are translucent. Add the ground beef and cook until meat is no longer pink. Place the meat and onion mixture into a Crock-Pot. Add the tomatoes, beans, hot sauce and spices, and stir well to combine. Cook on low heat for 3-4 hours.
Garnish with cheese and green onions.
Share your thoughts, leave a comment