Posted in Recipes, Soups, Salads, Sides & Snacks by Sarah
Beer Mustard: Coarse Ground Mustard With Ale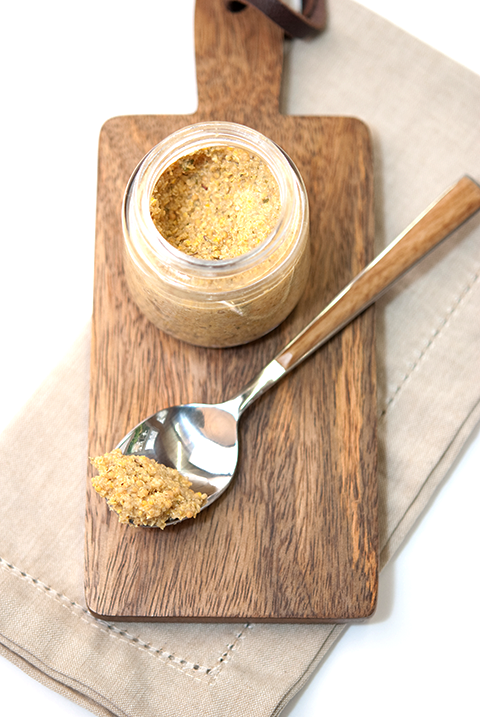 "Beer mustard" is simply coarse ground mustard made with a flat ale (a type of beer). Flat beer is beer without any carbonation. It has lost its "fizz" and has no bubbles (sort of like some of that skunky tasting beer you drank in college). This beer mustard recipe can be easily be made in the comfort of your own home. Mustard seeds, mustard powder, and a liquid is really all you need to make a simple base. The addition of herbs, honey and just about any other sweet or savory product to add depth and flavor is only limited by your imagination.
Mustard has always been a staple in many households. Bright yellow, pungent and perfect on a grilled hot dog. In the last few year, mustard has evolved from a basic yellow condiment to a highly flavorful and wonderfully textural culinary experience. High quality coarse or stone ground mustards are gaining popularity in many micro-breweries and craft restaurants. The lowly hot dog is being replaced by handmade bratwursts and unique artesian quality mustards.
Mustard seeds are grown primarily in Canada, the United States, India, and Hungary. Whole mustard seeds come in a variety of colors and sizes. Black, brown and yellow is most commonly seen. Each color has a distinct heat intensity. The black seed is the most pungent and will produce a very spicy mustard with brown coming in a close second. Yellow (also called white mustard) is the mildest of them all and most common used in basic prepared yellow mustard or in mustard where secondary flavors are meant to be prominent.
In this beer mustard recipe, we start with whole brown mustard seed and then water and beer (we use an ale) is added over top of the seeds. The beer softens the seeds and allows you to process the seeds into coarse paste of mustard. The reaction of the beer with seeds causes an enzyme in the seeds to unleash and release the heat within the seeds. We'll finish the recipe with a touch of sweetness from brown sugar to round out the bold flavors. The flavor will be intense the first day the mustard is made but if you let it sit in the fridge for 5-7 days the flavors with meld and the heat from the seeds with mellow considerably.
Happy mustard making!