Lamb White Bean Sage Chili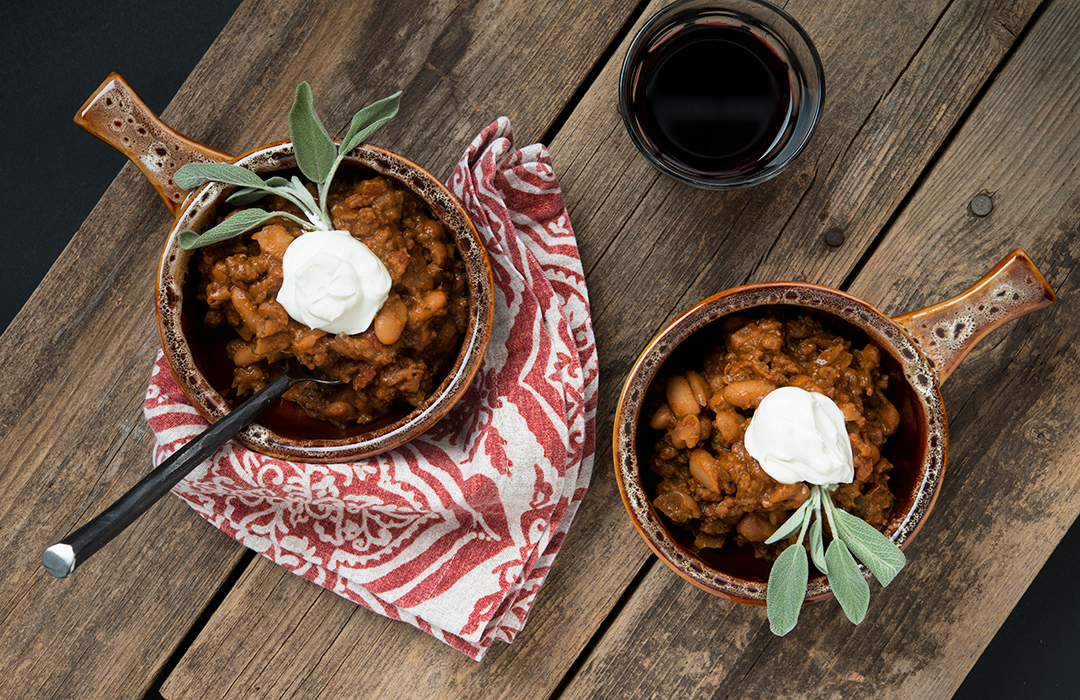 DIY chili seasoning mix is the perfect gift for the tailgater or chili enthusiast in your life. But what if you find yourself with an extra jar or two of the seasoning mixture? Lamb, white bean and sage chili are a hearty, spicy and complex chili perfect for a chili fall night.
Lamb has a full rich flavor similar to venison. Lamb has been used in many countries in various dishes but is often under utilized in the states. Combining this rich and tender ground meat with buttery white kidney beans and savory sage creates a unique chili that will be your essential chili recipe from now on.
Chili has very humble beginnings. Created by poor workers in San Antonio, Texas. Chili was a way for the families to be fed while stretching their rations of meat. Moving further ahead in history, chili becomes a staple in the depression. Chili joints and parlors were prevalent and cheap. Crackers were free. It is often noted that without chili, many would have starved. Chili's popularity has continued into the 20th century as a staple at tailgates, sandwich shops and especially when the weather begins to turn cool in many states.
Spice Jungle carries an astounding variety of dried chili peppers, herbs, spices and ground chili powders perfect for all of your chili needs. Many of our spices can be used in place of the spices in our homemade chili powder recipe.
The combinations of flavor and heat are only limited to your creativity, taste buds and imagination.
Lamb White Bean Sage Chili Recipe
Yields 6 servings
Ingredients:
1 lb.

ground lamb

1 large

onion, diced

1

bell pepper, diced

2 cloves

garlic, minced

2 tablespoons

olive oil

2 cans

white kidney beans

2 cups

vegetable broth

2 sprigs

fresh sage

1 can

crushed tomatoes

½ of the recipe of

chili seasoning mix (see chili mix DIY recipe)
Directions:
Add the olive oil to a large sauté pan and place on medium heat. Place the onion and bell pepper into the pan. Sauté the vegetables until the onion caramelizes and the green pepper become soft. Approximately 10-12 minutes. Add the garlic cloves and lightly sauté until golden brown. Add the ground lamb to the vegetable mixture and sauté until cook thoroughly. Set aside.
In a medium stockpot on medium high heat, add the vegetable broth, kidney beans, crushed tomatoes, sage and DIY chili seasoning mix. Stir to combine. Add the meat and vegetable mixture to the stockpot and stir the mixture to combine all the ingredients together. Bring the mixture to a simmer. Once the chili has reached a simmer turn the heat down to a medium-low. Simmer for approximately 2 hours, until the chili has thickened and the flavors have melded together. Stir occasionally.
Garnish with sour cream and fresh sage.
*This chili spice mixture has some heat to it. Use less of the chili spice mixture if you are sensitive to spicy foods.
Share your thoughts, leave a comment