Thai Coconut Curry Butternut Squash Soup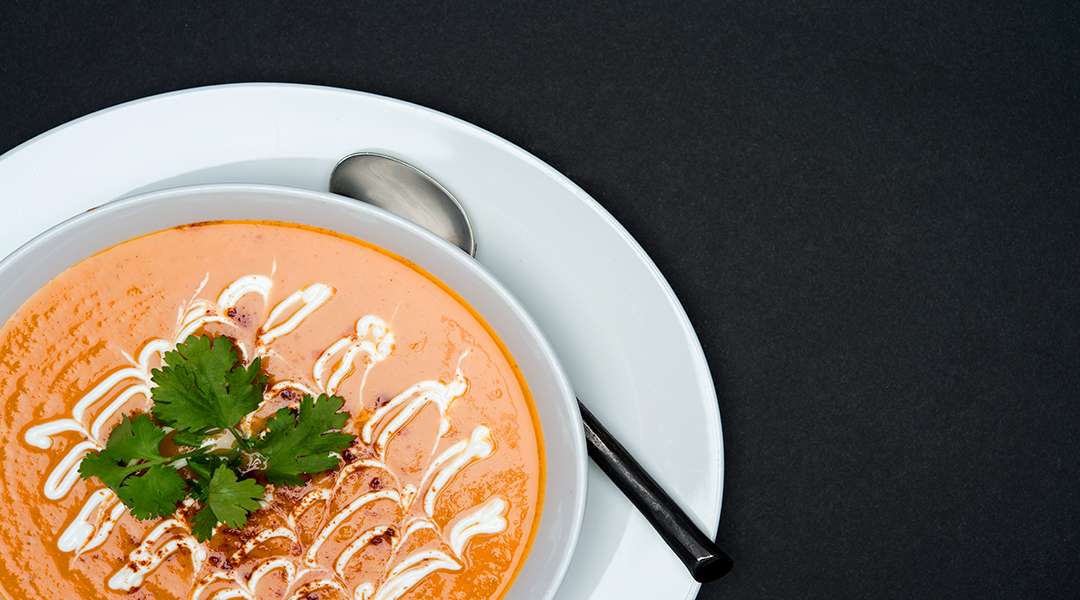 It's squash season! I personally couldn't be more pleased. There is nothing more beautiful or utterly delicious than a perfectly cooked squash. Acorn squash halved and slathered with butter and brown sugar. Spaghetti squash is the perfect substitution for pasta, simply run a fork through the cooked squash and top with your favorite pasta sauce or vegetables, a simple and hearty autumn dinner. Squash is beautiful just about any way you choose to prepare it but one of my personal favorites is butternut squash soup. Nothing says fall quite as much as a bowl of silky, creamy and sweet butternut squash soup. Perfect in the simplistic of preparations, but with the addition of Thai Coconut Green Curry Powder, your taste buds will sing!
I am addicted to this spice mixture. Dehydrated and powdered coconut, dried shallots, brown sugar, ground green chiles, spinach powder, lime peel, garlic, coriander, cilantro, and a lot more all go into this highly fragrant green curry powder. Add it to soup stock to create richly flavored broths. Use it to create exotic vinaigrettes. Sprinkle over vegetables, chicken or shrimp before placing them on the grill.
Looking for a unique handmade gift? Mix two parts salt with one part green curry powder, mix, and store in an airtight jar in a dark space for two months. The salt will become infused with the curry and you'll have an aromatic finishing salt ready for the holidays. YES, we are thinking about the holidays already! Can you believe it's only eight more weeks until Christmas! Before the holiday rush begins, start creating your infusions, salts, and vanilla bean extracts!!!
Thai coconut green curry powder should be a staple in your pantry. The perfect addition to all of your culinary creations!
Thai Coconut Curry Butternut Squash Soup Recipe
Yields 4 servings
Ingredients:
32 ounces

frozen cubed butternut squash

2 tablespoons

unsalted butter

1 medium

onion, chopped

2 teaspoons

Thai coconut green curry powder

6 cups

chicken or vegetable stock

Salt and freshly ground black pepper
Crème fraiche and cilantro for garnish
Directions:

Cut squash into 1-inch chunks. In large pot melt butter. Add onion, Thai coconut green curry powder and cook until translucent, about 8 minutes. Add squash and stock. Bring to a simmer and cook until squash is tender, about 5 minutes. Remove squash chunks with slotted spoon and place in a blender and puree. Return blended squash to pot. Stir and season with salt and pepper. Serve. Garnish with crème fraiche and fresh cilantro.


Share your thoughts, leave a comment