The Best Deviled Egg Recipes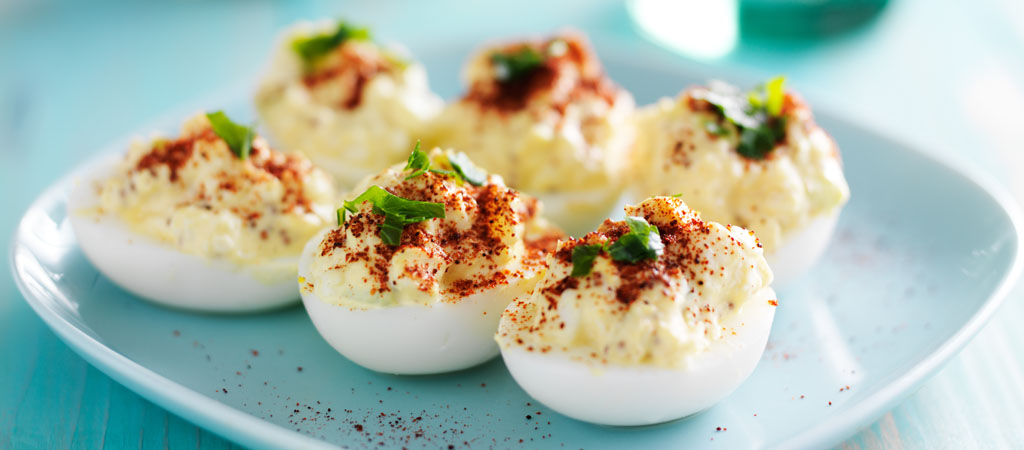 Deviled eggs may top the list of recipes that are low effort (and forgiving) but produce a beautiful, tasty finished product. Perhaps that is why deviled eggs have long been a food staple at picnics, potlucks, parties, or any other gathering. While you can't go wrong with a classic deviled egg recipe (we have a classic recipe below), there are many creative variations that can add some fun flair to your next get together. So break out the paprika and check out our list of highly rated, unique deviled egg recipes.
Bonus tip: make a few different variations for some extra guest praise!
Classic Deviled Eggs
From: Downshiftology
Mayonnaise, mustard, paprika - it's all in this classic, and it's good.
Million Dollar Deviled Eggs
From: Sugar Spun Run
A classic recipe with a slight variation for added creaminess - butter.
Buffalo Deviled Eggs
From: Thrifty Jinxy
Add buffalo wing sauce and blue cheese for a fun and spicy spin.
Sriracha Deviled Eggs
From: Once Upon a Chef
The addition of sriracha makes these eggs extra devilish.
Smoked-Salmon Deviled Eggs
From: Food & Wine
Dress up your deviled eggs with some chopped salmon.
Bacon Jalapeño Deviled Eggs
From: Real Housemoms
Kicking the classic up a notch with bacon & jalapeño.
Horseradish Deviled Eggs
From: Everyday Eileen
Bring classic deviled eggs up a notch with a kick of horseradish.
Beet Pickled Deviled Eggs
From: Eat the Love
Mediterranean-spiced deviled eggs with a stunning vibrant pink color.
Spicy Cajun Deviled Eggs
From: The Fast Recipe
Spicy Cajun seasoning gives these deviled eggs a delicious kick.
Fried Deviled Eggs
From: Spoon Fork Bacon
Breaded and fried until crispy and golden-brown for a unique twist.
Shrimp Deviled Eggs
From: Cookin Canuck
The addition of shrimp makes these eggs feel extra luxurious.
Share your thoughts, leave a comment