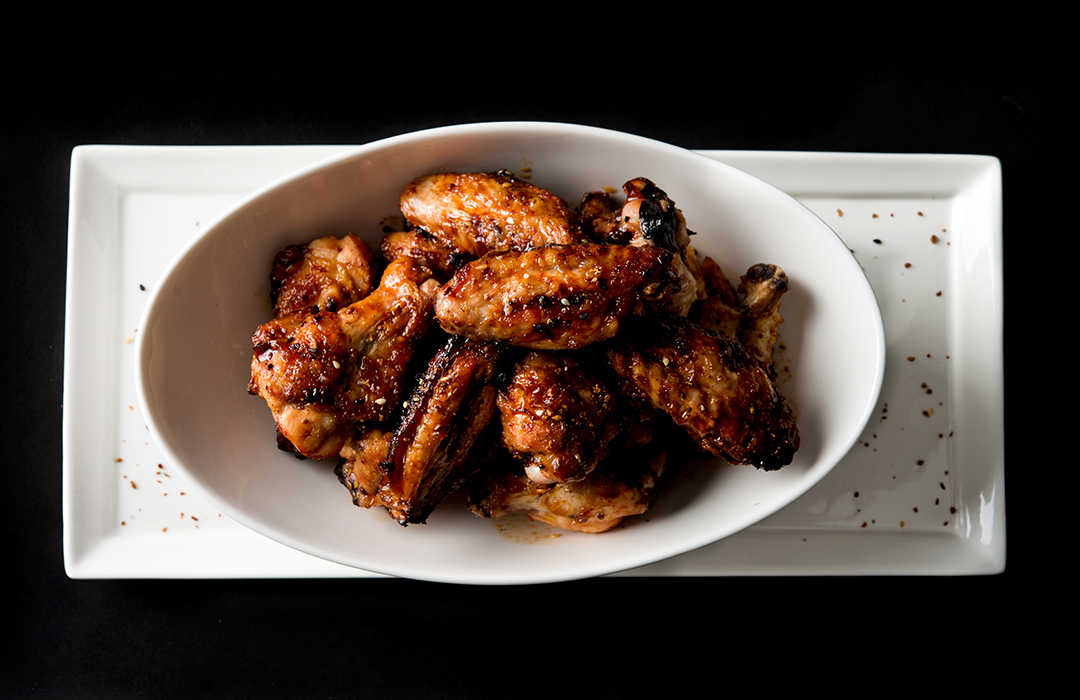 Chicken wings are the quintessential party food. They're most commonly served covered in a spicy-savory buffalo wing sauce, deep-fried, and with a side of blue cheese and celery sticks. This classic appetizer is a well-loved staple on many bar menus.
This dish originally made its first appearance in Buffalo, New York in the 1960s - a booming time and place for brilliant creation. Classic buffalo wings are traditionally covered in a plethora of hot sauce and butter and deep fried to absolute perfection. With our society's desire for more variation and our influence from other cultural cuisines, the buffalo wing has evolved into multiple variations. Many restaurants now offer their patrons a good list of wing flavors to choose from. Baked and grilled wings have also seen an increase in popularity due to the more health conscious consumer.
This baked buffalo wing recipe is a flavorful combination of heat from the chile de árbol, sweetness from the powdered honey, and savory from the Shichimi Togarashi spice blend. Shichimi Togarashi is a delightful mixture of ginger, sea salt, black and white sesame seeds, orange peel, ground nori (a type of seaweed often used for sushi), and sansho (a berry with a lemony-peppery flavor).
Baked Buffalo Wings
Yields 2 pounds
Ingredients:
2

whole chiles de árbol

2 lb.

chicken wings (wings and drumettes separated)

½ cup

rice wine vinegar

2 Tablespoons

olive oil

4

garlic cloves, peeled and crushed

1 Tablespoon

honey powder

2

scallions, thinly sliced

2 teaspoons

fine sea salt

1 Tablespoon

ground pepper

2 teaspoons

Shichimi Togarashi
Directions:
Toast the chiles in small dry skillet over medium-high heat; let cool slightly and then crush. Combine the chiles, vinegar, olive oil, garlic, honey powder, and scallions in a resealable plastic bag. Season the chicken wings with salt and pepper. Add the chicken to the plastic bag and seal it air-tight. Shake to distribute ingredients. Chill overnight in the refrigerator.
Preheat oven to 400°
Remove wings from the refrigerator and let them come to room temperature (about 35-50 minutes). Pat the wings dry very well with paper towels and discard the excess marinade. Sprinkle them with the Shichimi Togarashi seasoning. Place them in a single layer on a baking sheet. Bake at 400° for 30-35 minutes, or until the wings are golden brown and reach an internal temperature of 165°. Serve with lime wedges, ranch, and celery sticks.
Share your thoughts, leave a comment