Posted in Recipes, Soups, Salads, Sides & Snacks, Main Dishes by Sarah
Warm Kale Salad with Crumbled Egg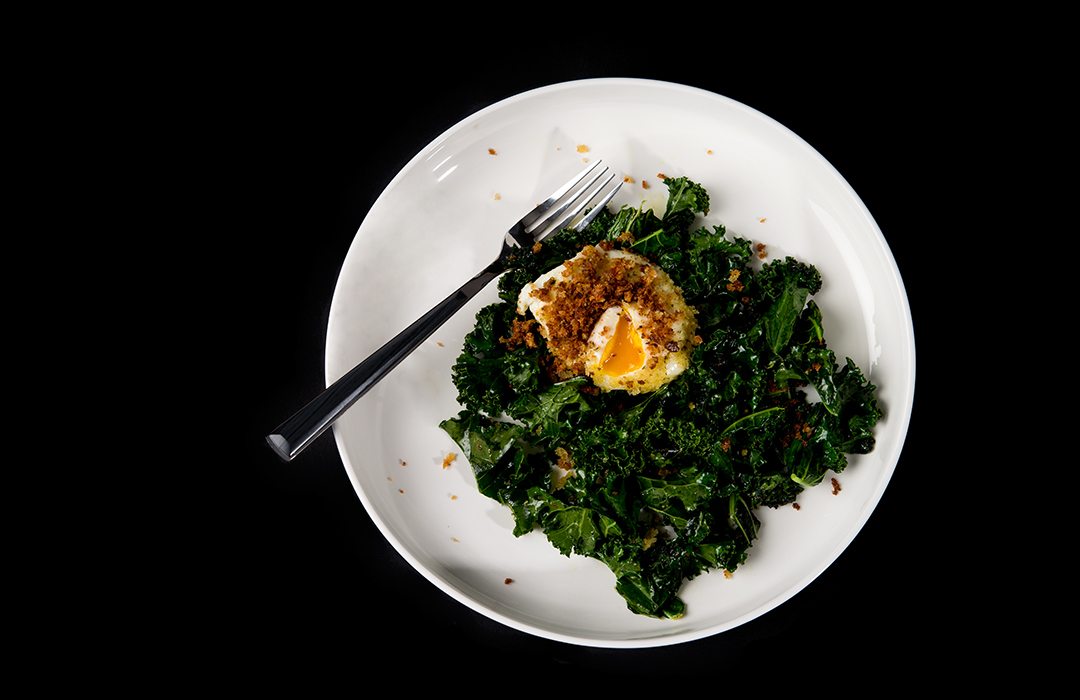 Salads - the perennial diet food. Salads are often thought of as rabbit food, diet food, and boring tasteless greens forced upon us when we can't eat what we really want. This salad is anything but boring!
What prompted us to one day consciously choose to pull weeds from the ground, place them in a bowl, and dress them up with simple ingredients? We can trace the origins of salad to the Romans. The Romans paired greens with simple oils and vinegars to create a fresh and healthy appetizer or entrée. European settlers to the New World brought their extensive knowledge of salads with them, and the dish gained popularity. In the 1920's Caesar Cardini is said to have created the first ceasar salad - a simple salad tossed with a garlicky dressing of creamy egg yolks and vinegar, handmade croutons, and grated parmesan cheese. Assembled tableside, the ceasar salad elevated the humble salad to a gourmet appetizer.
Kale is a popular choice with many chefs for its many varieties, nutritional content, and structural integrity. The sturdy frame of this vegetable allows for a warm preparation without the tremendous amount of shrinkage you typically get from spinach. Sautéing kale is changing the game of cooked greens! A small amount of fresh garlic tossed with a lemony vinaigrette adds an acidic twist, caramelizing as it cooks, and boosting the already complex flavor of the green. The addition of a lightly poached, pan-breaded egg brings a soft and creamy note to the dish (in addition to an excellent source of protein)! Poaching an egg may seem like an intimidating accomplishment, but if you follow a few simple steps you will end up with a perfectly poached egg every time. It's all in the wrist! Step-by-step directions can be found in the recipe below.

Are you starving, and an egg is simply not enough? Add a freshly grilled chicken breast or piece of baguette (or both!) and you have a complete and satisfying weekday meal.
Share your thoughts, leave a comment!
← Previous Post
Next Post →