Blackened Salmon Salad Recipe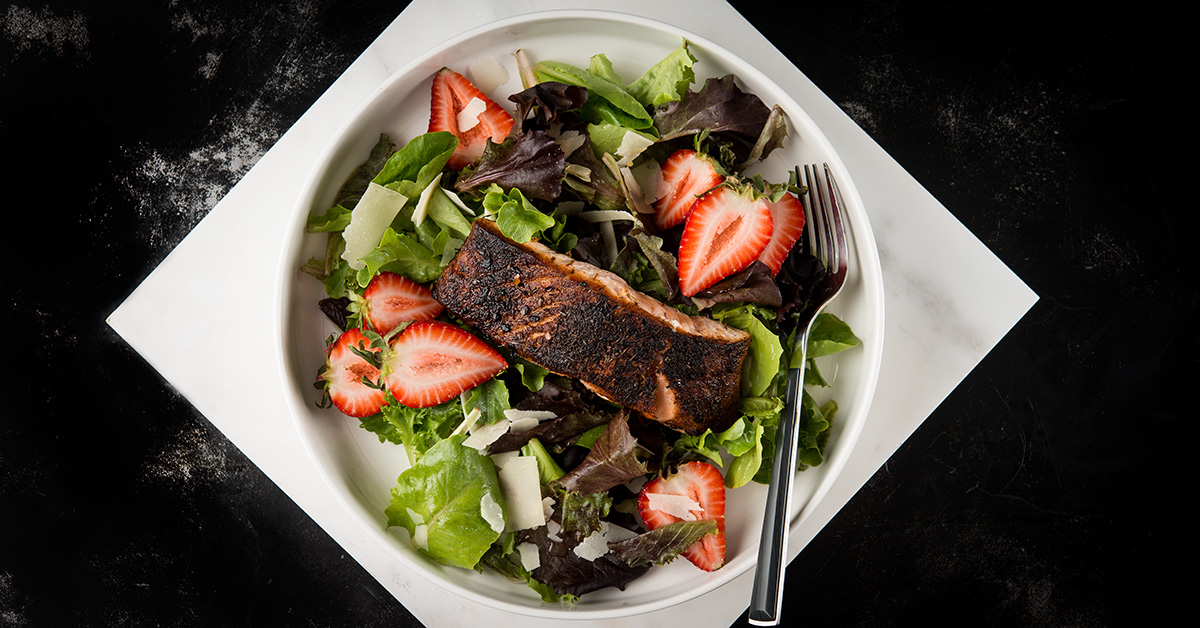 A while back, I was in the warehouse looking through spices to create recipes for the SpiceJungle blog. I came upon two spices that seemed very similar but with slightly different names I was a bit perplexed as to the differences between the two.
I know that cooks in Louisiana often use Cajun seasoning in jambalayas when boiling crawfish, and they add to just about any seafood coming fresh off the boats that day. But what about Cajun blackening seasoning? What is the difference between the two seasonings? I know you're dying to know!!! Well, call off Sherlock Holmes because the mystery is solved.
Cajun seasoning is a blend of herbs and a few key spices. It will give your seafood, rice, or vegetable dishes an earthy and bold flavor.
Cajun blackening seasoning, on the other hand, is a blend of garlic, salt, and chiles with a few herbs thrown in for good measure. Blackening seasoning is primarily used on a rub on the outside of meats to give the grilled or sautéed food a beautiful blackened crust full of flavor and spice. Blackening seasoning is definitely more on the spicy side than its counterpart Cajun seasoning, but both have somewhat of a spicy kick.
Because the bold flavor of the rub accents the mild flavor so well, blackening seasoning is often paired with salmon, shrimp, and chicken. Confession: I was never a fan of salmon until culinary school.
A crucial part of going through the rigorous training of a good culinary school is working events and in the school restaurant, these classes form the foundation of what it is like working in a commercial kitchen day in and day out. The hours are long, the kitchen is hot, and no matter how hard you try you never look glamorous after a twelve-hour shift over the line, which is partly why I gravitated to pastry….
At the end of the shift all you want to do is sit down with a cold beer, chat with your colleagues, and eat a simple but hearty meal. One of the bonuses of working the school restaurant was that the leftovers were always set out for the students to eat as a family meal. This gave the school the opportunity to get rid of extra portions while feeding the starving students.
One of the most popular items on the restaurant rotation was the blackened salmon sandwich with chipotle aioli. Feeling adventurous one day, I added a small piece to my plate, sat down, devoured it, and went back for more. The recipe below is an adaptation of the recipe from class, combining the classic flavors found in the salmon BLT but in a lighter and more seasonal approach. Enjoy!
Blackened Salmon Salad Recipe
Blackened Salmon Salad Ingredients
Yields 4 servings

3/4 cup

candied pecans

2 Tablespoons

Cajun Blackening Seasoning

4

salmon filets-wild caught

1

lemon

6 ounces

baby greens

White balsamic vinegar

2-3 ounces

crumbled goat cheese

1/2 cup

strawberries sliced
Directions:
Preheat oven to 375 degrees
Combine all ingredients for blackening seasoning in a small bowl. Lay your salmon filets side by side on a plate, skinless side up. Cover tops evenly with blackening seasoning. Set aside.
Rub the salmon filets with Cajun blackening seasoning. Heat a cast-iron skillet over medium-high heat. Add 1-2 tablespoons olive oil. When oil begins to smoke, add your salmon filets side-by-side, with the skinless side facing down. Cook for 2-3 minutes or until you can move a spatula underneath salmon. If it sticks, it's not ready. Flip filets and cook the skin side, 3-4 minutes or until crispy. If filets are not cooked as thoroughly as you like in the middle, put the pan in the oven for 5-10 minutes.
When you are finished cooking salmon, slice your lemon in half and garnish filets with fresh lemon juice.
Assemble your salad: Toss spinach with a light coating of white balsamic vinegar. Top spinach with 1 salmon filet, pecans, strawberry slices and goat cheese.
Share your thoughts, leave a comment