Sriracha Avocado Heirloom Tomato Toast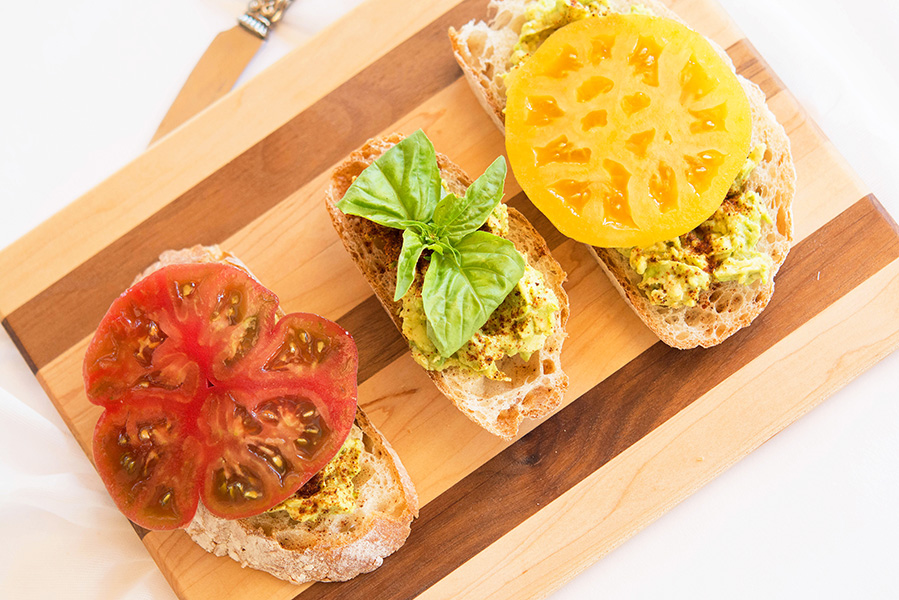 Sriracha has been in the culinary spotlight for many years, what began as a trend has now grown into a culinary cult following. If you are one of the few that has not had the pleasure of this uniquely complex condiment, now is the perfect time to try it in powdered form. Sriracha is a product of Thailand and consists of vinegar, chilies, garlic, sugar and salt. The unique flavor is comparable to no other sauce or condiment on the market. I am particularly in love with sriracha on homemade macaroni and cheese; just thought of it is making my stomach growl!
The avocado has been a staple in southwestern and Californian cuisine for many years but in the past few year's aggressive marketing has catapulted the avocado into the mainstream. Nutritionally sound and a wonderful source of good fat and protein the avocado is the perfect addition to just about anything!
Avocado toast has been in the culinary spotlight for a few years now, gaining popularity not only because of its simplicity but also because of the easy accessibility that many of us have to avocados. In three to four ingredients you can have a filling, nutrient-rich snack or add a fried/poached egg if extra protein is needed. The extra spice and kick that sriracha powder provides, takes this dish from good to spectacular.
You may be wondering why sriracha powder over bottled form? The powder gives you the flexibility of portability, ease of use and a better control over the amount of heat going into your recipes. It also will not change the consistency of your dish when that is a consideration in preparation and recipe development.
Sriracha Avocado Heirloom Tomato Toast
Yields 3 Servings
Ingredients:
1 whole

avocado

1 teaspoon

lemon juice

½ teaspoon

sriracha powder

Salt and pepper to taste

3 thick slices

rustic artisan bread

1

heirloom tomato/sliced (color of your choosing)

Basil to garnish
Directions:
Cut the avocado in half by placing the avocado lengthwise on a cutting board. With your chef knife pierce the center of the fruit and slowly rotate your knife around the avocado. Pick up the avocado and twist each side in opposite directions. Pull apart. To remove the pit, place the blade of your knife onto the pit and push slightly down into the pit. Twist slightly and pull the pit up. Discard. Remove the flesh of the avocado by scooping out around the skin of the avocado with a spoon. Place both halves into a bowl. Smash slightly with the back of a fork and add the lemon juice and sriracha powder, salt and pepper. Toss to combine.
Lightly toast the artisan bread and spoon the avocado mixture on top of each piece of bread. Top the avocado mixture with heirloom tomato slices and garnish with fresh basil. Serve immediately!
Share your thoughts, leave a comment