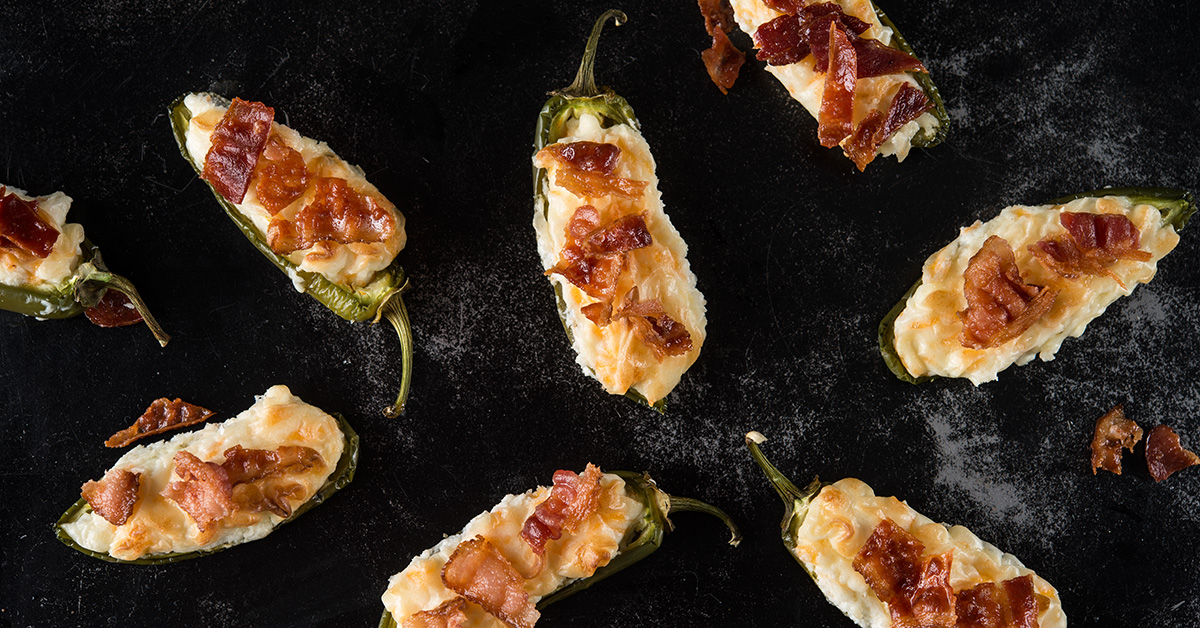 I think we've all had at least one jalapeño popper at one time or another in our lifetime. You know the appetizer that comes out coated in breadcrumbs, deep fried, and bubbling hot… The one that instantly burns your tongue with scalding hot cheese, and then burns it again with the heat from the pepper. Yes, I know you're familiar with this deliciously sinful appetizer! As far back as I can remember, the jalapeño popper has been a staple at parties, graduations, and get-togethers. It's an expected appetizer at many bars and family restaurants.
But where did this treat hail from? Who invented this bite-sized cheesy paradise? Like most dishes, there are varying ideas as to where the original popper began. Many believe that the popper is an Americanized version of chile rellenos - the classic Mexican baked or deep-fried dish that combines mild chiles, cheese, and bright red tomato sauce.
Anchor Food Products claims that jalapeño poppers are a creation of their test kitchens. In 1992, Anchor launched their frozen jalapeño popper product, making the batter-fried snack readily accessible for restaurants and bars. While I do love the deep fried version, I wanted to create a popper that was a bit healthier and not deep-fried. Also not wanting to sacrifice the crunch of the crispy coating, I added in bacon. A fair trade I think! Dark brown sugar is another addition I see as fitting to boost the sacred bite with a bit of sweetness. My final alteration is the inclusion of Chipotle Creole Spice Rub - a spice blend of chipotle morita powder, celery seed, thyme, garlic, turbinado sugar, paprika, fennel, oregano and a few other spices. This is an amazingly balanced sweet and spicy rub! Adding just a small amount of this rub to the poppers presents a unique taste to the very common appetizer.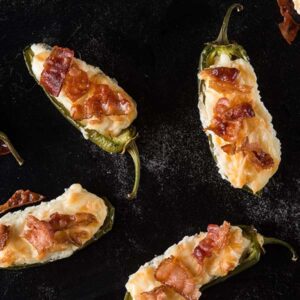 Print Recipe
Bacon Jalapeño Poppers
Spicy, savory, creamy, crispy, delcious. Using a small amount of Chipotle Creole Spice Rub, these Classic poppers get a unique flavor.
Instructions
Slice the 6 jalapeños in half lengthwise.

In a medium bowl, add the softened cream cheese, brown sugar, chipotle creole spice rub, and monterey jack cheese. Stir with a fork to combine.

Spoon the mixture into the jalapeños. Place the jalapeños onto a sheet pan.

On a separate tray, add the sliced bacon. Put the bacon tray in the oven at 350° for about 20-22 minutes until crispy.

10 minutes into the bacon cooking, put the jalapeños in the oven at 350° for 10-12 minutes. 

Remove both trays from the oven. Let the trays cool for five minutes (this is the hardest part of this recipe), and then crumble the bacon on top of the poppers. Finally, enjoy! And be careful not to burn your tongue! 😉
Share your thoughts, leave a comment