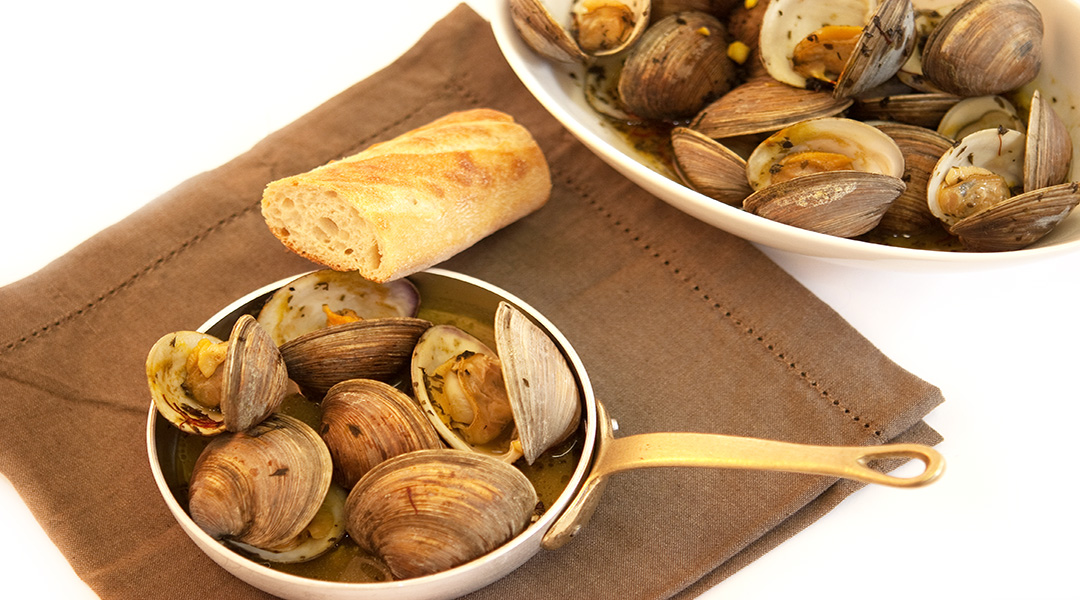 There is nothing that says summer more than clams and mussels. Clamming is a favorite past time of many on the coasts. Once the shells have been collected, the clams are washed and cleaned of any remaining sand. In a traditional clambake, large pits are dug in the sand. Afterward, the fresh clams, corn on the cob and whole red potatoes are wrapped in seaweed and placed on top of scorching hot rocks collected from the surrounding areas.
While there is nothing quite like a traditional clambake, many of us have limited access to clamming and beaches. But why should this deter us from enjoying these delicious little mollusks? Clams, although simple to make, need a bit of attention before they are prepared. Most home cooks and chefs alike will agree that a soak and scrub are necessary. After all, no one likes a mouth full of gritty sand in their food! Many cooks have time-honored tricks for the removal of sand from inside of the shell. For instance, one cook recommends placing the clams in a bowl of clean water with a small amount of cornmeal. The clam will then eat the cornmeal as the sand is washed away from the inside. Does it work? I'm not sure, but it is certainly worth a try. Do you have suggestions for cleaning clams, tricks or proven techniques?
Once the clams are clean it is time to make the most aromatic and delicious broth you will ever have tasted! The white wine combines with rich butter, aromatic garlic, and our high quality dried herbs. Parsley, oregano, and dried basil all add an herbal note to the broth while saffron brings a floral earthiness that cannot compare to anything else you have ever eaten.
An interesting fact for those of you who are unfamiliar with saffron. Saffron is the stamen of the crocus flower, where each stamen is painstakingly picked by hand. The high cost of saffron is directly impacted by the low production of the flower and an extremely labor-intensive process of harvesting the product. But don't let that scare you away, saffron is a way to add a very distinct color and earthy flavor to broths, paella, and risottos. The flavor is incomparable to any other spice or herb.
Saffron Clams Recipe
Ingredients:
30

clams (soaked and cleaned)

1 cup

dry white wine (chardonnay)

1/2 cup

butter

2

garlic cloves (minced)

1 tsp.

parsley flakes

1/2 tsp.

Mediterranean or Mexican oregano

1/2 tsp.

dried basil

1/2 tsp.

Greek or Spanish Saffron

Baguette
Directions:
Sautée the butter and garlic in a large sauté pan 1-3 minutes. Add the white wine, parsley flakes, oregano, basil, and saffron. Whisk to combine. Place the clams into the pan. Place on medium heat and cover. Simmer for 10-15 minutes until the clams open. Discard any clams that do not open. Serve each person clams, broth and a baguette.
Share your thoughts, leave a comment