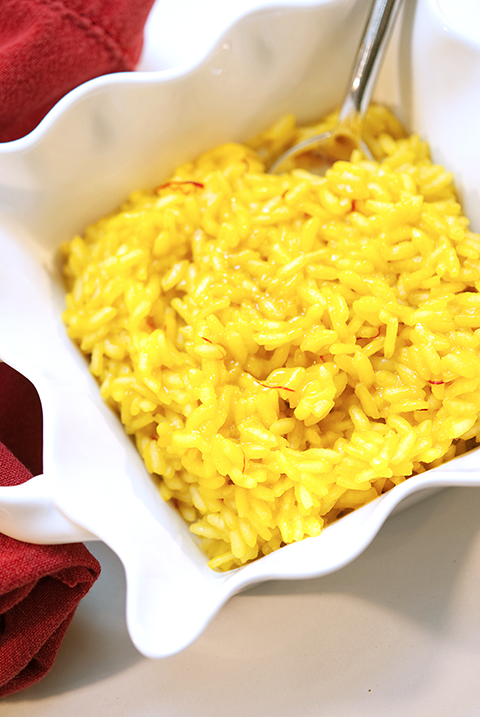 The Thanksgiving holiday is over and I bet you ate way too much just like me! For those of you that braved the mad shoppers this past weekend; I have a simple but hearty dish to warm you up and keep you going this week. Risotto is a staple in our family. Its versatility and delicious texture and flavor is a hit with both my children and husband. It is also a very elegant dish to serve to your guests. Simple additions of items such as peas and lobster make for a stunning and satisfying meal for any culinarian.

Twenty minutes of your time is all it takes to make a hearty dish made with our selection of saffron.
The earthy flavor of the saffron pairs with the creamy and rich texture of the risotto.
Saffron Infused Risotto Recipe
Serves 4
Ingredients:
5 cups

chicken stock

1 pinch

saffron

6 tablespoons

butter

1

onion, finely chopped

1 1/2 cups

Arborio rice

1 cup

grated parmesan cheese

Salt and pepper, to taste
Directions:
Bring the stock to a boil, and then reduce to a low simmer. Ladle a little stock into a small bowl. Add the saffron threads and leave to infuse. Melt 4 tbsp of the butter in a large saucepan until foaming. Add the onion and cook gently for about 3 minutes, stirring frequently, until softened. Add the rice. Stir until grains start to swell and burst, then add a few ladlefuls of the stock, with the saffron liquid, and salt and pepper to taste. Stir over low heat until the stock is absorbed. Add the remaining stock, a few ladlefuls at a time, allowing the rice to absorb all of the liquid before adding more, and stirring constantly. After 20-25 minutes, the rice should be al dente and the risotto golden yellow, moist and creamy. Gently stir in about two-thirds of the parmesan and the rest of the butter
Heat through until the butter has melted, then taste for seasoning.
Transfer the risotto to a warmed serving bowl or platter and serve immediately, with the remaining parmesan sprinkled on top.
Enjoy!
Share your thoughts, leave a comment