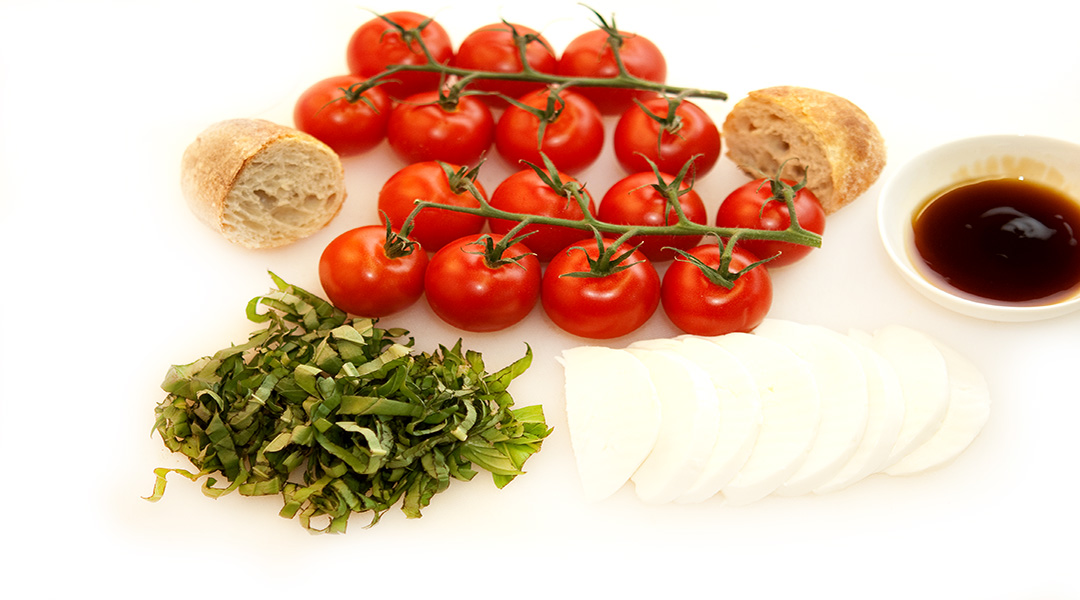 Everyone is striving to eat healthier these days, and one great way to do that is to focus on seasonally-fresh ingredients. For many people, this might conjure up images of spending hours working over a hot stove or eating food that is good for you but lacks in the flavor department. Enter Caprese salad. Known as Insalata Caprese in its native Italy, this perfect summer dish may sound extravagant and fussy, but that couldn't be further from the truth. Grab some ripe tomatoes, fresh mozzarella, and basil, and you'll have almost everything you need. A drizzle of olive oil, and perhaps a splash of Balsamic vinegar adds a sophisticated finish to this simple salad.
The exact origins of Caprese salad are a bit unclear. What is known is that the dish originated sometime in the 1920s, first appearing on the menu at Hotel Quisisana on the island of Capri. It's believed the creator of the salad was a patriot, who wanted to celebrate the green, white, and red of the Italian flag by using basil, mozzarella, and tomatoes to replicate those colors. In the 1950s, King Farouk of Egypt, who was in exile on Capri, was famously served a Caprese salad in sandwich form, when he requested a meal that would be light on his stomach. This only helped to popularize the dish further.
Traditional Insalata Caprese is comprised of only tomatoes, basil, and mozzarella, with a drizzle of olive oil. However, as the dish has spread around the world, many chefs have put their own spin on the classic. One of the most popular additions, and one of our favorites, is Balsamic vinegar. This adds just the right amount of tang and acidity to balance the richness of the olive oil. The result is a salad that is at once light and decadent, making the perfect summer side or a fantastic meal by itself.
Caprese Salad Recipe
Ingredients:
1 lb

fresh mozzarella


1 lb

cherry tomatoes

4 Tablespoons

fresh basil (chiffonade)

1 Tablespoon

Balsamic Vinegar Powder

3 Tablespoons

water


½ teaspoon

Roasted Garlic Sea Salt

Drizzle of

extra virgin olive oil
Directions:
Cut the fresh mozzarella into thick slices. Slice the cherry tomatoes in half. Chiffonade the fresh basil by rolling the basil leaves together lengthwise and cutting into thin strips. Arrange the mozzarella and tomatoes on a platter. Top with basil.
In a small bowl, whisk together the Balsamic Vinegar Powder, water, and Roasted Garlic Sea Salt. Drizzle this dressing, and olive oil, over the salad ingredients.
Share your thoughts, leave a comment