Vegetarian Pho (Vietnamese Noodle Soup)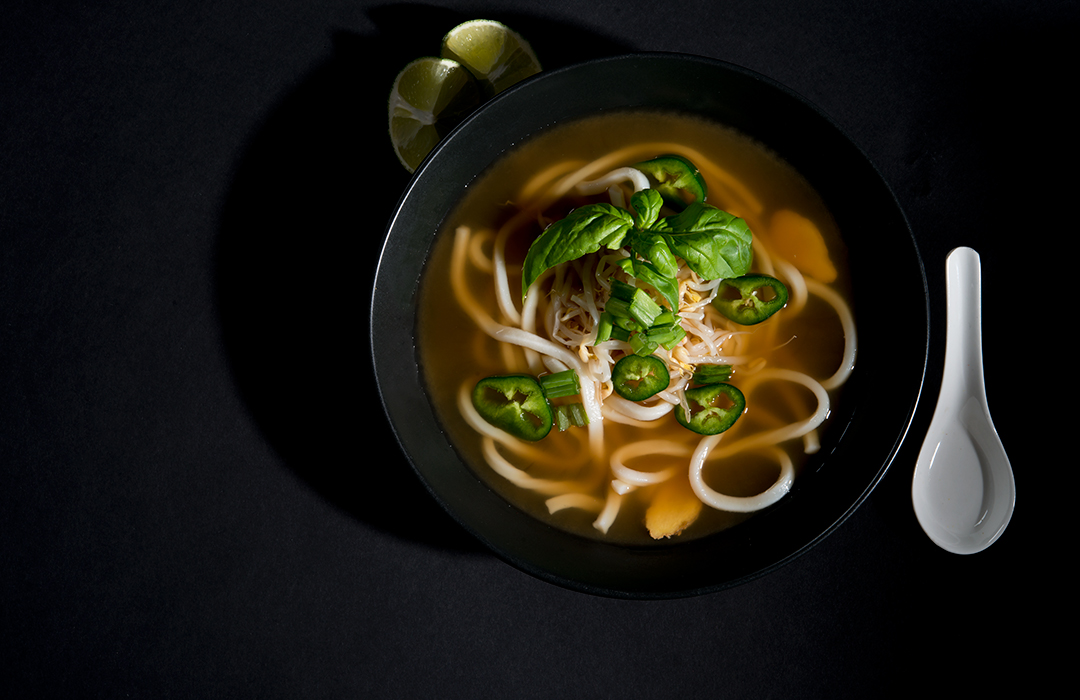 What is Pho? Pho is a Vietnamese soup that is comprised of a vegetable or beef stock. Noodles, tofu, shallots, ginger and fresh herbs are added to a steaming hot bowl of broth. Aromatic spices such as cinnamon, star anise, and cloves are used to create the fragrant broth soup base.
The history of Pho is a bit unclear. Many think that it was the creation of a Cantonese street vendor while others claim it was a Vietnamese woman trying to please her French partner with a recreation of Pot de Feu. The stories and creation of the dish may be varied but the dish tends to be consistent in both flavor and ingredients throughout the culture.
Spices are an essential component in the base of Vietnamese pho. Cinnamon sticks, whole star anise, and cloves are key. Our cinnamon sticks are made from Korintje cinnamon, otherwise known as Indonesian cinnamon. This cinnamon isn't as spicy or penetrating as other types of cinnamon, which for quills is a good thing as you can't control the flavor as easily. Sourced from the rolling hills of Indonesia, Korintje offers an extremely sweet variety that won't invade a recipe.
Whole star anise is always a perfect companion for our cinnamon sticks. The flavor is distinctly spicy with notes of black licorice. The spice has been prominent in Asian cooking and recently has begun to be a key ingredient in liquors such as Galliano, Absinthe, Sambuca, and Patis.
The final ingredient to round off the broth is a clove. Cloves have a very strong flavor that can easily overpower a dish, but when combined with other ingredients such as cinnamon, star anise, and even vanilla, cloves will bring out the beautiful flavors of these spices.
Are you tempted to try something new and exotic? Are you unsure of what to do with the leftover cinnamon, star anise, and cloves? A fragrant loaf of gingerbread, hot mulled cider, or even perfectly spiced homemade applesauce is easy and delicious options!
Vegetarian Pho Recipe
Yields approximately 3-4 servings
Ingredients:
1 small

unpeeled onion, quartered

2

unpeeled shallots, halved

8

garlic cloves, halved

Ginger, coarsely sliced

2

4" inch cinnamon sticks

2

whole star anise

4

cloves

8 cups

clear vegetable stock

3 tablespoons

soy sauce

1 lb

rice noodles

8 ounces

seitan

or

8 ounces

fried tofu sliced (optional)

6

scallions thinly sliced (both green and white parts)

1 1⁄2 cups

bean sprouts

A big handful, to taste of

Fresh basil or cilantro leaf, left whole

1

lime cut into wedges (for serving)

Chili sauce (optional)

Hoisin Sauce (optional)

Salt (to taste)
Directions:
To make the broth place a large stock pot over medium-high heat. Add the onion, shallots, garlic, ginger, cinnamon sticks, star anise, and cloves and sauté dry, stirring occasionally, until the vegetables begin to brown. Add the stock and soy sauce and bring to a boil over high heat. Turn the heat down to medium-low, cover, and simmer for about 25 minutes. Strain into a clean pot and discard the solids. Add salt if necessary. Keep warm over low heat.
While the broth is simmering, prepare the rice noodles. Place the noodles in a large bowl. Pour boiling water over the noodles to cover and soak for 20 minutes.
When you are ready to assemble the soup, add the seitan or tofu to the warm broth and allow to heat through. Drain the soaked rice noodles and divide evenly among 3 to 4 large bowls. Using a slotted spoon, scoop the seitan or tofu out of the broth and distribute among the bowls. Ladle the hot broth over the noodles. Serve the bowls of pho with the scallions, bean sprouts, herbs, lime wedges, hoisin sauce and chili sauce on a separate platter so that everyone can season their own soup as they wish.

Share your thoughts, leave a comment