Saffron Couscous with Roasted Almonds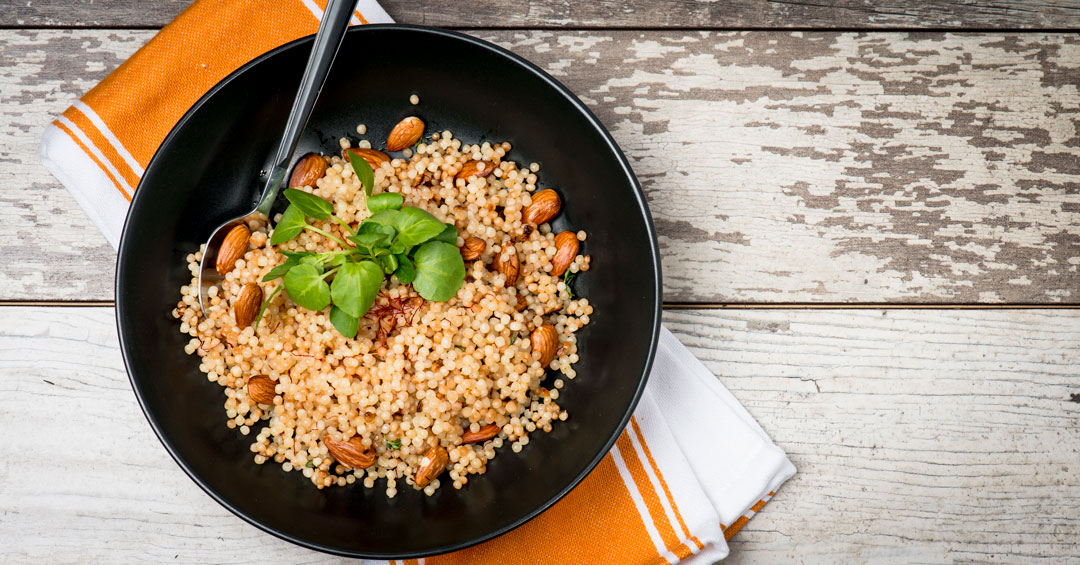 Couscous is a relatively new addition to Western diets, but it has been a culinary staple in other parts of the world for more than a millennium. Originating in North Africa as early as the 7th century, couscous is made by rolling semolina with flour and just enough water to allow small clumps to form. These tiny balls are cooked until they are light and fluffy, then loaded with vegetables, meat, or any number of other tasty toppings.
There has been some debate in the culinary world as to whether couscous is a grain or a type of pasta. The answer may lie somewhere in the middle: it is not purely a grain, because there is a process involved in making couscous. Despite being made from semolina, a true dough is not formed, meaning it's not quite a pasta either. Regardless of how you classify it, couscous is an exceptionally versatile food that loves to absorb the flavor of whatever it's cooked with.
One of our favorite preparations is couscous with saffron and roasted almonds. The earthy flavors of the saffron mingle with garlic and onions to create a fragrant and delicious dish that's elegantly exotic, but easy enough to throw together for a weeknight dinner.
Saffron Couscous with Roasted Almonds Recipe
Yields 3-4 servings
Ingredients:
10 ounces

couscous

2 cups

boiling water

2 tablespoons

olive oil

¼ teaspoon

red pepper flakes

2 cloves

garlic, minced

½

onion, diced

9-12 threads

saffron

½ cup

toasted sliced almonds

Salt
Directions:
Add couscous to boiling water, remove from heat and cover. Let stand 5 minutes.
Heat olive oil in a large sauté pan. Add red pepper flakes, garlic, onions, and salt. Cook until tender, about 5 minutes. Remove from the heat. Add contents of pan, along with saffron and almonds, to couscous, fluffing with a fork.
Share your thoughts, leave a comment