Crock-Pot BBQ Chicken Sliders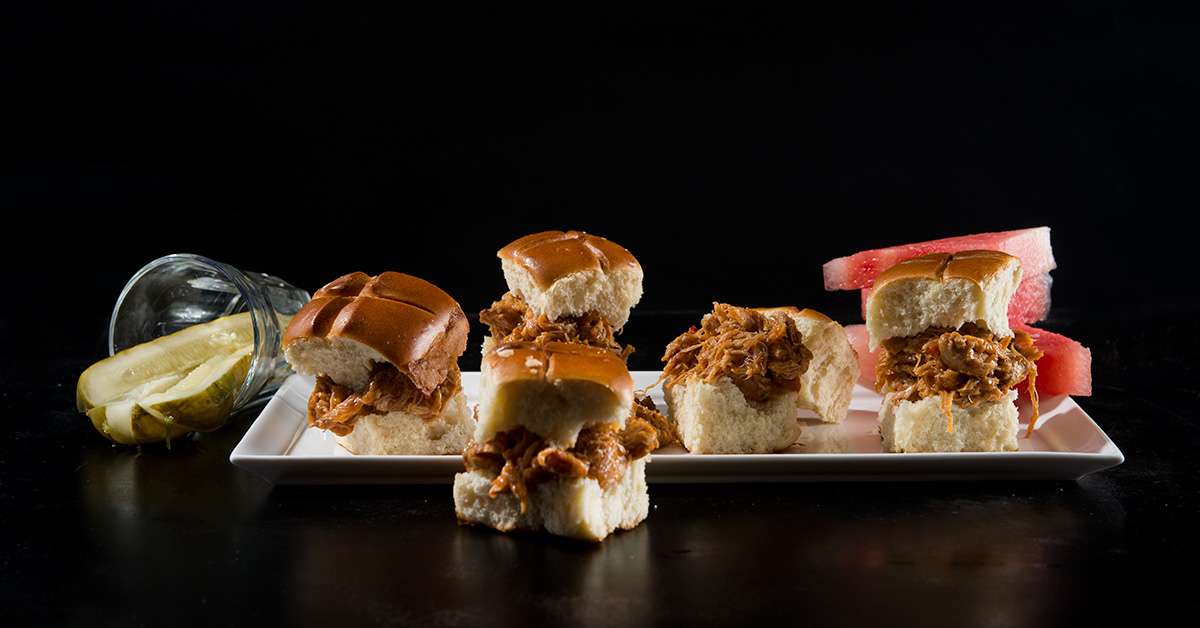 As we spend more free time on our backyard patios, the desire to cook outside becomes greater! It's time to grill, and it's time to barbecue, baby! Those two words are often used in the same context - grill and barbecue - but did you know that they are two truly different methods of cooking?
Grilling is usually what we think about when we head to our patios. This method utilizes direct and high heat, and typically the source of heat is gas or charcoal.
Barbecuing utilizes indirect heat and slow-cooks the meat until tender. Cooking barbecued meat can be performed using a few different methods: pit, oven, smoker, and crock-pot.
- Pit barbecues are as simple as they sound - an open fire topped with a metal grate. The metal grate is heated from below and the meat is slowly cooked; sometimes a rotating spit is included to cook the meat evenly on all sides.
- Ovens can do a lovely job creating barbecued meats. The oven is generally kept on a low temperature (around 300°) for 2-3 hours.
- Smokers (my personal favorite) receive indirect heat from the sides to cook the meat at a low and slow pace. The temperature remains constant around 220° for multiple hours. The result is moist and tender meat that easily falls apart. When I don't have multiple hours to lovingly tend to a smoker, assuring that the temperature remains constant and that the meat develops a beautiful smoke ring, I use a crock-pot.
- Crock-pots don't provide the same rich woody flavor that smokers are loved for, but they're certainly a more realistic option for our hectic everyday lives. This handy machine provides a low, constant heat to help produce the tender fall-apart goodness fine barbecue should have.
This simple recipe uses our BBQ Seasoning as a base to impart flavor, ending with a delicious and simple weeknight barbecue meal. BBQ Seasoning is a combination of brown sugar, sea salt, sweet smoked paprika, garlic, onion, chili pepper, black pepper, cumin, and coriander. The addition of chicken stock, vinegar, ketchup, and a little more brown sugar creates a rich and tangy sauce that's perfect to simmer boneless, skinless chicken thighs in.
BBQ Chicken Sliders Recipe
Yields 4 servings
Ingredients:
8

boneless skinless chicken thighs

3 Tablespoons

BBQ Seasoning

1 cup

chicken stock

¼ cup

malt vinegar (or white balsamic for gluten-free)

½ cup

ketchup

¼ cup

brown sugar
Directions:
Whisk together the BBQ Seasoning, chicken stock, vinegar, ketchup, and brown sugar. Place the chicken thighs in a single layer on the bottom of a crock-pot. Pour the barbecue sauce over the top of the chicken. Cook on low heat for 4-5 hours until the chicken is easily torn up with a fork. Serve with pickles, coleslaw, watermelon, potato chips, and small slider buns. Enjoy!
Share your thoughts, leave a comment