Harissa Chicken Salad with Cilantro Herb Dressing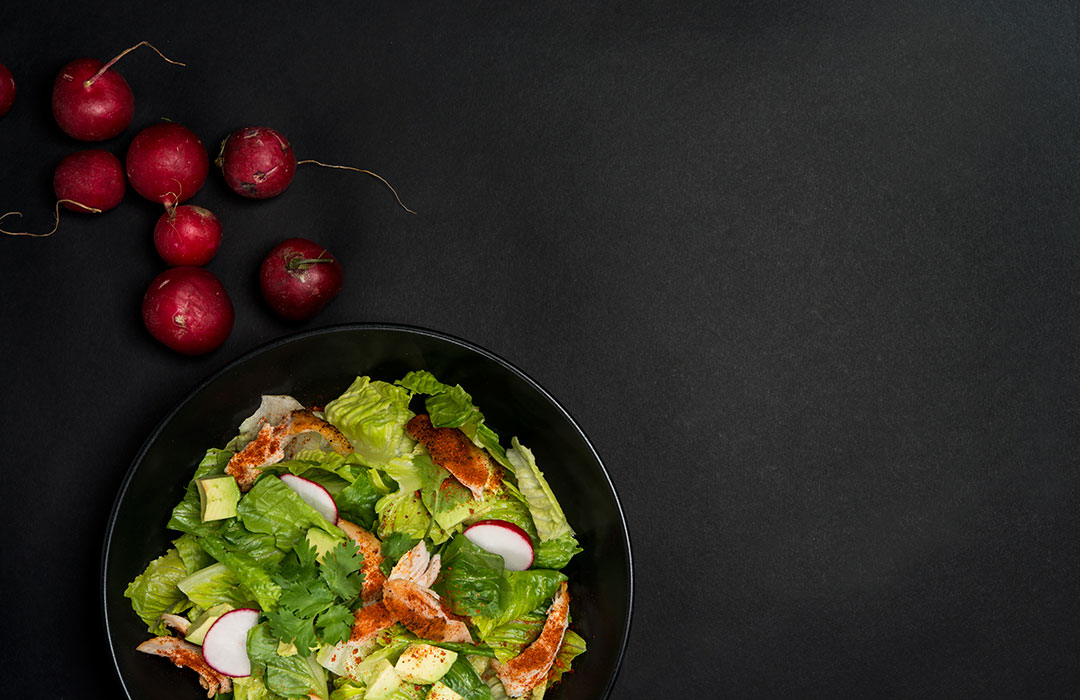 The New Year is almost here, and many of us will take this chance to work on new, healthier versions of ourselves. While a lot of people assume that eating healthy means giving up flavor, this couldn't be further from the truth! If you look at diets in other parts of the world, you'll find that many of them turn to spices in order to liven up their meals. Adding a little heat is a great way to take any meal from bland to bold, and one of our favorite ways to kick things up is a North African condiment called harissa. With our recipe for Harissa Chicken Salad with Cilantro Herb Dressing, you can bring a taste of Tunisia to your table anytime.
What is harissa? It traditionally consists of a paste made from roasted red peppers with serrano peppers and other hot chilis, as well as spices such as garlic and coriander. These are ground or otherwise processed and mixed with olive oil, to create a condiment that is used on a wide variety of meats and vegetables. Harissa is so prevalent in North Africa and the Middle East that it has been compared to America's love of ketchup, as the condiment can be found in homes, at restaurants, and on the carts of street vendors. Though harissa is usually a paste, we are happy to offer a Harissa Spice Blend, which makes this spicy sensation even more versatile. This powder can be used as a rub, sprinkled on as a seasoning, or even mixed with olive oil to make a paste similar to the original condiment.
Our Harissa Spice Blend is the star of this salad recipe, which features lean chicken breasts rubbed with the spice. Not a meat eater? No problem! Simply replace the chicken with tofu. Toss drained, cubed tofu in our harissa powder, place in a sauté pan with a small amount of oil and sauté until golden brown. Toss on top of your salad, drizzle with our Cilantro Herb Dressing, and enjoy a crisp, refreshing start to the New Year!
Harissa Chicken Salad with Cilantro Herb Dressing Recipe
Yields 4 servings
Salad Ingredients:
2 heads

romaine lettuce

4

boneless, skinless chicken breasts

1 Tablespoon

Harissa Spice Seasoning

1

Haas avocado, pitted and diced

4 Tablespoons

fresh cilantro, washed and chopped

3

radishes, washed and chopped
Cilantro Herb Dressing Ingredients:
2 cloves

garlic, peeled

1 teaspoon

salt

1/3 cup

Dried Cilantro flakes

½ cup

Dried Parsley Flakes

¼ cup

sherry wine vinegar (red wine or apple cider vinegar can also be used)

¾ cup

extra virgin olive oil

½ teaspoon

hot sauce of your choice

1 ¼ teaspoon

granulated sugar
Directions:
Place garlic and salt into a food processor; process until a paste is formed. Add cilantro and parsley; process until finely chopped. Add vinegar and process for 10 seconds. Slowly drizzle in oil with the processor still running. Add hot sauce (to taste) and granulated sugar. Pour dressing into a glass jar, and chill in the refrigerator for several hours. Shake well before use.
Preheat oven to 400 degrees. Rub the chicken breasts with harissa spice mixture. Place on a baking sheet and bake until internal temperature of chicken reaches 165 degrees, about 25-30 minutes. Let chicken cool to room temperature and then slice.
Assemble salad ingredients, and top with sliced chicken. Drizzle with dressing, and enjoy!
Share your thoughts, leave a comment