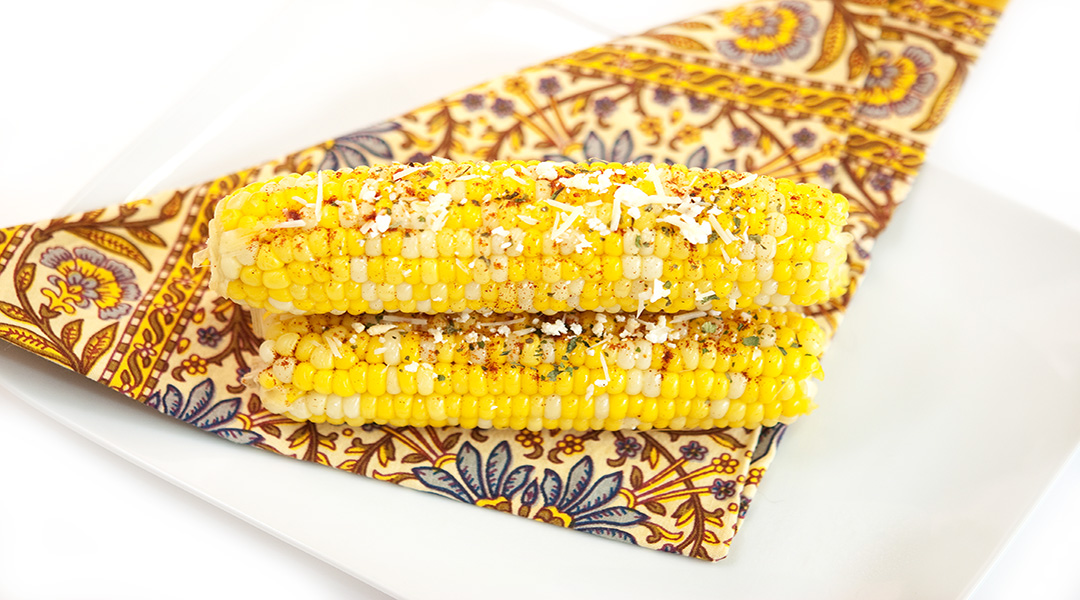 Picture yourself walking down the street in a small town in Mexico. The intoxicating smell of fire roasted corn, spicy but sweet Chile powder and bright and briny cheese assaults your nose. You stop in mid step to smell the air, but where is it coming from? You see a street vendor with a large stainless pot, he digs deep into the pot of golden ears and he picks one up and slathers it with butter or mayonnaise, Chile powder, herbs and cheese. You quickly descend on his stand, purchase one, and drool over the aromatic smell. There is nothing quite like it!
Roasted corn has become a staple at county fairs and road side stands here in the U.S. The method of cooking may be slightly different but the outcome is very similar to the stands in Mexico.
Chiles and aromatic herbs are two very important staples in Mexican cooking. Our smoked Serrano Chile powder is made from smoked Serrano chilies that are dried and then ground into a fine powder. While many chilies can have a fruity profile, the flavor profile of the smoked Serrano is savory with a medium heat. Perfect for all types of poultry, beef and pork or vegetables. The smoked Serrano powder is most commonly compared to a smokey chipotle Chile.
One of the most commonly used herbs in Mexican food is cilantro. Cilantro has a parsley like flavor with notes of citrus. Many people are divided in their love for this herb, often calling it soapy. I but wholeheartedly disagree! It makes just about any salsa, tacos or grilled Mexican corn taste that much better! Our herbs are grown and picked at the peak of freshness. Then they are dried and crushed to bring your favorite dishes to life.
Grab some fresh corn, step out of your food comfort zone and explore street food from other cultures! Be sure to add a little spice with our dried herbs and spicy Chile powders. Your taste buds will thank you!
Mexican Street Corn Recipe
Yields 6 servings
Ingredients:
6 ears

corn, husks on

6 tablespoons

butter

2 teaspoons

smoked Serrano chili powder

1/4 cup

grated cotija cheese

1/4 cup

dried cilantro

Juice of 2 limes
Directions:
Preheat oven to 350 degrees F.
Soak corn in a water bath for 20 minutes. Remove from water. Place corn, in its husks, directly on the oven rack or on the grill. Roast until tender and cooked through, about 30 minutes.
Peel down the husks. Rub each ear of corn with 1 tablespoon butter. Sprinkled the corn with smoked Serrano Chile powder, cotija cheese, grated parmesan, dried cilantro and lime juice.
Share your thoughts, leave a comment