How To Make Homemade Chicken Tacos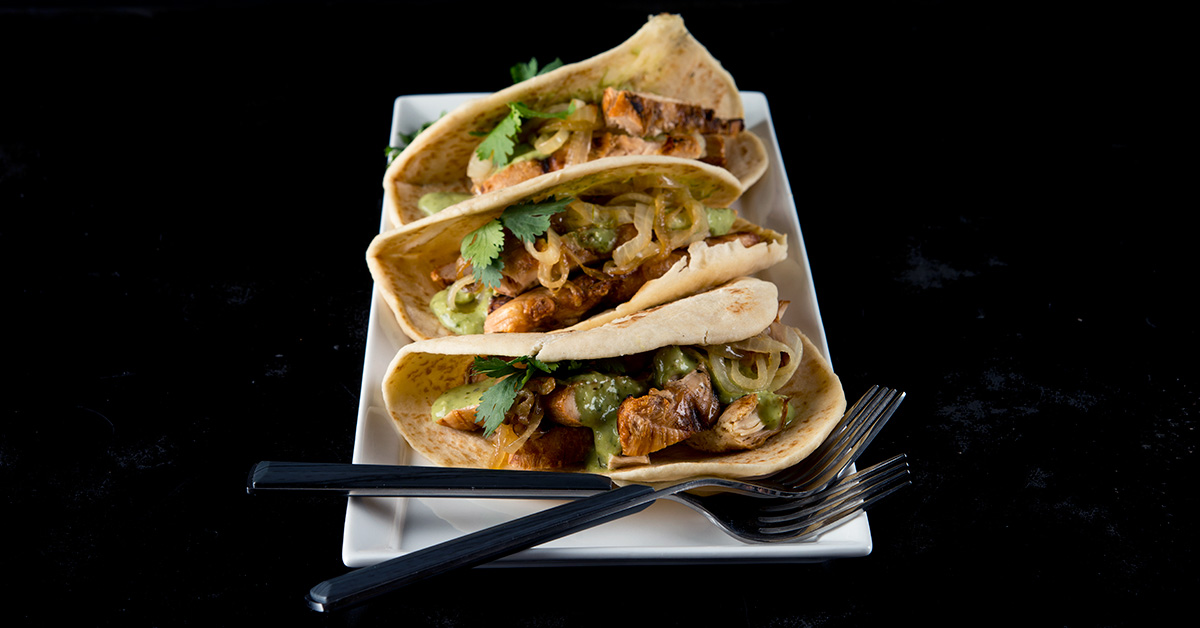 How To Make Chicken Tacos with Creamy Cilantro Dressing
I love tacos! I could eat them at every single meal and still not tire of the mire of flavors that are found in one small shell. Seasoned protein, crisp lettuce, cool sour cream, and cheese come together in a crispy corn shell. There is no delicate way to eat a taco, you simply have to dive in and accept the mess that follows. Although the taco may seem like a utensil-free meal, a fork is necessary to scoop up the filling that always falls out the other side.
Tacos are as much a part of the American culture as cheeseburgers and cherry pie but the taco is not an American creation. The tacos humbling beginnings began in Mexico in the early 1800's. Native Mexican women brought their culinary skills into the cities and cooked in small taquerias and roadside stands. Taquerias were considered food for the common working class poor; when the Conquistadors invaded Mexico they brought European style cuisine with them. Common food such as tacos were not considered fit for consumption by the upper class, this prompted the creation of complex moles and sauces.
In the early 1900's Mexican immigrant began to trickle into the U.S. to find jobs working in mines and building the railroad. The chili queens were immigrant women who sold tamales and tacos at fairs and from street carts in San Antonio. The chili queens were considered a safe way to try the cuisine of Mexico, as Mexico was considered highly dangerous at the time. By the 1950's the taco was becoming as much a part of American culture as apple pie or cheeseburgers. The invention of a deep fried hard shell taco and the creation of a fast food restaurant named Taco Bell brought Americanized ethnic cuisine to the general public. Over the years, the American public has had a renewed desire in authentic ethnic cuisine versus Americanized-processed ethnicity. Carne asada, barbacoa, and pastor tacos have returned to Mexican menus.
Homemade Chicken Tacos Recipe
Yields 4 servings
Chicken Taco Ingredients
1 pound

chicken tenders

1 Tablespoon

taco seasoning

1

onion (thinly sliced)

1-6

Soft flour tortillas
How to Make Chicken Tacos
Toss the chicken tenders with the taco seasoning. Place on the grill and heat to an internal temperature of 165 degrees. Turning once during the cooking process. While cooking the chicken on the grill, thinly slice the onion and place in a medium sauté pan with 1 tablespoon of olive oil. Sauté the onions until soft and caramelized for approximately 15-18 minutes. Remove from heat.
Cilantro Dressing Ingredients
1 cup

mayonnaise

1/3 cup

whole milk

4 tsp.

finely minced fresh cilantro

2 tsp.

lime juice

1 tsp.

white vinegar

1 tsp.

granulated sugar

1 tsp.

dried minced garlic

1 tsp.

dried minced onion

1/2 tsp.

salt

1/8 tsp.

cayenne pepper

1/8 tsp.

ground black pepper

1/8 tsp.

ground cumin
How to Make Cilantro Dressing
Whisk together all the ingredients in a medium bowl. Cover and chill.
Assemble the tacos by placing chicken, onions and a drizzle of creamy cilantro dressing on top.
Share your thoughts, leave a comment