Vegetarian Biscuits and Gravy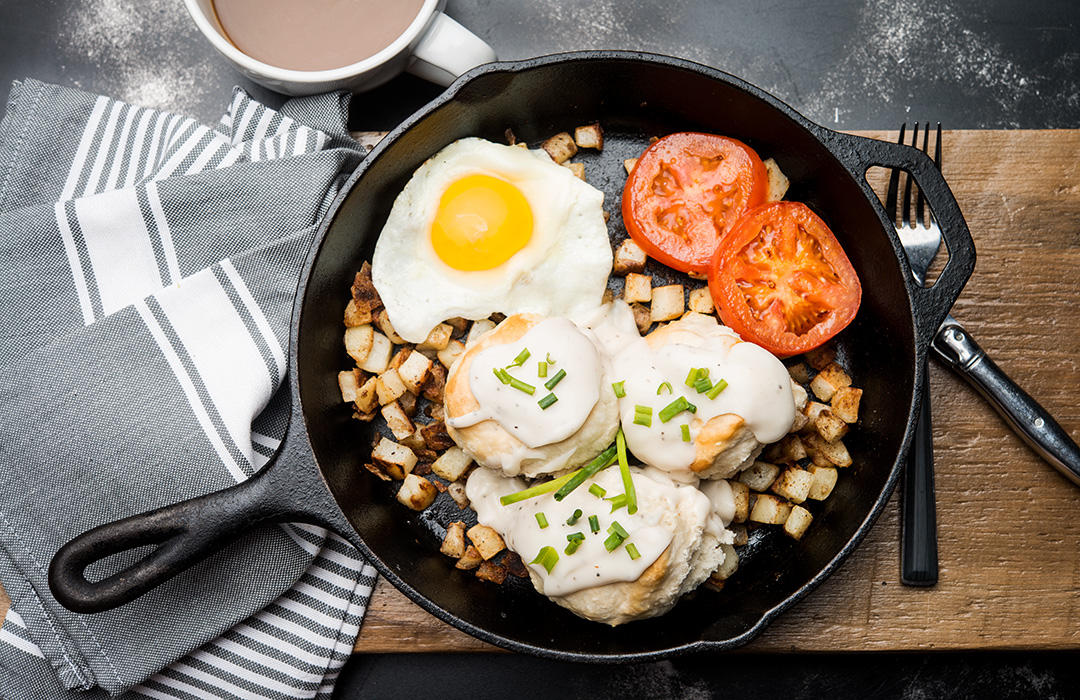 Biscuits and gravy is the heartiest of hearty breakfast foods. Don't you agree? Soft, flaky biscuits covered in creamy gravy… a decadent and filling way to start off the day.
This dish is familiar to many as a southern comfort meal. The combination gained popularity during the Revolutionary War as a way to keep soldiers and weary factory workers full with a high caloric diet. Biscuits were relatively cheap to make, and gravy was also cheaply scraped up from grease drippings, flour, and milk. So simple, inexpensive, and filling. In more recent years, the addition of sausage, pan fried potatoes, and an over easy egg has graced many gourmet breakfast menus. Although this is a vegetarian recipe, sausage can easily be added to the gravy. Simply add the cooked and crumbled sausage before the addition of the milk and whisk to combine.
Vegetarian Biscuits and Gravy Recipe
Yields 2 servings
Biscuit Ingredients:
2 cups

all-purpose flour, plus more as needed

2 teaspoons

baking powder

1 teaspoon

fine salt

½ teaspoon

baking soda

8 Tablespoons

cold unsalted butter (1 stick), cut into pieces

1 cup

cold buttermilk

Biscuit Directions:

Preheat oven to 400°. In a bowl, combine the flour, baking powder, fine salt, and baking soda. Add the butter and use a pastry cutter to cut the butter into the dry ingredients. Continue until the butter is incorporated into the flour mixture in pea-sized bits. Add the buttermilk and mix with your hands until dough is formed. Form the dough into a ball and place it onto a lightly floured surface. Roll the dough to 1 inch thick. Cut it with a round biscuit cutter. Place on a baking sheet covered in parchment paper. Bake for 15-20 minutes at 400° until light golden brown.

Gravy Ingredients:

3 Tablespoons

unsalted butter

⅓ cup

all-purpose flour

½ teaspoon

fine salt, plus more as needed

½ teaspoon

freshly ground black peppercorns, plus more as needed

¼ teaspoon

cayenne pepper

3½ cups

whole milk

Gravy Directions:

In a medium saucepan, add the butter and flour. Cook for 2-3 minutes on medium heat, until the flour mixture begins to smell nutty. Whisking, add the whole milk. Whisk until no clumps remain and bring to a low simmer. Cook until thickened to a gravy consistency. Add the salt, cayenne pepper, and ground black peppercorns. Whisk to combine. Remove from heat.

Serve biscuits and gravy together with potatoes, chives, tomatoes, and an over-easy egg. Enjoy!
Share your thoughts, leave a comment