Posted in Recipes, Soups, Salads, Sides & Snacks by Sarah
Tomato Cucumber And Feta Salad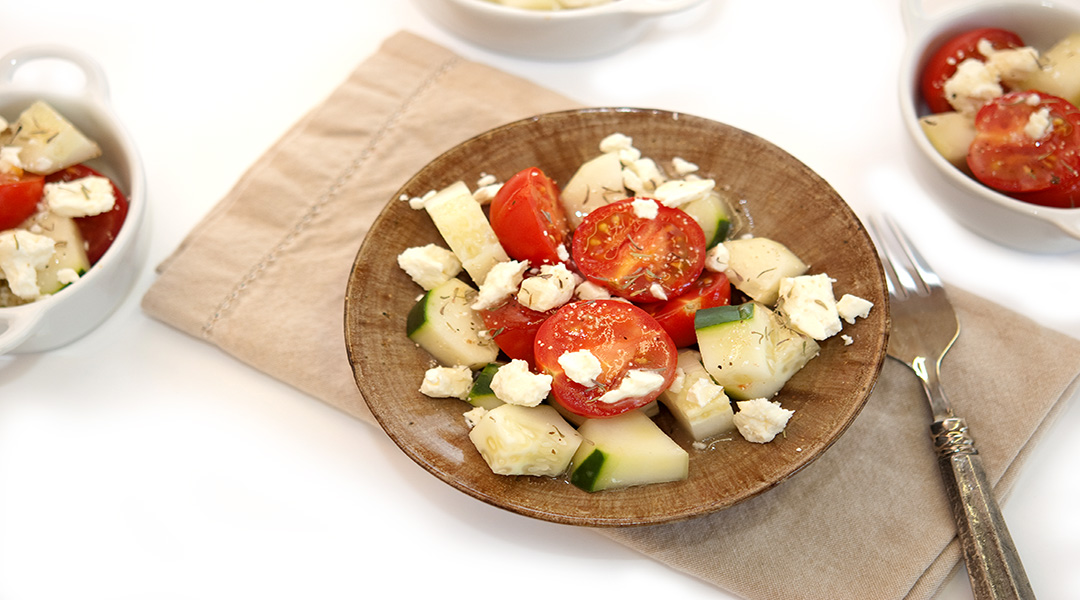 Hot, humid and sticky summer days call for an oven-free cooking day! Turning the oven on during weather like this can cause even the most die-hard cook to shrink away in fright. Tomato Cucumber Feta Salad is a quick, refreshing and delicious salad, perfect for a sweltering summer day.
This salad may seem a little average but the dressing is really what pushes it from average to spectacular. Bright and tangy lemon juice mingles with pungent garlic and sweet honey. All of these ingredients pale in comparison to our dried thyme and white poppy seeds.
Thyme has a bright lemon and slight minty aroma, perfect for any summer salad. Our dried thyme is a high-quality herb that is dried and ground at the peak of the season, producing a highly fragrant and big flavored herb. Versatile and pantry stable for up to 6 months, the versatility of dried herbs is unparalleled.
What about those white poppy seeds? I am fairly certain that many cooks have heard of or worked with standard black poppy seeds. You know the ones that ultimately stick in your teeth and no one tells you until you look in the mirror while brushing your teeth at the end of the day?! While white poppy seeds will be less obvious stuck in your teeth they also have a flavor that is unique to the seed. White poppy seeds are considerably less sweet than black poppy seeds are often used in ethnic cuisines as a thickener. They have a nutty flavor and aroma and are perfect for sauces and dressings.
Now that you are familiar with dried herbs and white poppy seeds, turn off your ovens, grab a tomato from your garden and whip up a refreshing and oven free batch of Tomato Cucumber and Feta Salad.
Share your thoughts, leave a comment!
← Previous Post
Next Post →