Grilled Cheese and Tomato Soup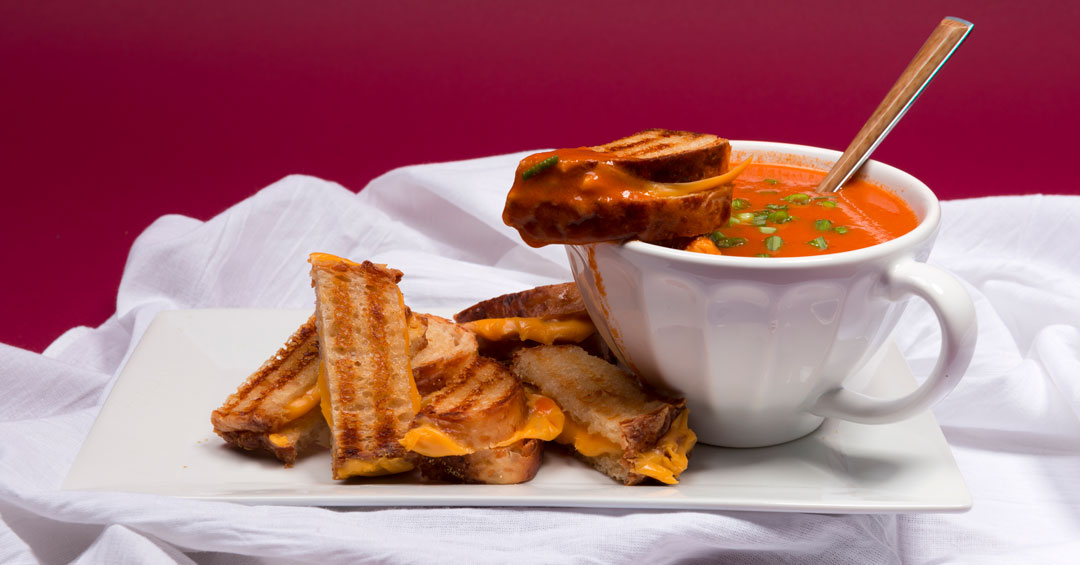 Grilled cheese and tomato soup. Few culinary combinations seem to soothe the soul quite as much. Take a bite of the chewy, gooey sandwich and a sip of soup (or even better, dunk the sandwich in the soup), and you'll be instantly transported back to childhood. While this dynamic duo is a great go-to comfort food year-round, it seems to taste especially good once the temperature outside starts to drop. With fall in full swing, it seemed like the perfect time to share our recipe for the perfect homemade grilled cheese and tomato soup.
Cooking cheese and bread together is an ancient tradition found in cultures around the world. However, the grilled cheese sandwich as we know it today appears to have originated in the 1920s, after sliced bread and American cheese became widely available. An open-faced version of the grilled cheese sandwich known as the Cheese Dream became popular during the Great Depression because its ingredients were so inexpensive. Grilled cheese got another boost after World War II. Soldiers returning home brought with them a fondness for the sandwich, which had been a staple on government-issued menus during the war.
While grilled cheese sandwiches are delicious on their own, there's no better companion for them than tomato soup. Nobody seems to know where or when this pairing originated, but it has become a quintessential part of American life, especially in fall and winter. It's not hard to see why; the acidity of the tomatoes makes for the perfect foil to the rich, creamy, melty cheese. And the crunch of the toasted bread provides a nice textural counterpoint. Our take on this classic combination is simple, with a few elegant notes. Rather than reaching for a premade canned soup, we prefer to cook our own, which can easily be done with just a few ingredients. When it comes to the sandwich, we honor tradition by using American cheese slices, but we also add a little Havarti, making things even creamier and adding a note of flavorful intrigue. These are not your kids' grilled cheese sandwiches, but your entire family is sure to love them.
Grilled Cheese Sandwich with Homemade Tomato Soup Recipe
Yields 4 servings
Tomato Soup Ingredients:
4 Tablespoons

unsalted butter

2 Tablespoons

Dried Minced Onion

1 (28 oz) can

crushed tomatoes

1 1/3 cups

chicken stock (water can also be used)

1/3 cup

heavy cream

Salt,

to taste
Tomato Soup Directions:
Melt butter over medium heat in a Dutch oven or large saucepan. Add all other ingredients, stirring to combine, and bring to a simmer. Cook, uncovered, for about 40 minutes. Stir occasionally and add salt to taste.
Blend the mixture using an immersion blender or standard kitchen blender. If you use a regular blender, it is best to blend in batches and only fill the blender half full, since the soup is so hot and has a tendency to expand.
The Perfect Grilled Cheese Sandwich Ingredients:
8 slices

Asiago cheese bread

8 slices

American cheese

4 slices

Havarti cheese

½ stick

room-temperature butter
The Perfect Grilled Cheese Sandwich Directions:
Butter one slice of bread and place, buttered side down, into a preheated skillet. Place two slices of American cheese and one slice of Havarti onto the bread. Butter a second slice of bread and place on top of the cheese, buttered side up. Toast the bottom side for approximately 3-4 minutes. Flip and toast the other side approximately 3-4 minutes. Cut into strips and serve with piping hot tomato soup.
Share your thoughts, leave a comment