Posted in Recipes, Main Dishes by Sarah
Roasted Garlic Pasta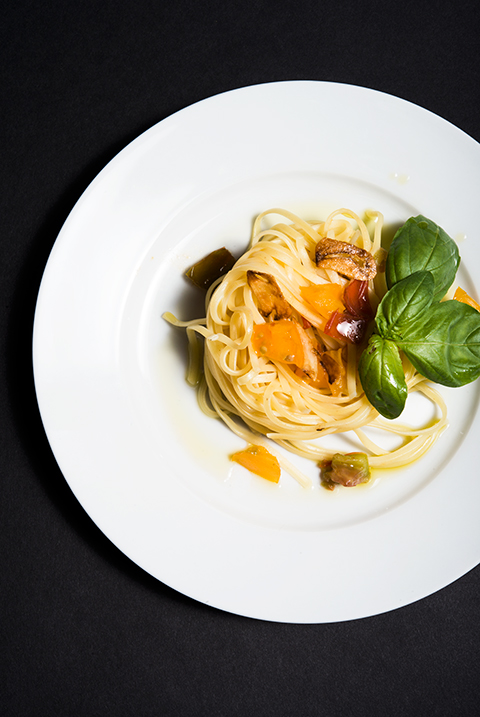 It's Monday night, you have just returned home from work. The dog needs to go out, the looming pile of laundry is starting to make its way out the laundry room doorway and your family is starving (and letting you know it). The last thing that you want to do is turn on the oven and spend hours cooking a meal. Roasted garlic pasta is a hardy, satisfying meal that is incredibly easy and fast to create. Boil pasta, sauté the sauce, combine. Garden fresh heirloom tomatoes, al dente pasta, spicy garlic and extra virgin olive oil combine together in one sauté pan. In less than thirty minutes you can have a home cooked meal on the table for you and your loved ones. Fresh garlic, sliced and sautéed adds a lovely garlic aroma to any dish. But the addition of roasted garlic powder adds an additional layer of mellow caramelized garlic flavor that you just can't get from fresh garlic.
Roasted garlic powder is made from oven roasted garlic cloves that have been dehydrated and ground into fine particles. The flavor is garlicky but vastly different than fresh-chopped garlic. We think it tastes sweeter and less harsh, but also with the caramel undertones that you get from roasted and sautéed garlic.
Our roasted garlic powder is incredibly versatile, portable and can be added to everything from roasted potatoes, baked chicken, and garden fresh vegetables. Show us your favorite weekday meal created exclusively with our delicious roasted garlic powder!
Share your thoughts, leave a comment!
← Previous Post
Next Post →