Morel Pizza With Asparagus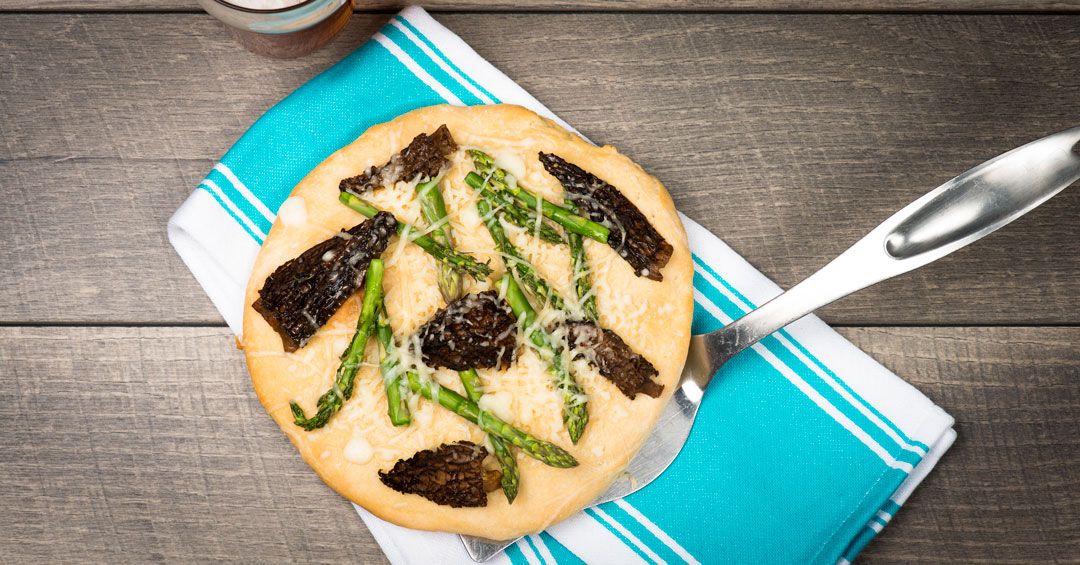 Spring is here at last! The snow has melted, the sun is shining, and temperatures are finally above freezing. For many people here in the Midwest, this change in the weather marks the arrival of a lesser-known fifth season: morel season.
Morels (genus Morchella, as they're known scientifically) are prized by chefs and food lovers all over the world. What's so special about morels? Their flavor, for one. They are often described as earthy, nutty, or meaty, but there seems to be something ethereal about these tasty toadstools that's hard to put one's finger on. Perhaps the real reason morels are so highly sought-after, though, is their rarity. Unlike the vast majority of edible mushrooms (and most foods in general), morels can't be farmed. Many people have tried to cultivate them over the past few centuries, with little success. As a result, any morels you may find in restaurants or markets have been hand-picked in the wild. Adding another layer of complication is the fact that once harvested, fresh morels are only good for about a week. Fortunately, they can easily be dried, allowing them to keep for up to two years.
The best thing about dried morels is that they rehydrate quite well, restoring the fantastic flavor and meaty texture they're known for. These reconstituted mushrooms work well in any application that calls for morels, like the morel pizza recipe below. The delicate meatiness of the morels pairs perfectly with the bright, earthy flavors of asparagus in this elegant take on a familiar classic. We like to keep things simple, with only a light sprinkling of cheese, and no sauce to overwhelm the featured fungi.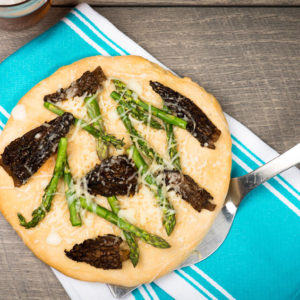 Print Recipe
Morel Pizza With Asparagus
The delicate meatiness of the morels pairs perfectly with the bright, earthy flavors of asparagus in this elegant take on a familiar classic.
Servings:
4
individual pizzas
Equipment
Cookie Sheets

Parchment Paper or Silpat

Baking Mixer with Dough Hook

Mixing Bowls

Sauté Pan
Ingredients
1 ¼

cups

warm water

(not warmer than 120 degrees or the yeast will die)

2

pkgs.

dry yeast

1

tbsp

granulated honey

3

tbsp

olive oil

(good-quality)

1 ½

tsp

kosher salt

1

lb

asparagus

(trimmed and chopped)

5-7

count

dried morels

(soaked in warm water to rehydrate)

1

cup

parmesan or gruyere cheese
Instructions
Preheat the oven to 500 degrees.

In a mixer fitted with a dough hook, add the warm water and sprinkle in the yeast. Let sit for 2-3 minutes to allow the yeast to bloom.

Add the honey, then the olive oil. Mix well.

Add the flour and beat on low until incorporated.

Add the salt. Increase the speed to "high" and beat for 10 minutes until the dough is soft and elastic.

Place the mixing bowl somewhere warm, and cover with a towel. Let the dough rise for 30-45 minutes.

Punch down and place on a flat, floured surface. Split the dough into four sections. Form each section into a ball. Roll each dough ball out into a round.

Place two rounds onto a cookie sheet lined with parchment paper or a silpat. Add the other two rounds to a second baking sheet.

Sauté the morels in 2 tablespoons of butter in a sauté pan, 4-5 minutes.

Add the chopped asparagus. Cook for 4-5 more minutes. Remove from heat.

Spread the morel mixture onto the four rounds. Sprinkle with parmesan or gruyere cheese.

Bake for 15-16 minutes at 500 degrees until golden brown.
Share your thoughts, leave a comment