Posted in Recipes, Main Dishes by Sarah
Morel Pizza With Asparagus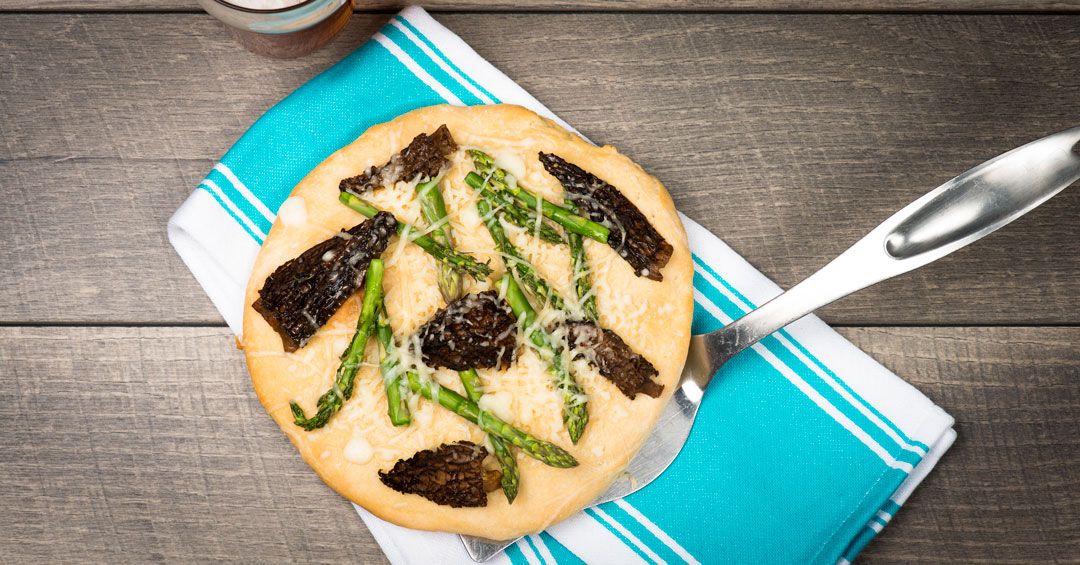 Spring is here at last! The snow has melted, the sun is shining, and temperatures are finally above freezing. For many people here in the Midwest, this change in the weather marks the arrival of a lesser-known fifth season: morel season.
Morels (genus Morchella, as they're known scientifically) are prized by chefs and food lovers all over the world. What's so special about morels? Their flavor, for one. They are often described as earthy, nutty, or meaty, but there seems to be something ethereal about these tasty toadstools that's hard to put one's finger on. Perhaps the real reason morels are so highly sought-after, though, is their rarity. Unlike the vast majority of edible mushrooms (and most foods in general), morels can't be farmed. Many people have tried to cultivate them over the past few centuries, with little success. As a result, any morels you may find in restaurants or markets have been hand-picked in the wild. Adding another layer of complication is the fact that once harvested, fresh morels are only good for about a week. Fortunately, they can easily be dried, allowing them to keep for up to two years.
The best thing about dried morels is that they rehydrate quite well, restoring the fantastic flavor and meaty texture they're known for. These reconstituted mushrooms work well in any application that calls for morels, like the morel pizza recipe below. The delicate meatiness of the morels pairs perfectly with the bright, earthy flavors of asparagus in this elegant take on a familiar classic. We like to keep things simple, with only a light sprinkling of cheese, and no sauce to overwhelm the featured fungi.
Share your thoughts, leave a comment!
← Previous Post
Next Post →