Roasted New Potatoes with Garlic & Herbs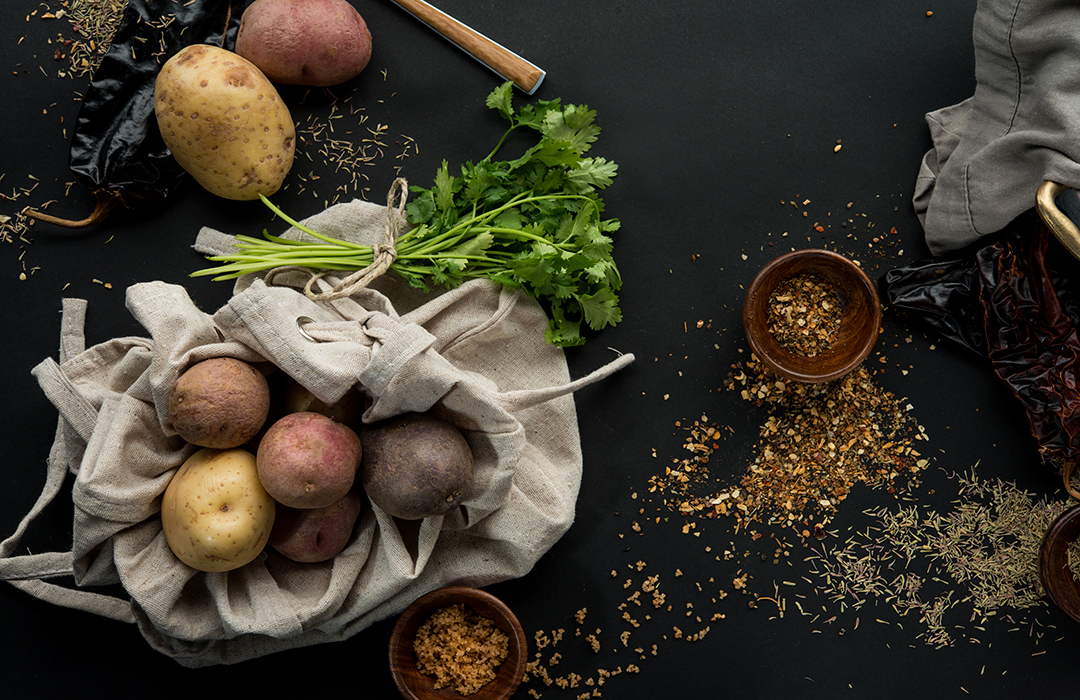 The potato is fifth in production in the world behind wheat, corn, rice, and sugar cane. It is considered by most to be a common vegetable, grown in dirt, and relatively inexpensive to purchase and prepare. This wasn't always the case, though. The potato was once considered a mysterious and highly desirable root vegetable.
Potatoes grow predominately underground and will sprout a beautiful purple flower during its growth process. Marie Antoinette was so enamored with the potato flower's beauty that she often was seen with it tucked within her hair. This of course prompted all of French aristocracy to consider the potato flower en vogue (fashionable). Little did they know it was simply a way for the French government and farmers to promote the then relatively unknown species.
In this recipe, we will be using new potatoes. New potatoes are freshly harvested young, or small, potatoes. The new potatoes slightly sweet flavor makes it the perfect vegetable to pair with our Mediterranean spice blend and exquisitely flavored roasted garlic sea salt.
Mediterranean spice blend is one of our favorite spice blends. This blend of European and African spices makes a delightful rub, but we have a few particular uses that we adore. Vinaigrettes with red wine and spicy olive oil makes for a fantastic use of it; either on a salad or in a poultry marinade. Add the spice blend to pickling jars for dilly beans that will astound.
Bring all the flavors of the Mediterranean spice blend together by mixing it with our roasted garlic sea salt. The beautiful flavor of roasted garlic is paired with a delicate sea salt. It rounds out the bold flavors of thyme, mustard seed, black pepper and bell pepper. The versatility of roasted garlic sea salt is astounding; sprinkle it on everything from vegetables to perfectly pink centered pork tenderloins.
Roasted New Potatoes with Garlic & Herbs Recipe
Yields 4 servings
Ingredients:
1/4 cup

olive oil

1 1/2 tablespoons

fresh lemon juice

1 teaspoon

dried thyme

1 teaspoon

roasted garlic salt

1 teaspoon

Mediterranean herb spice blend

1/4 teaspoon

ground black pepper

1 pound

assorted small new potatoes (washed and cut into quarters)
Directions:
Preheat oven to 400°F.
Combine all ingredients except new potatoes in large bowl. Stir to blend well. Add new potatoes to seasoning; toss to coat. Transfer potatoes to large rimmed baking sheet, spreading out in single layer. Bake until brown and tender, about 40 minutes, turning potatoes halfway through cooking.

Share your thoughts, leave a comment