Rosemary Chicken Tenders and Savory Waffles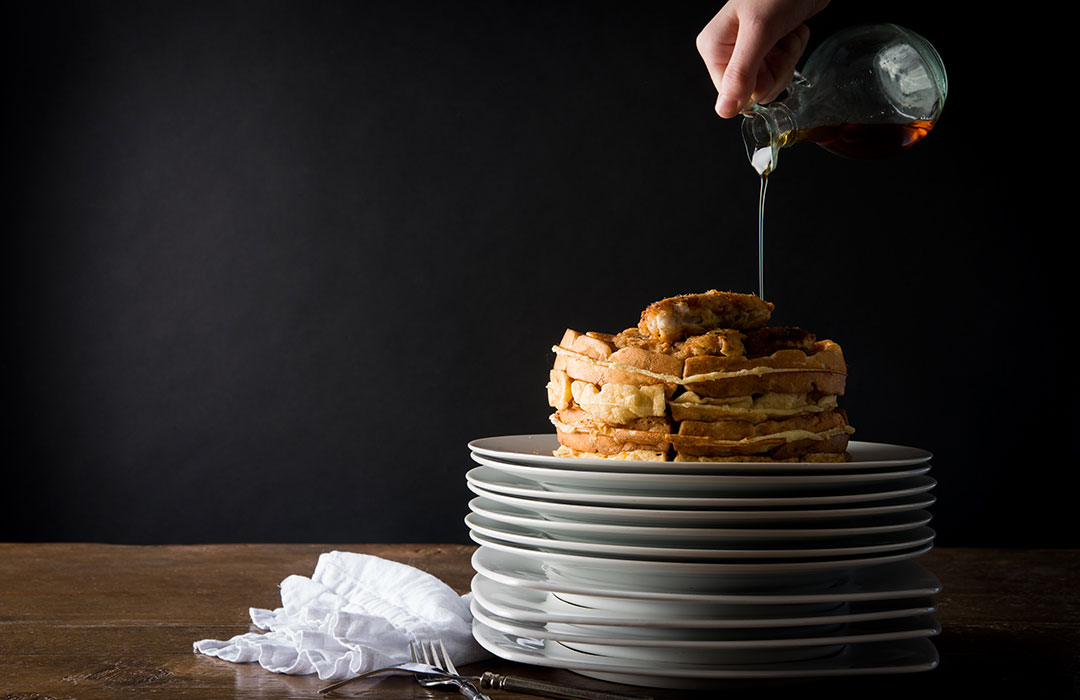 Chicken and waffles may sound like an odd pairing. Until you try it, that is. The combination of crispy, juicy, salty fried chicken and fluffy, chewy, waffles (with plenty of syrup) is pure magic. The ultimate sweet-and-savory dish, chicken and waffles can be eaten for breakfast, lunch, dinner, or anytime in between. Born of the soul-food tradition in Harlem, this unassuming combination has seen a bit of a renaissance as of late, with hip kitchens across the country putting their own spin on it. We have our own take, in the form of this recipe for rosemary chicken tenders with savory waffles. But first, a bit of history.
There is some debate over the exact origin of chicken and waffles. A dish consisting of pulled chicken and gravy served over waffles has been enjoyed by Pennsylvania Dutch families since the 1600s. While the basic components are similar, there is little evidence to connect this early recipe with the more famous soul-food inspired take on chicken and waffles found in many restaurants today. Typically consisting of fried chicken pieces over breakfast-style waffles, served with butter and syrup, this version has its roots in the jazz scene in Harlem, New York. In 1938, Joseph T. Wells opened Wells Supper Club, which quickly became a popular late-night spot for jazz musicians who were looking for a bite to eat after their gigs. Legend has it that Wells started serving the now-famous combination of fried chicken and waffles to cater to the musicians who had arrived too late for dinner and too early for breakfast. In its heyday, Wells was a favorite hangout of such legends as Nat King Cole and Sammy Davis Jr.
Though Wells was quite popular in its day, the dynamic duo of chicken and waffles wouldn't really hit the mainstream until a few decades later, on the other side of the country. In 1976, Harlem native Herb Hudson opened Roscoe's House of Chicken and Waffles in Los Angeles. Hudson had some ties to Motown, and used his influence to get his famous friends (including Nat King Cole's daughter, Natalie) to help spread the word. His restaurant soon became a Hollywood institution. Roscoe's remains popular with celebrities to this day, even garnering a visit from President Barack Obama in 2011.
While you can't go wrong with traditional fried chicken and waffles, we decided to play with the formula a little. For this recipe, we're making fried chicken tenders with a rosemary-panko breading. We pair these with savory waffles infused with pink peppercorns and shredded cheese. Never fear, though; you still get to drizzle on all the syrup you want to bring back the sweet-and-savory balance that has made chicken and waffles a classic for decades.
Share your thoughts, leave a comment