Asparagus and Lobster Mushroom Risotto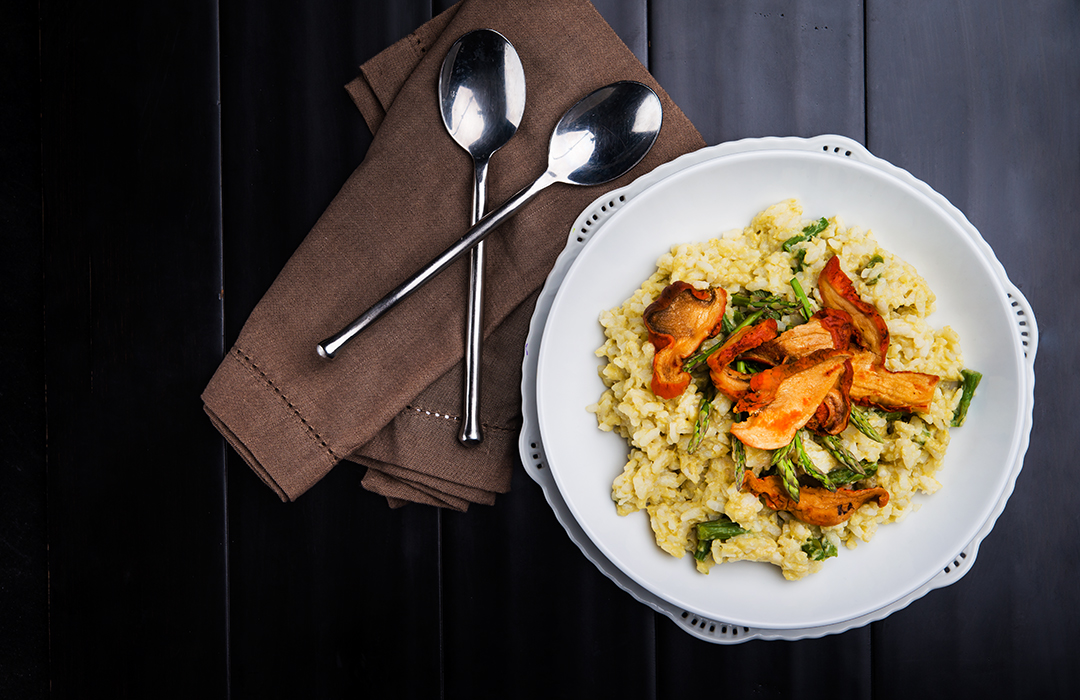 We're here to clear risotto's name. Somehow this simple, unassuming little dish has gained a bit of notoriety as being difficult to cook. Many people are afraid to even attempt risotto at home for fear that they will somehow ruin it. The truth is that with a little love and attention, risotto couldn't be easier. It even plays well with others, as you can mix in just about any sort of meat or veggies and end up with a delicious meal. We like to combine the creaminess of risotto with the crunch of roasted asparagus and the rich chewiness of lobster mushrooms.
What are lobster mushrooms? Despite their name, lobster mushrooms are not actually a type of mushroom. Rather, they are the result of a parasitic fungus called Hypomyces lactifluorum feeding on certain species of mushrooms. This fungus completely encapsulates the outside of its victims, creating a firm, reddish-orange "shell" reminiscent of a cooked lobster. Its flavor is also said to be seafood-like and as a result the mushroom pairs well with actual lobster and other seafood dishes. They're also quite tasty on their own in dishes that traditionally call for lobster, like this risotto.
So what about risotto's fussy reputation? Have you ever heard the phrase, "good things come to those who wait?" Risotto does take a little time and patience, but there's nothing particularly tricky about cooking it. The important thing is to add your broth slowly and stir frequently (if not constantly). Add a cup of broth at a time, and when the rice has absorbed a little more than half, add more. Once the rice is tender, turn off the heat. That's it. Simple, right? Toss in some roasted asparagus and lobster mushrooms, and you've got a mouth-watering meal or sensational side.
Asparagus and Lobster Mushroom Risotto Recipe
Yields 4 servings
Ingredients:
1 cup

Arborio rice

2-3 cups

stock (vegetable or chicken)

½ cup

finely-grated Parmesan cheese

1 cup

Lobster Mushrooms

1 pound

fresh asparagus

Drizzle of

olive oil

4 Tablespoons

butter

Salt

to taste
Directions:
Clean and process the asparagus. Snap the bottoms of the stalks to determine where the stalk is tender. Cut the remaining stalks at the point where the asparagus snaps. Place on a baking sheet and drizzle with olive oil. Bake at 400 degrees for 15-18 minutes until tender. Remove from heat and roughly chop.
Roughly chop the lobster mushrooms and place in 1 tablespoon of butter in a small sauté pan. Sauté until soft and tender. Approximately 3-5 minutes.
Heat 2 tablespoons of butter in a saucepan. Add 1 cup of Arborio rice and stir over medium heat to toast the grains. Add the stock, one cup at a time, stirring frequently until the rice has absorbed all of the liquid.
Once the rice is soft and tender, approximately 15-20 minutes, add the remaining tablespoon of butter and the parmesan cheese. Stir in the roasted asparagus and top with sautéed lobster mushrooms.
Share your thoughts, leave a comment