Spicy Grilled Blueberry Chicken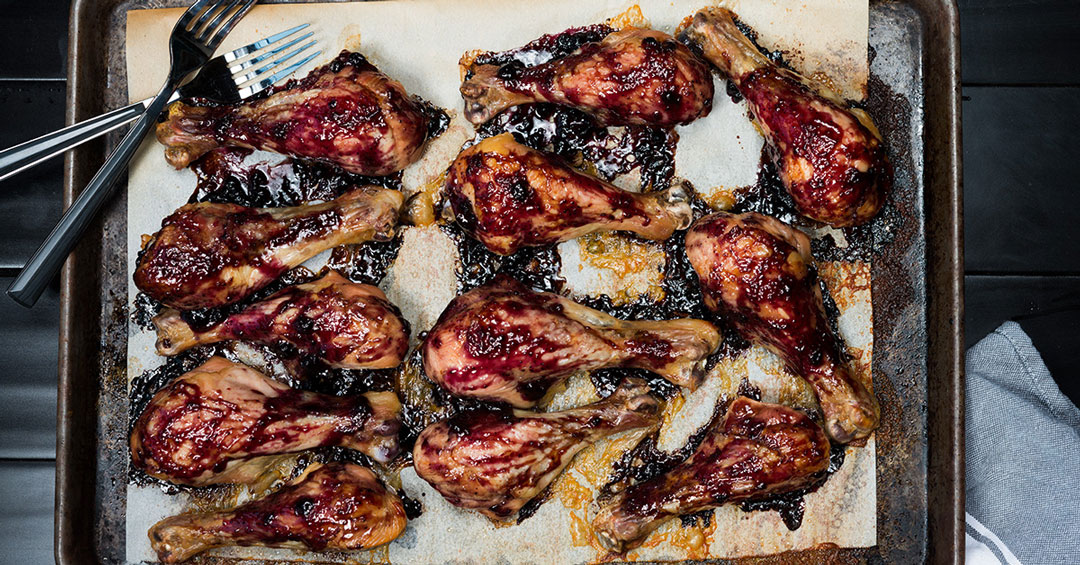 Blueberries and chicken: two great tastes that taste great together! Okay, so that may not be your immediate reaction when you think about this combination. Most of us tend to only think of blueberries in sweet dishes such as pies, muffins, pancakes, and so on. But if you've never considered using the subtly sweet, slightly tart flavor of blueberries to complement a savory dish, you are missing out on a whole world of culinary possibilities. Fortunately, this grilled chicken with spicy blueberry glaze is the perfect recipe to set you on the right path.
Now that we are in the middle of both grilling season and blueberry season, it seemed like the perfect time to combine the two. Last week, we shared a recipe for Blueberry Chipotle Ketchup, an extremely versatile sauce that can be used for much more than dipping fries. In fact, it occurred to us that it just might make the perfect barbecue sauce. A little sweetness? Check. A little heat? Check. A slightly tangy bite? Check, check, and check. This sauce is particularly good on chicken. Legs and thighs are our favorite pieces, but you can use any parts you like. Just apply a couple coats of the blueberry ketchup as you would any barbecue sauce near the end of your cook time, allow it to caramelize a little, and prepare to be amazed.
Spicy Blueberry Chicken Recipe
Yields 4-6 servings
Ingredients:
6

chicken thighs and legs

½ cup

Blueberry Chipotle Ketchup (see our previous post)

Sea Salt

to taste

Ground Black Pepper

to taste
Directions:
Preheat grill to medium-high, approximately 350°. While the grill is heating, let the chicken stand at room temperature and season with salt and pepper.
Place chicken pieces on the grill, skin side down, and close the lid. Cook, covered, for 12 minutes. Turn the chicken pieces, and grill for another 10 minutes. Baste chicken with Blueberry Chipotle ketchup on both sides, then close lid and cook 2 more minutes. Apply another coat of Blueberry Ketchup and cook 2 additional minutes. Check the internal temperature of the chicken using a probe thermometer. When it reaches at least 165°, remove chicken from the grill.
Share your thoughts, leave a comment