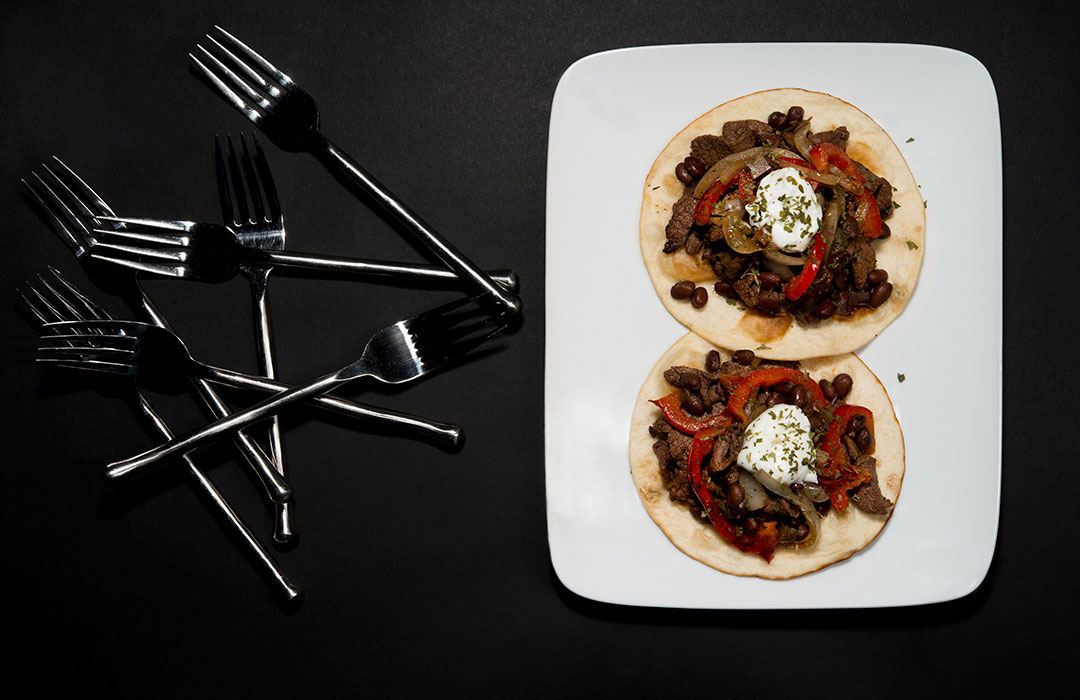 Tacos. In the past few years, this simple dish has been elevated from street food to hipster heaven. Everyone seems to have a favorite taqueria, usually some secret little hole-in-the-wall that looks unassuming but is serving up amazing food. With summer grilling season in full swing, now might be the perfect time to become your own favorite taco-slinger by whipping up some carne asada tacos at home. It's easier than you might think and more delicious than you could imagine.
Carne asada literally translates to "grilled meat." Like many culinary traditions (such as barbecue), it was developed as a way to make cheaper and less desirable cuts of meat taste better. In this case, flank or skirt steak is typically used. These are lean cuts of beef, which can be on the tough side if not prepared carefully. Traditionally, the steak is marinated in a combination of chilies, vinegar, garlic, and spices overnight or sometimes even for days to flavor and tenderize the meat. Once the meat has marinated, it is then grilled over hot coals until cooked through. Ideally, it should be seared on the outside, and remain medium-rare inside. Once removed from the heat, the steak is allowed to rest for a few minutes before being sliced. Care should be taken to slice across the grain, as this will further ensure tenderness.
It can be tempting to go overboard with toppings when assembling tacos, and Americans seem to be especially guilty of this. Your average casual restaurant will load on cheese and sour cream and salsa and who knows what else. But one of the true joys of a well-made carne asada is that it doesn't need all that help to shine. We prefer to let the meat, and all the delicious flavors it has absorbed from the marinade, be the star of the show. Serve it on a corn tortilla. Maybe pair it with some peppers and onions. But keep it simple. Show that humble steak a little respect, and your taste buds will reap the rewards.
Carne Asada Steak Tacos Recipe
Yields 16 servings
Ingredients:
3 pounds

flank steak

1/3 cup

white vinegar

½ cup

soy sauce

4 cloves

garlic, minced

2

limes, juiced

½ cup

olive oil

1 teaspoon

salt

1 teaspoon

ground black pepper

1 teaspoon

ground white pepper

1 teaspoon

garlic powder

1 teaspoon

chili powder

1 teaspoon

dried oregano

1 teaspoon

ground cumin

1 teaspoon

paprika

1

red pepper

1

green pepper

1

yellow onion

2 Tablespoons

olive oil

16

small corn tortillas

Crema

for garnish
Directions:
Unroll the flank steak and lay it in a large glass baking dish. In a medium bowl, whisk together the olive oil, lime juice, soy sauce, vinegar, and minced garlic. To this mixture, add the paprika, cumin, oregano, chili powder, garlic powder, black pepper, white pepper, and salt. Whisk until well blended, then pour over the steak. Cover the dish with plastic wrap, and marinate for 1 to 8 hours, turning steak halfway through.
Chop the onions and peppers and sauté in 2 tablespoons olive oil until soft and golden brown. Remove from heat and set aside.
Preheat grill to medium heat. Remove bowl containing steak from refrigerator and allow to stand at room temperature for 30 minutes. Remove steak from marinade and place on grill over direct heat for 5 minutes. Turn steak and cook another 4 minutes. Wrap steak in aluminum foil and allow to rest 7-8 minutes before slicing. Serve on tortillas, topped with peppers, onions, and crema (if desired).
Share your thoughts, leave a comment