Grilled Steak with Sherried Mushrooms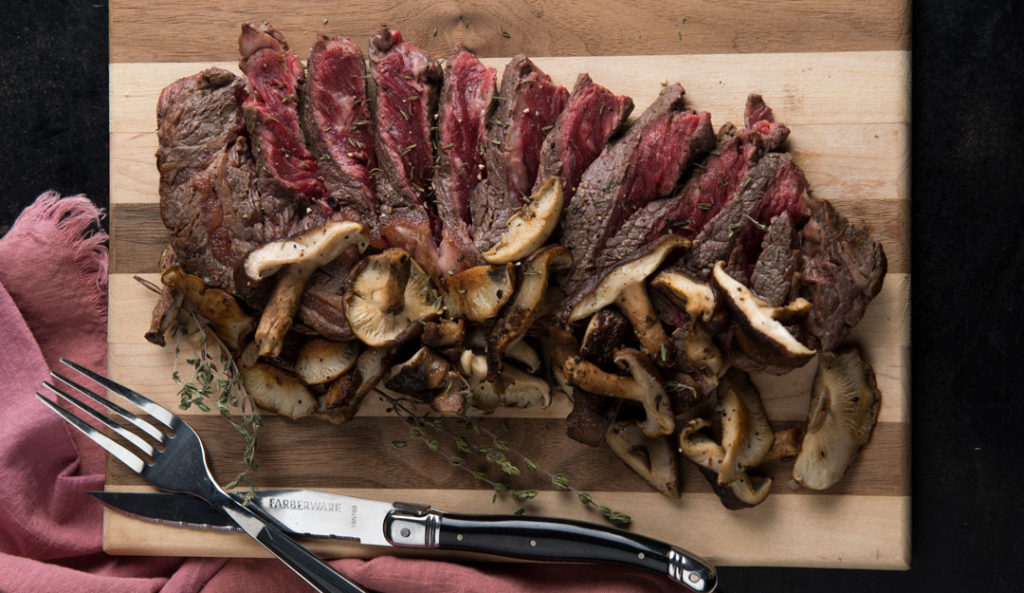 Spring is here! Well, it's close enough, anyway. The weather's warmer, the days are brighter, and that means we've only had one thing on our minds: grilling. Few things get our mouths watering like a perfectly seared steak. A New York Strip served with pretty much anything will be delicious, but if you want to take things to the next level, look no further than our recipe for Grilled Steak with Sherried Mushrooms!
While Portobellas are the most popular variety of mushroom to pair with red meat, our personal favorite fungus would have to be the Shiitake. There is evidence of these tasty toadstools being harvested in China as early as the 11th century. It's easy to see why their popularity has endured. Shiitake mushrooms have a rich, meaty texture and are packed with umami flavor. This is largely due to their high glutamic acid content. Think of this as a sort of naturally-occurring MSG, without the negative connotations. Like MSG, the glutamic acid in Shiitakes acts as a natural flavor enhancer. While the mushrooms are delicious on their own, they also help bring out the best in foods they're paired with.
Cooked Shiitake mushrooms tend to have a subtle smoky flavor, which pairs perfectly with grilled steak. Add some butter, garlic, shallots, maybe a splash of sherry, and you can transform these unassuming ingredients into an elegant meal worthy of the fanciest French restaurants. You might be surprised by how easy it is to whip up such a decadent feast in the comfort of your own home. Our recipe for grilled steak with sherried mushrooms may not earn you any Michelin stars, but it will almost certainly win rave reviews from your family!
---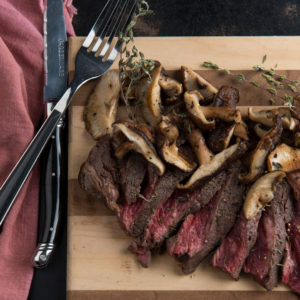 Print Recipe
Grilled Steak with Sherried Mushrooms
The only thing better than a perfectly grilled steak is one topped with delicious sherry-glazed Shiitake mushrooms! Our recipe will show you how easy it is to cook up a fanciful feast for your family!
Equipment
Grill

Large skillet

Thermometer
Ingredients
4

New York Strip or boneless rib-eye steaks

kosher Salt

cracked black pepper

2

tbsp

unsalted butter, separated

2

tbsp

extra-virgin olive oil

4

oz

dried Shiitake mushrooms, rehydrated and sliced

1/3

cup

shallots, finely chopped

3

cloves

garlic, minced

1/3

cup

dry cooking sherry

3/4

tsp

dried thyme
Instructions
20-30 minutes before you start cooking, remove the steaks from the refrigerator and let sit at room temperature.

Preheat your grill to high. Season steaks liberally with salt and pepper on both sides.

Place steaks on grill over direct heat. Cook approximately 4-5 minutes, until a golden-brown char has developed. Flip and cook another 3-5 minutes, until internal temperature reaches 135 degrees F for medium-rare.

Remove steaks to a large platter, and tent with aluminum foil. Allow to rest while preparing the mushrooms.

Heat the olive oil and 1 tablespoon butter in a large skillet. Add the mushrooms and season with kosher salt. Cook mushrooms over medium-high heat for approximately 6-8 minutes, until they just begin to brown. Stir in shallots, and cook another 2 minutes. Add garlic, and stir for 30 seconds.

Add sherry carefully, to avoid any possible flare-ups. Stir about 1 minute, until mushrooms are coated and sherry is almost evaporated.

Stir any juices from the steak platter into the pan. Add the remaining butter and thyme. Slice the steaks, top with mushroom mixture, and enjoy!
Share your thoughts, leave a comment