French Onion Soup with Black Garlic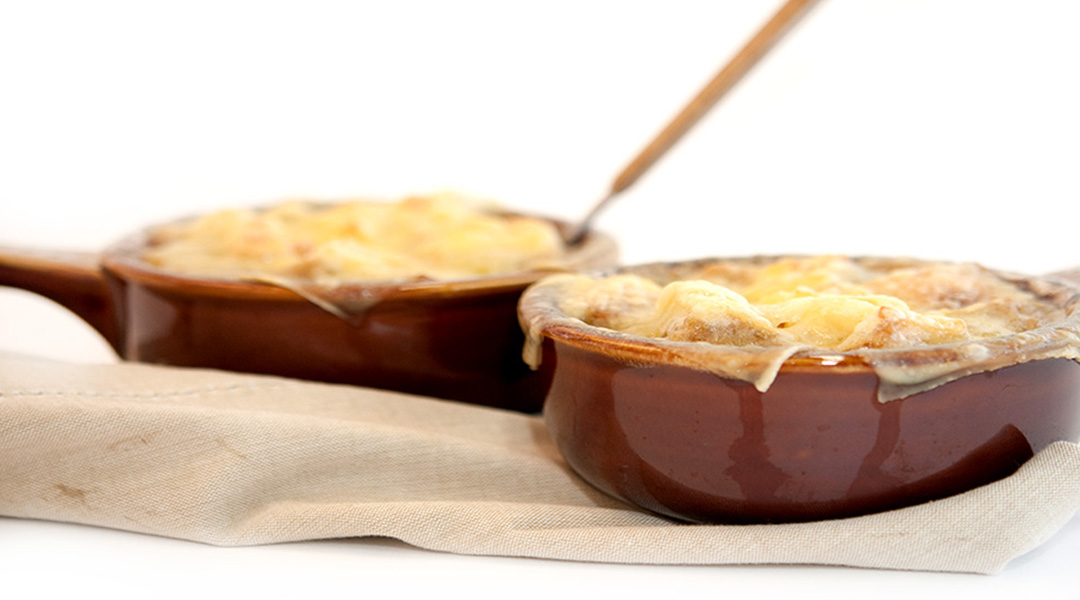 French onion soup is a classic French creation that utilizes leftover stock, day-old baguettes and very inexpensive root vegetables such as the common onion. A common soup for the cold winter months, French onion can cure just about anything that ails you but is just as delightful in the warm summer nights. Paired with a grilled tomato, bacon, or a cheese sandwich, this soup is just light enough that it won't put you into a food induced coma.
Classic French onion soup consists of onions, stock, herbs, and wine. A clove or two of garlic is added for good measure, but we are going to enhance this classic recipe with black garlic. Black garlic cloves are defiantly peculiar looking, but the soft flesh of the clove gives way to distinct flavors. Reminiscent of roasted garlic but with an earthy truffle-like flavor with hints of balsamic vinegar; they will leave your family wondering what that intoxicating flavor is in your soup. They are also excellent added to batches of baked beans, stews, or sauces for steak or fish.
Herbs are a second essential ingredient in French onion soup. Spice Jungle carries a large variety of high quality dried herbs including thyme and bay leaves. Thyme is floral with a slight mint flavor and can be used in a variety of different culinary applications. Dried thyme can be substituted for fresh thyme at a ratio of 2 teaspoons fresh to 1/2 teaspoon dried. When dried, thyme is one of the few herbs that retains its flavor profile and tastes as it does fresh.
Dried bay leaves are essential in stocks, stews, and soups. Bay leaves are robust and strongly aromatic with slight minty undertones; perfect for soups and stews. Be sure to remove the leaves before serving. No one wants to bite in a very aromatic leaf while enjoying a bowl of perfectly cooked soup!
French Onion Soup Recipe
Adapted from Tyler Florence
Yields 4-5 servings
Ingredients:
1/2 cup

butter

4

Vidalia onions (chopped)

2

black garlic cloves (chopped)

2

bay leaves

1

tsp. dried thyme

1

cup of dry red wine

3

tbsp. all purpose flour

2

quarts beef stock

1

baguette (cut into cubes)

1/2

pound gruyere cheese

olive oil
salt and pepper to taste
Directions:
Place butter, chopped onions, black garlic, bay leaves and thyme into a small stock pot and sauté over medium low heat until the onions are soft and caramelized (approximately 25-30 minutes). Add the red wine and simmer on medium high heat until the wine has evaporated for approximately 20-25 minutes (depending on your heat source), stirring occasionally.
Sprinkle the caramelized onions with the flour. Stir to coat all the onions in the flour, turn the heat to low and cook off the raw flour taste (approximately 8-10 minutes). Add the beef stock and stir on medium heat until all the flour dissolves. Bring the soup to a low simmer and heat for 20 minutes.
Croutons
Toss the baguette cubes with a small amount of olive oil (1/8 cup) and place on a baking sheet. Preheat your oven to 400 degrees and bake for 15-20 minutes until crispy and golden brown. Remove from oven and let cool. Leave oven on to melt the cheese over the soup.
Ladle the soup into oven proof bowls and add a handful of croutons, top with two slices of gruyere cheese. Place in preheated oven on a sheet tray and bake for 5 minutes until the cheese is bubbly and golden.
Share your thoughts, leave a comment