Posted in Main Dishes by Sarah
Shepherd's Pie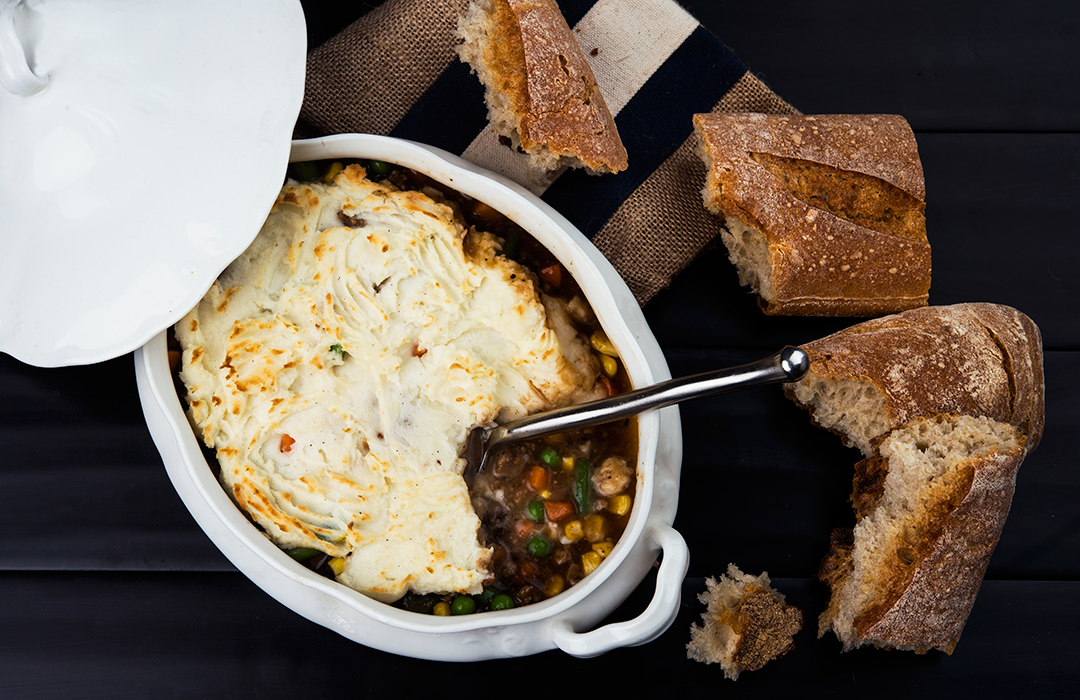 Shepherd's pie has a long and rich history dating back to the 1500's. It all began with the English and their affinity to meat pies - small pieces of meat and root vegetables baked into pastry dough. These pies were portable, compact, and an easy way for commoners to have a satisfying and filling meal during the day.
Potatoes are considered a new world food and were introduced to European countries around the 15th century. The invention of shepherd's pie is credited to the Scottish - in particular to the shepherds of Scotland. A rich and hearty combination of lamb, vegetables, and gravy, all topped with mashed potatoes. Lamb was the prevailing meat available to shepherds, and the ready presence of root vegetables made for a filling meal that could easily be prepared over a fire while tending to the flocks. The popularity of the dish in England increased as families needed a way to utilize leftover scraps of meat and vegetables into a second meal. Potatoes were a perfect addition due to their low cost and availability over the winter months. Shepherd's pie granted the ability to feed more mouths with one simple, low-cost meal.
Traditional shepherd's pie utilizes tomato paste and Worcestershire sauce as a base for the rich gravy. We have two products that are a perfect substitution for this… The sauce in question was actually a British attempt to recreate a fermented fish sauce called garum, a popular flavoring used in Italy and Greece. The anchovy-based recipe was flavored with tamarind, cloves, malt vinegar, onion, molasses, and other ingredients. However, the resulting sauce was so completely inedible that the remaining barrels were shelved aside. After time, however, the sauce had mellowed and fermented, taking on a lovely flavor! This is Worcestershire powder - a little goes a long ways with this concentrated powder.
Tomato powder is a bright, beautiful addition to shepherd's pie. Tomato powder is rich in flavor and easy to incorporate into many savory and sweet applications. (Try utilizing it in your next dark chocolate cake, you will be pleasantly surprised at the rich flavor it imparts, and the way it brings the dark chocolate flavor to the forefront!)
Share your thoughts, leave a comment!
← Previous Post
Next Post →