Chimichurri Flank Steak Sandwich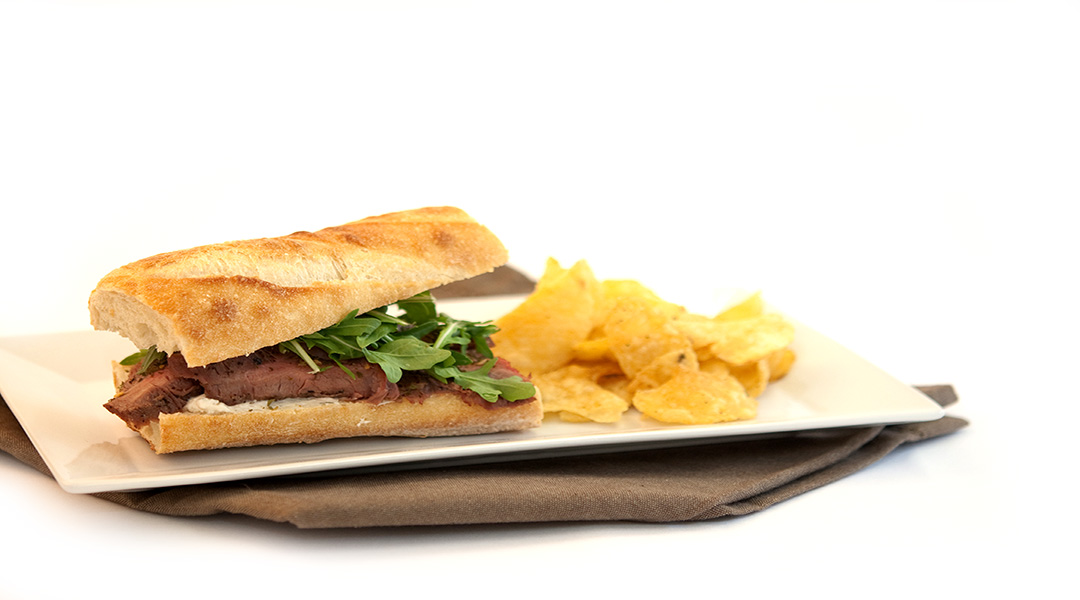 Do you grill? Are you are fair weather griller or do you brave the elements for that perfect piece of grilled meat or vegetable? Flank steak is the perfect cut of meat for the grilling novice; the flat cut nature of the meat allows for quick and even cooking. Flank steak is cut from the abdomen muscle and is relatively low in fat but big on flavor. This long flat cut of meat is perfectly grilled to a medium rare. When sliced against the grain, the meat is tender and flavorful, perfect for fajita's, stir fry and especially chimichurri spiced flank steak sandwiches! Soft and chewy baguettes, peppery arugula and creamy Boursin cheese complete this delicious and simple Chimichurri flank steak sandwich recipe.
Chimichurri is an Argentinean condiment that consists of parsley, garlic, oregano, olive oil, vinegar and Chile flakes. The ingredients are processed together to make a sauce similar in consistency to a pesto. The bold and flavorful condiment is spooned over various cuts of meats, vegetables, and sandwiches. While I am not one to shy away from freshly made recipes, many times dried products are more suitable for rubs and imparting flavor to grilled and baked foods.
Traditionally prepared chimichurri is much too liquid and the oil in the finished condiment will easily burn the outside of your flank steak if applied before grilling. Chimichurri spice mix is the perfect way to impart the flavor of this beloved Argentinean condiment without all the mess. High quality dried parsley, garlic, oregano and Chile flakes make up this very versatile mix. Use it in dressings, mix into your favorite burger before grilling or sprinkle on your chicken before roasting. The uses and possibilities are endless!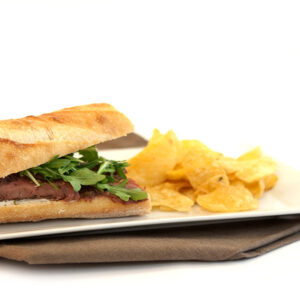 Print Recipe
Chimichurri Flank Steak Sandwich
These delicious steak sandwiches with an Argentinian flair are the perfect way to spice up your next summer cookout!
Ingredients
1

lb

flank steak

salt and pepper, to taste

1

tbsp

chimichurri spice mix

4

small baguettes

1/2

cup

boursin cheese

1

cup

arugula
Instructions
Pre-heat grill to medium-high.

Rub the flank steak with the chimichurri spice mix, sprinkle with salt and pepper.

Grill 6-7 minutes on each side. (the steak will be medium rare ) Remove from grill and let rest 10 minutes.

After steak has rested, slice thinly against the grain.

Slice the baguettes in half. Spread 1/4 of the boursin cheese onto the bottom piece of baguette. Top with 1/4 of the flank steak. Add arugula and top with other half of baguette. Enjoy!
Share your thoughts, leave a comment