Posted in Recipes, Main Dishes by Sarah
Baked Jerk Chicken and Spiced Lentils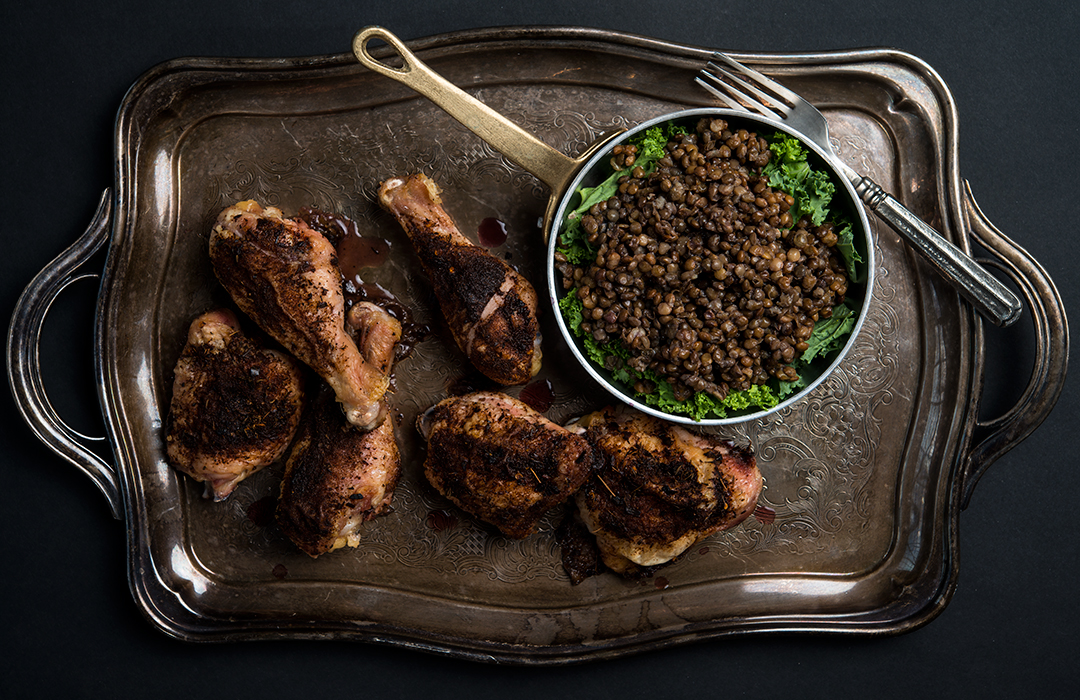 Jamaican jerk chicken is a Caribbean-influenced dish with origins in British, Dutch, French, Spanish, East Indian, West African, Portuguese, and Chinese. Jerk cuisine is a combination of Caribbean cultures, flavors, and spices. The slow-smoke method is an age-old Caribbean practice used to cure meat, by marinating or rubbing meats, seafood, and even vegetables with the seasonings and then slowly grilling them over wood. This causes jerked foods take on a spicy-sweet flavor and tender interior texture. Known for its fiery hot mixture centered around the Scotch bonnet chili pepper—considered one of the world's hottest peppers—jerk is a highly spiced mixture of flavors that come together beautifully in this recipe.
Baked chicken is the perfect comfort food, simple to prepare but incredibly satisfying. Typically served with mashed or fried plantains, I choose to pair them with spiced lentils. Spiced lentils are the perfect source of fiber and iron for both meat lovers and vegetarians alike. Lentils come dried, canned and pre-cooked in your refrigerator section of the grocery store. Lentils are not very flavorful on their own but when cooked with aromatics such as ginger, cloves, cilantro, and onions. Lentils will instantly transform to a healthy and delicious side dish.
Our regular Jerk seasoning is an all-purpose seasoning that isn't as hot as many other jerks, making it more palatable to people who can't handle the hyper-intense heat but who still love jerked foods. For a more intense heat, you'll want to try our Jamaican Jerk Seasoning.
Share your thoughts, leave a comment!
← Previous Post
Next Post →