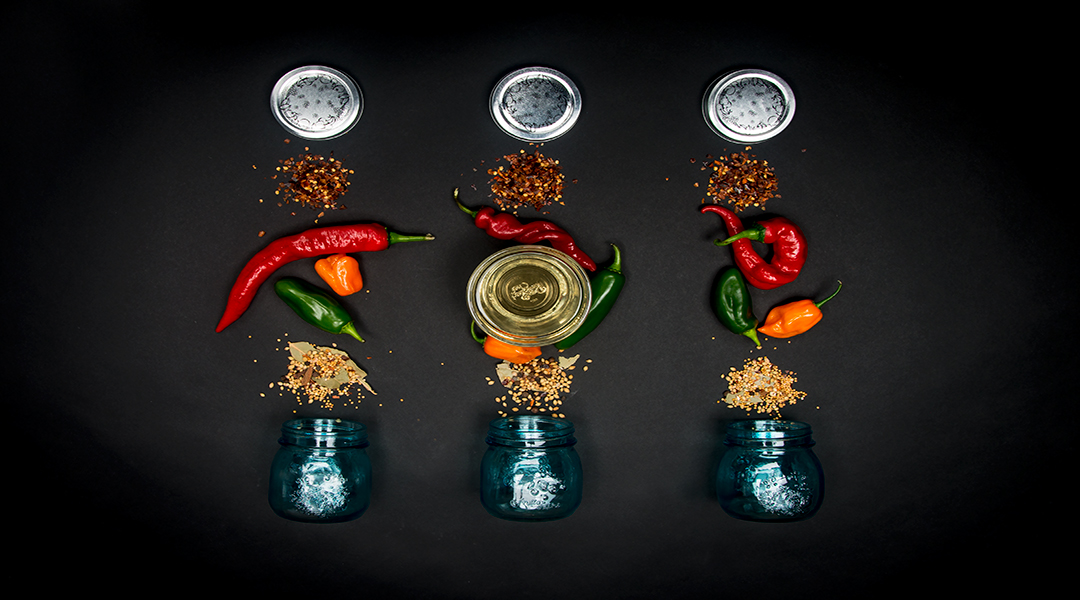 Peter piper picked a pack of pickled peppers; a fanciful childhood rhyme that renders me tongue-tied every time! Peter did have a great idea. Simplistic in creation but big on flavor, learn how to pickle peppers in this easy-to-follow recipe.
As the evenings turn cool and the leaves begin to change, our home gardens begin to produce less. Except for peppers! I received a text last weekend followed by an image of a kitchen counter covered in peppers. My friend asked me in a somewhat frantic tone, do you need any peppers? We have a few… I couldn't help but wonder if any of our readers are in the same predicament. Blessed with an over abundance of peppers and no idea what to do with them. I happily stopped by their home and grabbed an armful of beautiful orange, red and green peppers. On my way out the door I noticed a jar of pickled peppers gracing the counter. Pickled peppers is the perfect way to preserve and use our abundant fall harvest.
Canning is a very old and easy way to preserve vegetables and fruits for the future. If you happen to live in any of the seasonal states, pulling out canned vegetables and fruit grown in our garden is a welcome taste of summer during the cold winter months.
The recipe below is simple. It utilizes fresh peppers, vinegar, water, a bit of heat from red chile flakes and our pickling spice. There's no real recipe to pickling spice, a little of this and a little of that with a dash of your favorites is all you really need. The only rule is that there should be plenty of balance between hot, sweet, sour, pungent, and savory spices.
Our pickled pepper recipe is a simple blend of black peppercorns, dill seed, bay leaf, chile flakes, allspice berries, cassia bark, and mustard seeds.
If you have a pack of peppers, let's get pickling!
Pickled Peppers Recipe
Yields 2 quart jars or 4 ½ quart jars
Ingredients:
2 quarts

peppers of your choice. Habanero, jalapeno, cayenne are shown.

2 cups 

white wine vinegar

2 cups 

water

½ teaspoon

pickling spice

1/4 teaspoon

red chile flakes
Directions:
Slice peppers or leave them whole. (To prevent bursting, cut two small slits in whole peppers.). Pack peppers tightly into clean, hot jars. Combine vinegar and water; heat to a simmer. Do not boil. Pour hot vinegar over peppers, leaving 1/2 inch headspace. Add pickling spice and red chile flakes to each jar then seal with the lid. Process in boiling water bath for 10 minutes. Remove from water with canning tongs and set on a kitchen towel to cool. Listen for the pop to assure that the seal has formed on the lid. Place in a cool dark place and enjoy this winter!
*If your jar does not seal, place in the fridge and use within 7 days.
Share your thoughts, leave a comment