Pork Chops and Spiced Cauliflower Salad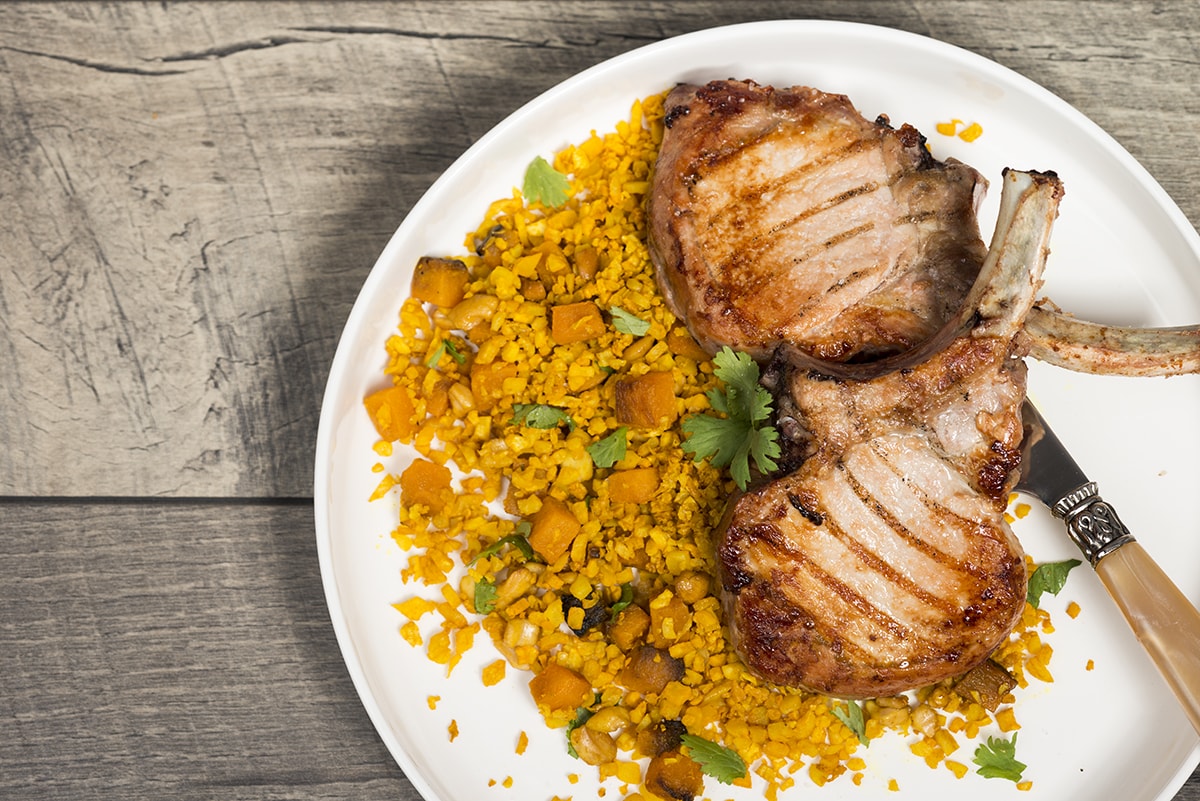 The foundation for a happy and fulfilling life is the ability to spend time with family, friends, neighbors, or even strangers around a table with beautifully prepared food. Food and drink comfort us, bringing us to a place of blessed moments with those we hold dear.
We celebrate moments in our lives with food - birthdays, anniversaries, graduations, baptisms, and births. The foods we choose to serve are representative of the culture we grew up in, what we ate as children, the religion we identify with, and the geographical location we reside in. Midwest United States is often labeled as thriving off meat, potatoes, and other hearty foods that sustain farmers and hard working salt-of-the-earth people. People on the East Coast have long been known for seafood, chowder, and Italian delicacies. The West Coast is known for their fresh approach to food - organic and simple, with big flavors that reign supreme. The southern states proudly create regional delicacies of traditional home-cooked goodness - fried chicken, light and airy biscuits, creole, barbecue, and seafood. While this is of course a very broad and generalized idea of the food cultures in the US, the distinctions are clear and well-accepted.
I grew up in the Midwest. Michigan, to be exact. Apples, cherries, cider, donuts, meat, potatoes, backyard barbecues, and holiday celebrations all undoubtedly made their appearance throughout the year. Neighbors and families would throw in money to purchase a whole butchered cow or pig, and divvy it up to share. Thick grilled pork chops were always a favorite of mine. My mother would pair it with scalloped potatoes, but my recipe takes a modern approach with turmeric spiced cauliflower salad. Light, healthy, and oh so beautiful.
Pork Chops and Spiced Cauliflower Salad Recipe
Yields 4 servings
Ingredients:
1 cup

roasted cashews

⅓ cup

butter

1 Tablespoon

whole black mustard seeds

5

green onions, thinly sliced

2

medium sweet potatoes or garnet yams, unpeeled, cut into ¾-inch pieces

1 bag

riced cauliflower

1

green chile (such as serrano or jalapeño), finely chopped

½ teaspoon

ground turmeric

½ teaspoon

garam masala

½ cup

cilantro leaves with tender stems, coarsely chopped, divided

4

pork chops

Salt and pepper

to taste
Pork Chop Directions:
Salt and pepper the pork chops on both sides, and place them on a medium high grill. Grill for 8-10 minutes on each side. The internal temperature must reach 150°F.
Set aside when finished.
Spiced Cauliflower Salad Directions:
Melt the butter in a cast iron or large sauté pan. Add the mustard seeds and cook until they start to make a popping sound, approximately 1-2 minutes. Add the scallions and sweet potatoes. Stir occasionally until the sweet potatoes begin to soften, 3–4 minutes. Add the cauliflower, chiles, and turmeric. Reduce heat to medium. Add 2 Tablespoons of water, and cook covered until the cauliflower is just tender, 5-6 minutes. Uncover, and stir in the garam masala, ½ cup cashews, and ¼ cup cilantro. Cook until fragrant, approximately 2-3 minutes.
Place the cauliflower mixture in the center of a plate. Top with the remaining ½ cup cashews and ¼ cup cilantro. Drape the grilled pork chop over the cauliflower salad.
Share your thoughts, leave a comment