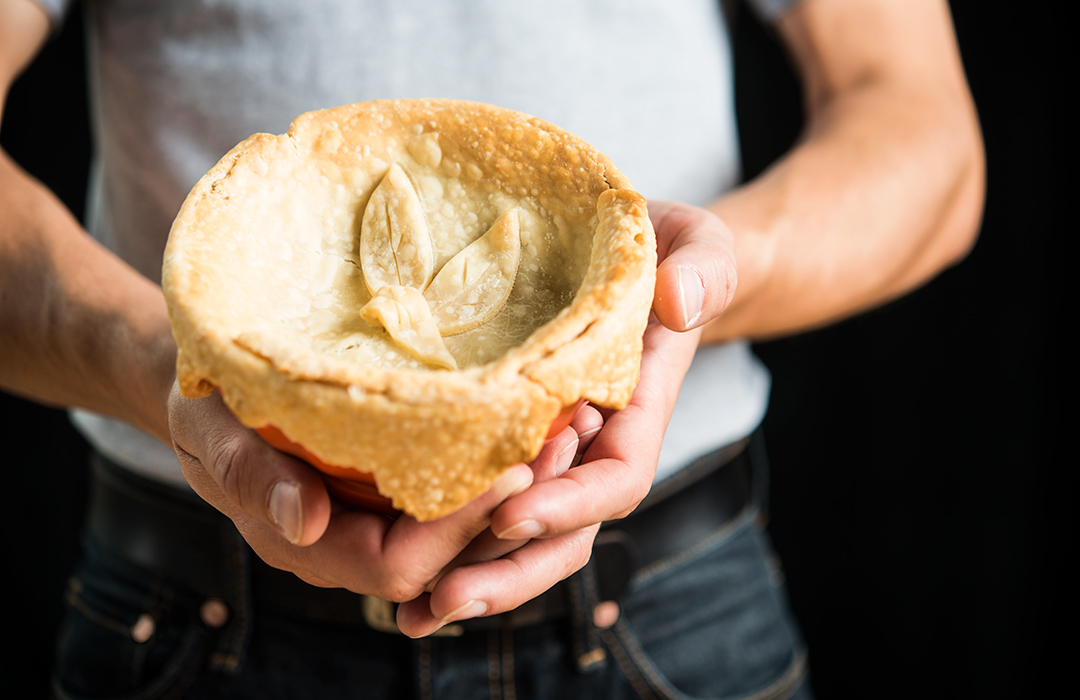 The humble potpie has a long and prestigious history, beginning with 20 blackbirds baked in a pie. A staple in European cultures for centuries, often gracing the tables of aristocrats and royalty. Potpies are still part of the traditional cuisine of many regions throughout Europe. The empanada from northern Spain is a version made with pieces of pork or fish. Cornish tin miners brought their hand-held meat pies, called pasties, with them to the copper and iron mines of upper Michigan. If you are a native Michigander you have most likely consumed a pastie with gravy or ketchup.
In more recent years the potpie has been thought of as more of a comfort food than a dish to serve to royalty. Traditionally filled with chicken but also can be created using vegetables and mushrooms. Mushrooms, particularly dried mushrooms, are versatile and easy to incorporate into your daily meals.
Here at SpiceJungle we specialize in not only spices but also a large variety of common and hard-to-find dried mushrooms, such as the Lion's mane (monkey head mushroom). In Chinese and Tibetan cuisine the monkey head mushroom is used most often as a vegetarian replacement for pork, beef, lamb, and venison. The texture is somewhat scallop-like. Once reconstituted it usually seared or simply added to soups and stews where its meaty texture and gamey flavor can best be appreciated. Looking for something a little less exotic? We also carry portabella, shiitakes, button mushrooms, morels and porcini.
Wild mushroom potpie utilizes one of our premium mushroom blends called the Forest blend. Smelling of black tea, wet earth, dried straw and flavored like an umami bomb, you'll know immediately that this blend is inspired by the smell of a forest after a heavy rain. The lightest sniff of its pungent perfume will remind you of your favorite braise, stews, stir-fries or creamy wild mushroom potpie.
While the potpie may no longer be reserved for royalty, your loved ones will certainly feel extra special when you bring wild mushroom pot pie to the table.
Wild Mushroom Pot Pie Recipe
Yields 4
Ingredients:
2 ½ cups

dried forest mushroom blend, roughly chopped

2

garlic cloves, diced

1 ½

teaspoon thyme

2

tablespoons flour

1 cup

vegetable stock

1 cup

heavy cream

2 rolls

ready-made pie pastry dough, thawed

1

egg yolk, beaten

salt & pepper to taste
Directions:
Pre-heat the oven to 350 degrees
In a large frying pan, sauté the mushrooms in a splash of olive oil/butter until golden brown.
Add the garlic and thyme and sauté for another minute before stirring in the flour.
Pour in the vegetable stock and cream and whisk until the sauce is smooth. Allow to simmer gently for 5-10 minutes then season with the salt and pepper.
Transfer the creamy mushrooms to individual ovenproof ramekins/bowls.
Roll the pastry out on a floured surface and cut out circles big enough to fit the ramekins.
Press the pastry onto the sides of the ramekins and crimp the sides. Cut a small slit into the pastry to allow steam to escape then brush with the egg yolk.
Place in the oven and allow to bake for 15-20 minutes until the pastry is golden brown and cooked through.
Share your thoughts, leave a comment