Honey Orange Roasted Carrots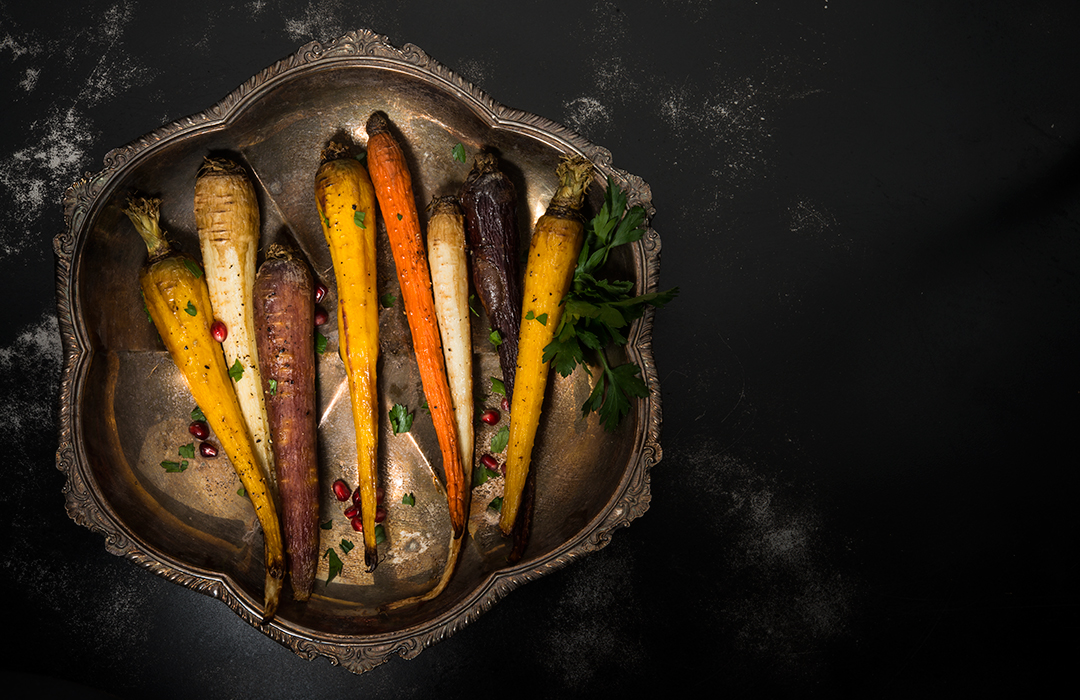 Thanksgiving is a time to relax and give thanks for all that we have. It's a time to celebrate with friends and family. It's a time to eat yourself into a food coma!
I look forward to the intoxicating smell of 20lbs of slow roasted turkey, creamy mashed potatoes, herbed stuffing, freshly baked pumpkin, apple and pecan pies filling the house. Family and friends gather around the table; eat, catch up on family gossip, compliment the creaminess of this year's mashed potatoes and debate whether or not to add more herbs to the gravy next year. After everyone has relaxed and the tryptophan in the turkey begins to take affect, the couch and football beckons. Pie and mounds of creamy vanilla whipped cream soon follow.
For our international customers Thanksgiving is exclusively an American holiday. In 1623, the Pilgrims at Plymouth Plantation, Massachusetts, held a day of Thanksgiving. As a drought was destroying their crops, colonists prayed and fasted for relief; the rains came a few days later. And not long after, Captain Miles Standish arrived with staples and news that a Dutch supply ship was on its way. Because of all this good fortune, colonists held a day of Thanksgiving. Both Native American Indians and colonists brought local food and drink to share to celebrate an end of the drought and give thanks for a bountiful harvest.
Turkey is the centerpiece of many thanksgiving tables but the sides are equally important. Typical side dishes include mashed potatoes, sweet potatoes, and green beans. Carrots typically grace our table, sautéed in orange juice and honey.
Honey orange roasted carrots are a modern take on sautéed carrots. Honey powder is used as an easy way to add a sweet honey flavor to any dish without the mess and stickiness of liquid honey. Simply mix together with the olive oil and brush onto the carrots to create a glaze that will caramelize to perfection. The addition of granulated orange peel adds a bright citrus flavor and texture to a very soft but beautiful side dish.
Happy Thanksgiving from our Beanilla family to yours!
Honey Orange Roasted Carrots Recipe
Yields 4 servings
Ingredients:
3 to 4 bunches

fresh assorted carrots, peeled

2 tablespoons

extra-virgin olive oil

2 tablespoons

honey powder

½ teaspoon

granulated orange peel

Salt and freshly ground black pepper, to taste

Pomegranate seeds for crunch and texture
Directions:
Preheat the oven to 450°: F.
Peel and clean the carrots. Cut the carrots into thirds, crosswise on a sharp diagonal.
Bring salted water to a boil in a large pot fitted with a steamer basket. Let carrots steam until just tender, about 5 minutes. Drain and place in a bowl. Toss with the oil; honey power, granulated orange peel, salt, and pepper.
Place the carrots on a baking sheet in a single layer and bake for 25 minutes. Loosen them from the baking sheet with a spatula. Season with salt and pepper and remove to a serving bowl.
Share your thoughts, leave a comment