Healthy Spaghetti Squash Bolognese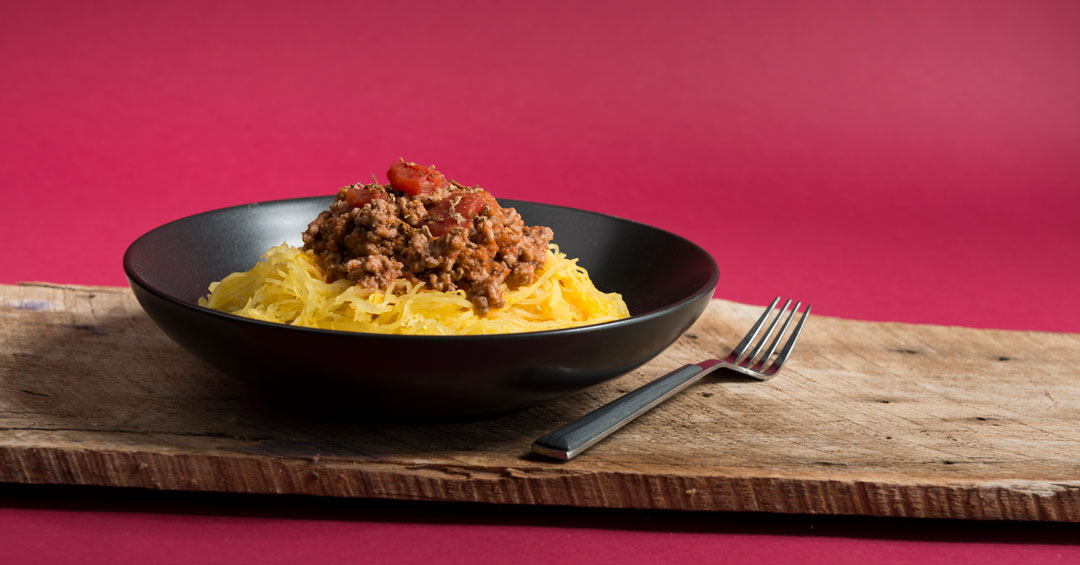 Snow is starting to fall here in West Michigan. As winter looms, it can be tempting to go into a state of hibernation—shutting yourself away in your warm, cozy house and taking comfort in a variety of rich, not-so-great-for-you foods. What if we told you there's a way to enjoy a hearty classic pasta dish with a fraction of the carbs and calories? If that sounds too good to be true, you need to try our healthy spaghetti squash Bolognese recipe.
Spaghetti squash has gained popularity in recent years as low-carb diets have become all the rage. Once the squash is cooked, its meat can be scraped out in long strands that are reminiscent of spaghetti noodles. These squash "noodles" can be paired with a variety of sauces and are great for getting your pasta fix without sabotaging your diet. One cup of spaghetti squash contains just 10 grams of carbohydrates, compared to 43 grams in a serving of actual spaghetti.
If you're looking for a nutritious, delicious meal, look no further than our spaghetti squash Bolognese. The squash itself will take about an hour and twenty minutes to cook, but this should give you more than enough time to prepare the sauce. You can even cook the squash ahead of time. It will keep in the refrigerator for up to three days, making it even easier to throw a meal together on a weeknight. Whip up a batch of our Bolognese in about a half hour, and your whole family can enjoy the perfect fall/winter comfort food with none of the guilt.
Healthy Spaghetti Squash Bolognese Recipe
Yields 4 servings
Ingredients:
1

medium spaghetti squash

2 Tablespoons

olive oil

1

yellow onion, finely chopped

1

large carrot, finely chopped

2 stalks

celery, finely chopped

3 cloves

garlic, minced (or ½ teaspoon Dried Minced Garlic)

2 cups

crushed tomatoes

1 pound

ground turkey

Salt and pepper,

to taste
Directions:
Preheat oven to 375. Use a knife to stab outside of squash all over. Place on a baking sheet and cook for 40 minutes. Flip squash, then cook for another 40 minutes, or until skin is tender when poked with a knife. Once squash has cooled enough to safely handle, remove the seeds. Use a fork to scrape the flesh out in long, spaghetti-like strands.
Preheat a large nonstick skillet over medium heat. Add 1 tablespoon of the olive oil, along with garlic, carrot, celery, and onion. Cook until all are tender, about 15 minutes, then transfer to a bowl.
Add the rest of the olive oil and the ground turkey to the skillet. Cook through until no longer pink, crumbling meat with a wooden spoon or spatula as it cooks. Add the cooked vegetables and crushed tomatoes and bring to a simmer. Cook for about 5 minutes, or until meat is fully cooked and sauce is thickened. Season with salt and pepper to taste. Serve over spaghetti squash.
Share your thoughts, leave a comment