Cheddar Biscuit Breakfast Sandwich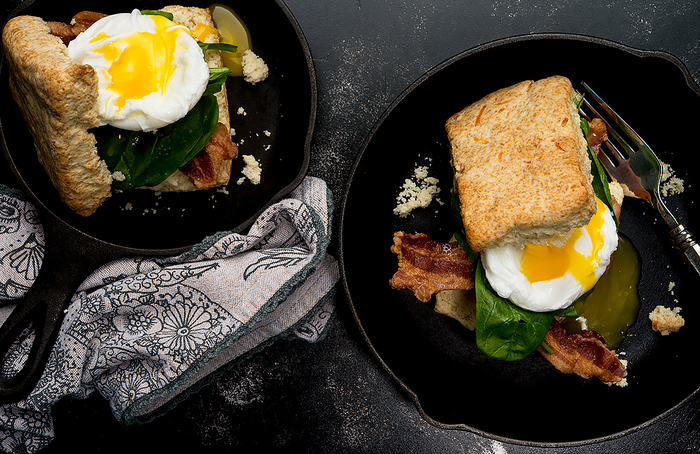 Light, flaky, buttery... all adjectives that describe the perfect biscuit.
The biscuit has very humble beginnings as a way for cooks to use the remaining eggs, butter, and flour before the beginning of Lent. In more recent years the biscuit has become a staple at breakfast, lunch, and dinner. Biscuits are often paired with sausage gravy and eggs at breakfast, are utilized as a vehicle for cheese and meats at lunch, and are paired with just about anything at dinner.
The biscuit seems like a relatively simple mixture of flour, baking powder, and butter. But its simplicity is deceiving… Biscuit dough needs to be handled with great care. The butter added to the mixture should be very cold and the mixture itself should not be overworked. Once biscuit dough has been overworked, there is no saving it: the results will be a very dense and hard biscuit (essentially the opposite of what we often look for in a biscuit). The biscuit should be light, fluffy, and moist without being dense. The cold chunks of butter are important because as they melt into the biscuit while baking they create tiny pockets of steam that puffs and lifts the dough. These pockets turn into that beautiful light and flaky texture we crave with biscuits. The steam comes from butter's water content, which is usually about 15 to 20 percent. By overworking the dough, your butter melts and is incorporated into the dough. The butter is no longer providing the pockets of steam necessary for lift and flakiness. The result is dense biscuit dough and therefore a dense biscuit. The moral of the story, DON'T overwork your dough! Treat it carefully and you will have the most beautiful, light, and flaky biscuits. Even your Nana will compliment you on your stellar creation!
Now that you have the perfect moist and flaky biscuit you can either eat it as is or create an even more delectable breakfast sandwich. The addition of bacon, fresh spinach, and a perfectly poached egg brings your perfect biscuit to a new level of perfection. Poaching eggs may seem like a daunting task but in reality, it is so very simple. Carefully crack the egg into a ramekin; assuring that the yolk does not break. Place a large saucepan onto a medium-high flame filled halfway with water; bring the water to a boil. Add a teaspoon of vinegar to the water and slowly swirl the water with a slotted spoon to create a whirlpool. Carefully slide the egg into the water and cook for 3-5 minutes until the white part of the egg is no longer translucent. Remove with a slotted spoon, place onto the biscuit with the spinach and bacon.
Cheddar Biscuit Breakfast Sandwich Recipe
Cheddar Biscuit Breakfast Sandwich Ingredients
Yields 4 large biscuits

2 cups

all-purpose flour, plus more for dusting

2 tablespoons

baking powder

1 scant tablespoon

sugar

1 teaspoon

fine sea salt

½ cup

cheddar cheese

5 tablespoons

cold, unsalted butter, preferably European style

1 cup

whole milk
Directions:
Preheat oven to 425 degrees. Sift flour, baking powder, sugar, cheese and salt into a large mixing bowl. Transfer to a food processor. Cut butter into pats and add to flour, and then pulse 5 or 6 times until the mixture resembles rough crumbs. (Alternatively, cut butter into flour in the mixing bowl using a fork or a pastry cutter.) Return dough to bowl, add milk and stir with a fork until it forms a rough ball.
Turn the dough out onto a well-floured surface and pat it down into a rough rectangle, about an inch thick. Fold it over and gently pat it down again. Repeat. Cover the dough loosely with a kitchen towel and allow it to rest for 30 minutes.
Gently pat out the dough some more, so that the rectangle is roughly 10 inches by 6 inches. Cut dough into biscuits using a floured glass or biscuit cutter. Do not twist cutter when cutting; this crimps the edges of the biscuit and impedes its rise.
Place biscuits on a cookie sheet and bake until golden brown, approximately 10 to 15 minutes.
Garnishes
8 pieces bacon (cooked according to directions)
½ cup fresh spinach
4 poached eggs

Share your thoughts, leave a comment