Arugula Pizza With Balsamic Glazed Onions and Blue Cheese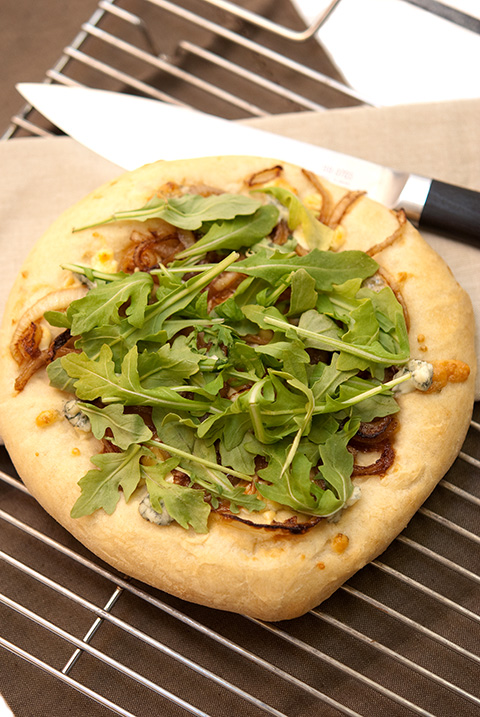 In this pizza recipe, we highlight one our unique products, balsamic vinegar powder, used to glaze the onions that will be added as a pizza topping along with fresh arugula and blue cheese.
But first, a little (quite long actually) lesson about balsamic vinegar...
Balsamic vinegar is traditionally made in two regions of Italy, Modena and Reggio Amilia. Traditional or Aceto Balsamico Tradizionale is created by pressing the grapes of Trebbiano and Lambrusco varietal. The juice is then reduced down by one third to create a thick syrup. The syrup is then poured into the first of seven small barrels. Over a period of twelve years the vinegar is moved from the largest to the smallest barrel. The barrels are typically constructed of oak, cherry, ash or chestnut. Each wood imparts a slight flavor and uniqueness to the finished product. Once the vinegar has aged for the minimum of twelve years, the vinegar is bottled and marked with the label Aceto Balsamico Tradizonale. Only true aged Balsamic vinegar from these regions can wear this badge. True balsamic vinegar is complex, fruity and acidic often imparting a slight sweetness from the aging process and the barrels. Use sparingly as this vinegar packs powerful and intense flavor into a very small concentrated amount. Aceto Balsamico Tradizionale is most commonly used as a finishing condiment for dishes such as beef and pork but can also be drizzled over strawberries for a truly decadent dessert.
The more commercially and widely available balsamic vinegar is the Aceto Balsamico di Modena. This widely available product is a less expensive and widely produced balsamic vinegar is commonly what we see on the shelf in stores. It is made using wine vinegar, caramel colorings, and thickeners to mimic the taste and flavor of the Aceto Balsamico Tradizionale. Traditionally the vinegar is aged no more than 2 months and is often produced in mass quantities.
There is a third and final category of balsamic vinegar, commonly called condimento balsamico. Aged and produced in the same way that traditional balsamic vinegar is, but not within the two distinct regions. This category is not regulated by the Italian government and although many of the kinds of vinegar are of superior quality it cannot be called a traditional balsamic vinegar. Often these balsamic vinegars are mixed with Aceto Balsamico di Modena to keep costs lower.
And now for our shameless plug...
We sell a high-quality balsamic powder that can be easily stored in your pantry. The powder is made by drying a combination of vinegar and the juice from specific varietals of grapes. The end product is a sweet, acidic powder that can be useful in place of a liquid form of balsamic vinegar. For instance; use in place of liquid balsamic vinegar as a coating for sweet and savory snack mixes, in soups and when you are creating your own rubs and marinades. The powder can also be rehydrated with a small amount of water when a liquid is needed.
At last, the pizza recipe!
Arugula Pizza with Balsamic Glazed Onions and Blue Cheese
Dough:
Ingredients:
1 package

active dry yeast

1 tablespoon

honey

1 cup

warm water

3 cups

all-purpose flour (plus more for kneading)

1 teaspoon

kosher salt

3 tablespoons

olive oil, plus 1 tbsp. for the bowl (during rising)
Directions:
In a stand mixer bowl fitted with a dough attachment add the warm water, honey and yeast. Let stand for 5 minutes, for yeast to activate. Add the olive oil. With the mixer on low, slowly add the flour and salt. Increase the mixer speed to medium-high and mix for 8-10 minutes. Remove the dough from the bowl, place it on 1 tbsp. of flour and knead 10 times. Drizzle the remaining olive oil into the mixer bowl and place the dough into the bowl. Cover the bowl with a clean dish towel. Place in a warm area of the kitchen and let dough sit for 1 hour.
Punch dough down and remove from bowl. Divide into 4 pieces and roll or stretch the dough into a circle.
Place on a baking sheet lined with a Silpat. Drizzle the dough with olive oil.
Toppings:
Ingredients:
2

yellow onions (slice into thin rounds)

1 tbsp.

olive oil

2 tsp.

balsamic vinegar powder

½ cup

blue cheese

1 ½ cups

baby arugula
Directions:
Preheat oven to 500 degrees. In a sauté pan place the oil olive and onions. Cook on medium heat for 5-7 minutes until the onions are soft and caramelized. Sprinkle on the balsamic vinegar powder and stir to incorporate. Cook for 1-2 minutes. Remove from heat.
Spread ¼ of the onions onto each piece of dough, sprinkle with blue cheese. Bake at 500 degrees for 8-9 minutes until light golden brown. Top each pizza with arugula and drizzle with olive oil.
Share your thoughts, leave a comment