Black Truffle Salt Mashed Potatoes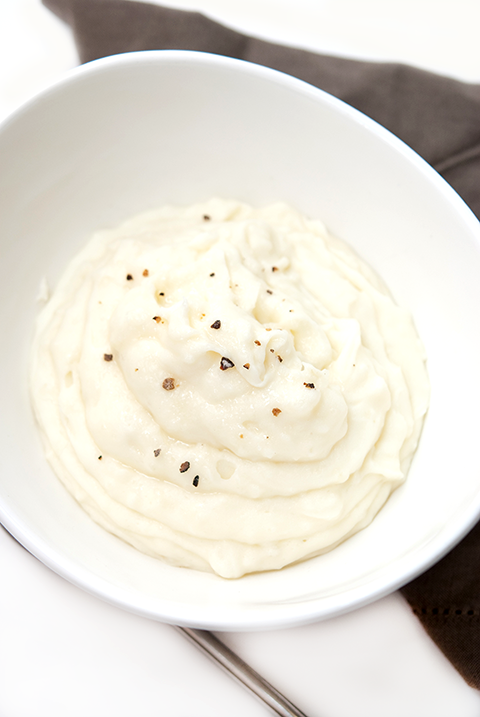 Creamy, soft and oh so decadent; three words that describe perfectly executed mashed potatoes. Although often viewed as a simple dish, the mashed potato can go horribly wrong if the proportions of liquid to potato are skewed.
The humble potato began its life as a food for the poor and downtrodden. Easily grown and more easily stored in cool dark places, the potato was the perfect food to store over long winters with little chance of going rancid. Today the potato is often thought of as a comfort food, easily transformed into many different dishes. The most common being the french fry, scalloped and of course mashed.
The only thing that could possibly make hot fluffy spuds, whisked together with heavy cream and pats of butter any better is the addition of truffles. Savory truffles (mushrooms) are a truly delicious and earthy addition to perfect mashed potatoes. You weren't thinking mashed potatoes and chocolate were you?
Truffles are a small fungus that usually grows on the base of a trees root system. In the early 1900's many European farmers attempted to cultivate and mass produce the truffle, it was widely successful and remained that way for many years. The truffle groves eventually stopped producing and nothing could be done to reproduce the conditions that produced them in such abundance. Truffles once again became a rare and expensive delicacy. The white truffle from the region of Piedmont in Italy is considered the most prized and rare of all the truffles. Black truffles from the Perigord region in France holds second place for its rich, bold and earthy flavor. Black truffles often sell in the market place at prices in excess of $100/lb. The truffle has a very bold and pronounced flavor and is often used in small amounts to garnish and enhance the flavor of savory dishes.
Our black truffle salt is made with premium black truffles and Mediterranean sea salt. The earthy and bold flavor is perfect as a finishing salt on just about any dish. Sprinkle some on freshly popped popcorn or roasted red potatoes for an earthy gourmet flavor!
Truffle Salt Mashed Potatoes Recipe
Yields 4-6 servings
Ingredients:
8

russet potatoes (washed and peeled)

3 tbsp.

butter (melted)

½ cup

heavy cream

1 ½ tsp.

black truffle salt
Directions:
Fill a stock pot half full with water. Dice the washed and peeled potatoes, place in the pot of water. Bring to a boil and boil for 30 minutes until the potatoes are fork tender. Strain the potatoes and place back in the pot. Using a potato masher or for more creamy potatoes use a potato ricer.
Heat the butter and heavy cream in a small saucepan. Pour in the melted butter and heavy cream onto the potatoes. Whisk to combine. Add the black truffle salt. Whisk to combine. Serve immediately.
Share your thoughts, leave a comment