White Chocolate Cashew-Coconut Truffles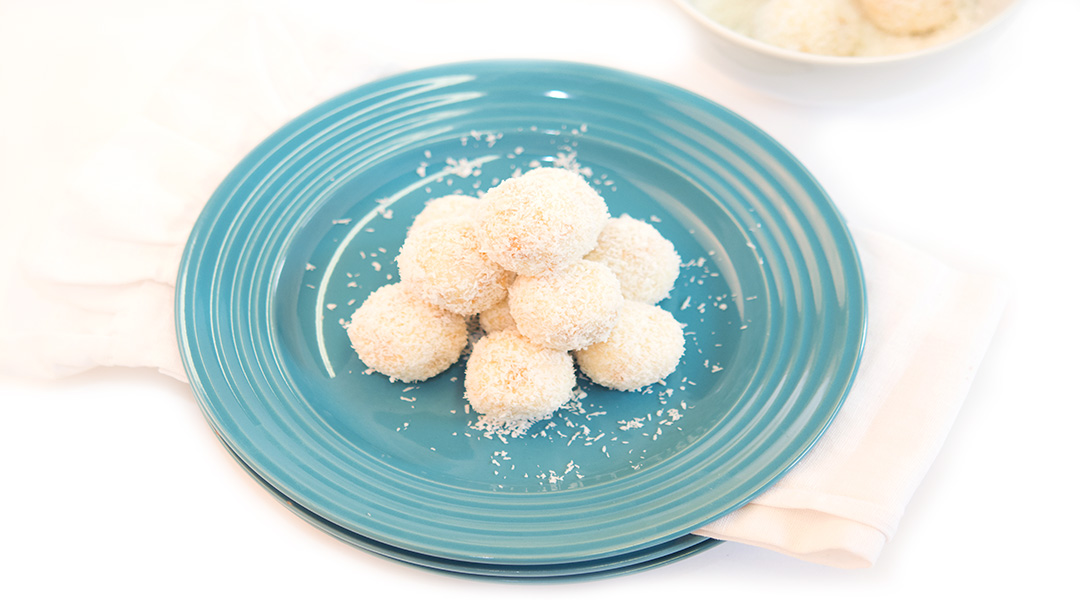 Cashews, chocolate, and coconut... have I died and gone to heaven? These small but incredibly decadent truffles are sinfully delicious and so easy to make! White chocolate, although commonly thought of as chocolate is not actually chocolate. White chocolate is the cocoa butter that comes off the cacao bean when it is processed into chocolate. Creamy and smooth, white chocolate is perfectly suited to the crunchy saltiness of the cashew. What really sets this truffle recipe apart is the coconut. Not just any ordinary coconut will do for this amazing creation; this recipe will be using the delicious Macaroon coconut.
Macaroon coconut is a very finely ground unsweetened coconut that is perfect for applications where consistency is key. The fineness of this coconut gives not only macaroons the perfect texture but adds a nice coconut flavor to mousses, cakes and rolled desserts where mounds of large coconut pieces simply wouldn't do!
The final layer of flavor in this decadent little bite is the addition of Tahitian Vanilla Bean Paste. Our 3-Fold Tahitian Vanilla Bean Paste is made using three times as many vanilla beans as we do in our double strength Beanilla Vanilla Paste. As a result, you get a much fuller, richer and more intense hit of vanilla flavor. Our Vanilla Paste is for the chef or baker who wants a little more performance out of their vanilla flavor. Since it is three times as concentrated, you will use half as much, meaning a little goes a long way.
So, if you are looking for a sweet, salty and absolutely decadent bite this is the perfect recipe for you!
White Chocolate Cashew-Coconut Truffles
Yields approximately 18 truffles
Ingredients:
1 1/8 cups

white chocolate chips

5 tbsp.

salted butter sliced into small pieces

3 tbsp.

heavy cream

½ tsp.

coconut extract

½ tsp.

Tahitian vanilla bean paste

¼ cup

finely chopped cashews

½ cup

macaroon coconut
Directions:
Place the chocolate chips, cream, butter, and coconut extract in a medium microwave-safe bowl and microwave in 30 second intervals until melted, 1-2 minutes. Because white chocolate is prone to overheating, it's a good idea to stop heating it before all the chips are melted, and simply stir until the residual heat melts all the chocolate.
Stir in the cashews. Place plastic wrap over the top of the white chocolate mixture and refrigerate until firm enough to scoop, about 2 hours.
Use a teaspoon or a small candy scoop to form small 1" balls. Roll them in macaroon coconut. Store the White Chocolate Truffles in an airtight container in the refrigerator for up to a week.
Share your thoughts, leave a comment