Posted in Recipes, Soups, Salads, Sides & Snacks, Appetizers by Sarah
Creamy Chive Dip Recipe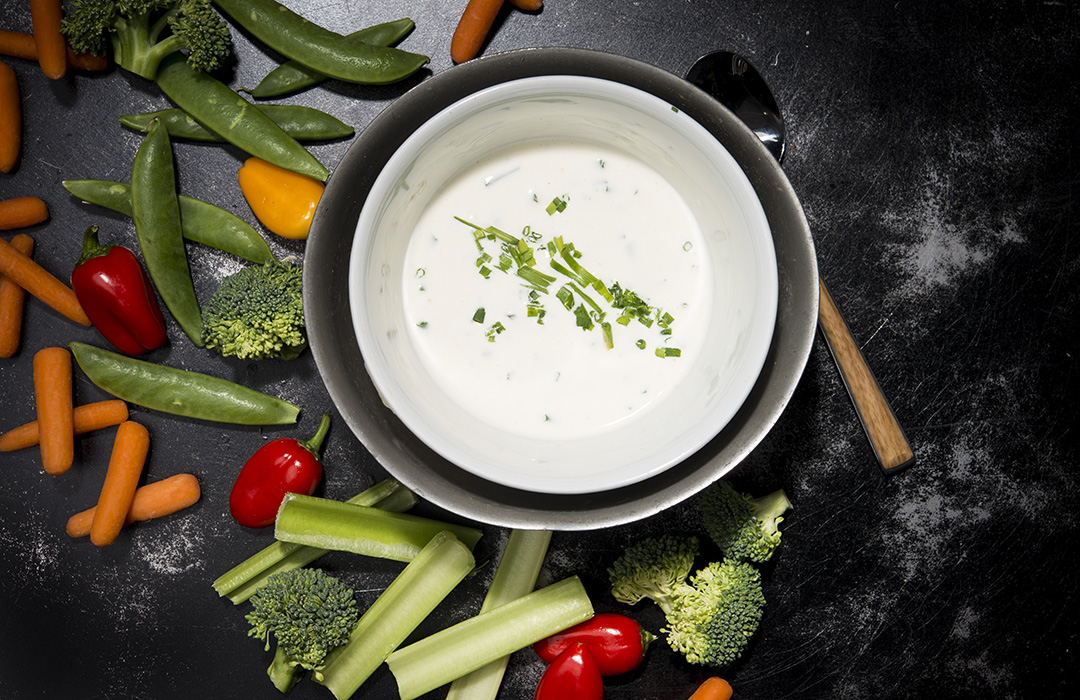 Chive Dip Recipe
Spring has finally arrived and I for one could not be happier! Spring is such a beautiful time of the year; a time of new growth and renewal, a time for cleaning out the old and bringing in the new and a time when the vegetables and fruits begin to finally blossom and sprout out of the ground.
Living in Michigan, more than half of our year is blanketed in snow or the barren brown of dead grass and dormant greenery. The first notion of spring and we are out the door, clad in shorts and t-shirts heading to our favorite running path or hiking trail. As I walked up to my driveway and observed the tragedy that is my yard after a long winter I noticed signs of life popping up from the semi-frozen ground. Little sprigs of green signaling that the plants are ready for the warm sunshine of summer also!
Creamy chive dip is a light and flavorful dip that simply screams spring. Pair with fresh pea pods, bright red peppers and green stalks of celery and you will have a healthy and flavorful dip that is perfect for welcoming the first signs of spring.
Buttermilk gives this dip it's tangy flavor, lemon juice a citrus bite but the real stars of the recipe are the addition of apple cider vinegar powder and dried chives. Apple cider vinegar powder is simply apple cider vinegar that has been dehydrated to create a simple and easy to use powder. It adds an acidic kick to just about any dip, marinade or roasted meat you want to sprinkle it on. Although spring is certainly on its way, the herbs and root vegetables are not quite ready for harvest yet. Dried herbs such as chives are a wonderful way to add flavor to all of your creations. Dried chives are amazing; the aroma is that of a fresh bunch of the herb but much more accessible and versatile when fresh is not in season. Utilize dried chives in dips, sauces, sprinkled on french fries or as a delicious topping for baked potatoes!
Share your thoughts, leave a comment!
← Previous Post
Next Post →